Bodysurfers rely on the natural power of the waves to propel them, creating a strong connection to the ocean and its energy. It's an organic and unadulterated way to ride the waves.
Witness this unique link to the water – tomorrow, Saturday, September 9th at the 2023 Rockaway Beach Bodysurf Underground (RBBU) Competition. The first heat rides at 10 a.m. Get your blankets, beach chairs, and bathing suits, and pack a lunch for the day-long event. Set up on the sand at The Box (East jetty at Beach 84th Street). The power of the waves, rushing through the competitors and cutting down the line, will be a thrill to see!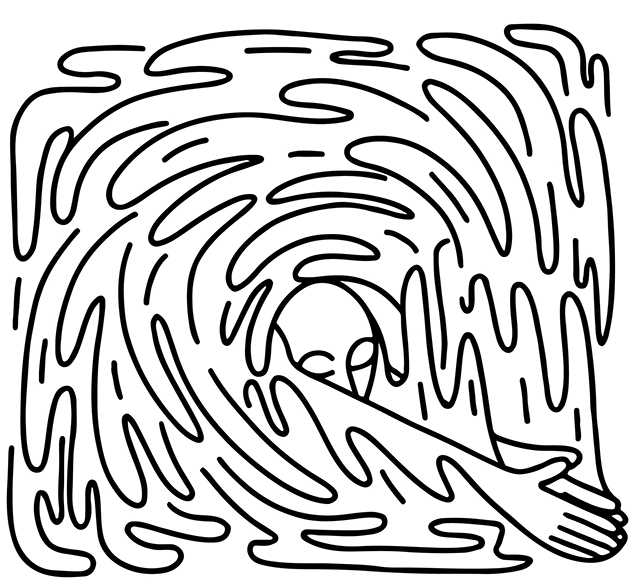 Artwork by Justin Valdes
Justin Valdes, bodysurfer and designer of RBBU swag, has created another impressive illustration for this year's tote bags and t-shirts. The tranquil expression of the bodysurfer, engulfed by the movements of the rushing waves, expresses the rider's trust and surrender to the sea. A connection I feel most of us Rockaway folks know in our own special forms.
Born in Flushing, residing in Ridgewood Queens, Justin Valdes floated towards the Oregon coast in the 2000s where he learned to bodysurf. He moved back to NYC and continued surfing in Arverne when the shore was adjacent to vacant lots.
Justin crafted his artistic talents at Cooper Union. Creatively, he moves like the waves of the ocean, shifting between styles and concepts. "I've always had a hard time just doing one thing, that doesn't really help if you want to commodify your work!" He jokes!  It's important that my art is accessible and that you don't need to be in the know to interpret it." Justin shares. Valdes is currently working on a public art project in an extension being built at the Arverne Library.
Keep Rockaway's cherished Bodysurf event thriving. Show your support by purchasing a tote or t-shirt designed by Valdes! These are sought after, so stop by the shop tent early to make sure you get the goods. Your contributions allow the RBBU organizers to host a unique, top-notch event each year that is safe and fun for our community!
To see more of Justin Valdes' rad illustrations follow him on Instagram – @valdes.studio. To inquire about commissioning art and design visit www.justinvaldes.work.
This contest is organized by the Rockaway Beach Bodysurf Underground – Mike Poindexter, Jon Wagner, Clare Hilger, Jeremy Jones, and their ocean-enthusiastic friends who volunteer to make this exciting day possible. Follow on Instagram and tag your photos tomorrow to @rbbunderground.