This is the first garden post for the new house!  There's much to be done and it's exciting, but more so overwhelming. I decided the front yard was most important to start on. Having a lush garden will detract from our current dilapidated exterior.
The first task was to remove about 7 inches of sand left behind from hurricane sandy. Once I started digging, I discovered there was a weed barrier tarp layered on. I wanted to get this up so whatever I planted could grow deep. Removing this was not easy.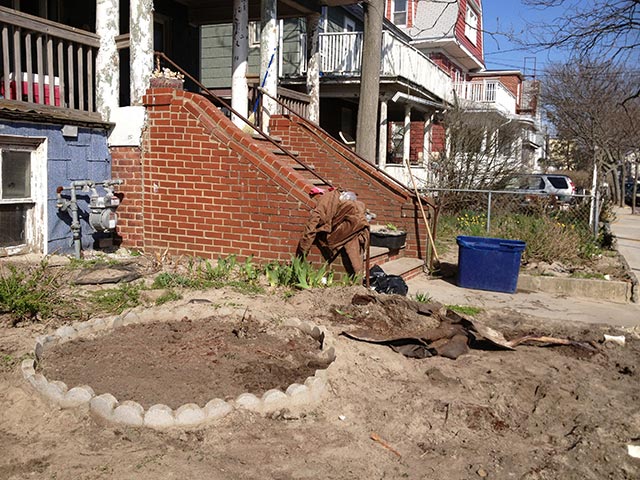 I worked on the left planting bed on my own and it took a full day and a half. The following weekend I recruited some helpers!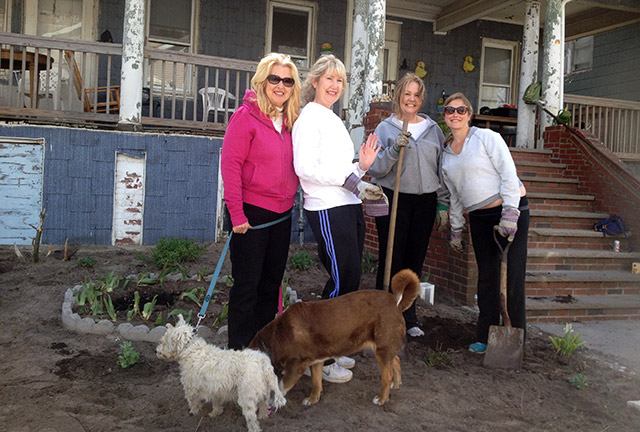 The garden is now cleaned-up and ready for planting. Next spring, we're planing on rebuilding the porch and working on a formal landscaping plan which would include removing the concrete retailing wall and replacing with brick, planting perennial  bushes, a serviceberry tree and making a grotto for Mary. Until then, I'm building on what I already have from the previous owner – a rose bush, one hydrangea, hampton daisies, peonys and whatever else may pop up. My plan is to seed with wildflowers, add beach grass, agastache and various annuals. Expect regular garden updates this spring through the fall on my progress.