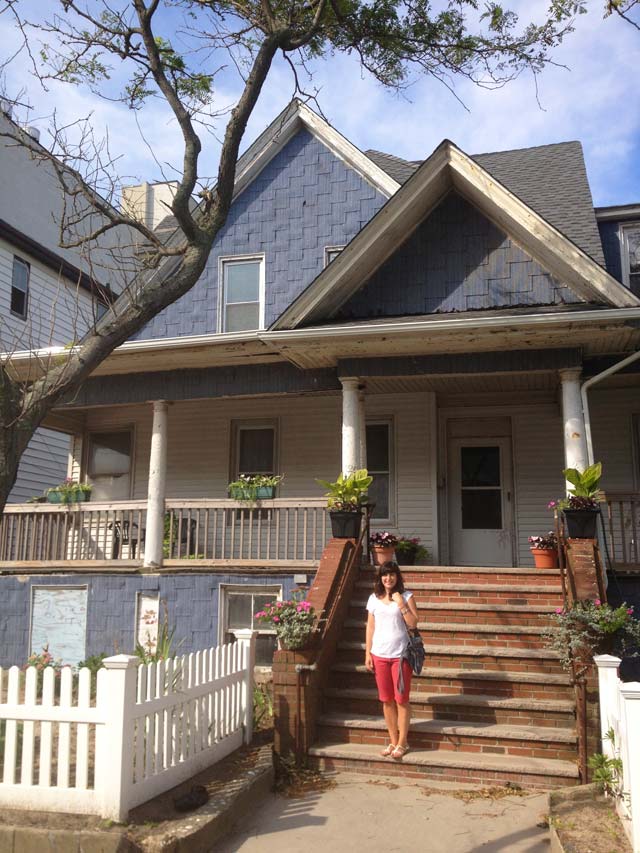 Drum roll please…. we're moving to Rockaway!!!
All things considered, we've made a great home out of our studio in Ridgewood over the past four years, but it was never supposed to be a permanent living space for us. We've been looking for new digs in Cypress Hills, Ridgewood, Rockaway and even upstate over the past year. In August, my mother-in-law showed us this adorable old Rockaway house. It had what we were looking for: old charm, a rental, a decent-sized backyard, and the biggest challenge to find, a permanent space for the music studio. The lot has a detached two-story bungalow which will be perfect! We're two houses from the beach, across the street from a 596 Acres community garden, a short walk to Surfside Bagels, and last, but certainly not least, around the corner from Sayra's Wine Bar.
And there were other important factors that made me realize this was the right decision. The first, is the importance of being near family. As you may have gathered, family is a top priority for me. For years now I've been "married into Rockaway", and I've been accepted with open arms by the Walsh clan, the Bodens, the Honans, the Barthas, the McGraths, the Sicas, and countless other family friends in the neighborhood. Holidays are a blast – everyone is so close by, family and friends just drop in visiting from house to house. The summers are one continuous family get together, I'm guaranteed to run into an aunt or uncle, cousin or frousin at beach 119, or passing through on 116. Trying to decide which BBQ I should go to first is the biggest worry of the day!  I've always felt at home on the Rock*, and now it will be our home!
The second factor was Hurricane Sandy. I always knew Rockaway was a special place, but after witnessing the generosity and love in the community post-Sandy, I have a richer understanding of how unique and awesome it is. In our current New York City housing culture of luxury condo living, high rise pop-ups and price-outs, a tight-knit community like this is a precious gem. I'm hoping, by fixing up this old house, I can play a small role in the rehabilitation of Rockaway.
So we decided this was the place for us. But actually making it happen took 6 months and was no easy task. First, the house was classified as an SRO by HPD. Banks today won't lend on these types of buildings. The upstairs looked exactly like what it was – a rooming house. Without investing money to make the apartments legitimate, we were super nervous the buildings department wouldn't classify it as a three family, which is what we needed to afford the house! After months of back and forth bullshit with NYC Dept. of Buildings and with lots of help from Maureen, we miraculously managed to get the documentation for a legal three family.
And the SRO situation wasn't the only issue. There are structural problems. Flushing the second floor toilet activates a geyser spring. And the whole place needs new electrical work. That's small potatoes compared to the Bungalow, which is falling apart and is currently home to a family of raccoons. The bungalow is sitting on four corner piles of brick, definitely not meeting the new flood insurance codes. It's actually incredible that it's still standing after Hurricane Sandy. Since the building is grandfathered in, we can't just tear it down and rebuild. We need to lift this sucker keeping all four walls in tact. We've been working with my friend Jared (an Architect) and DOB to get plans and permits to lift it and put it on a new foundation. As for the rest, let's just say she needs some work. Able-bodied friends willing to work for home-cooked food please contact me!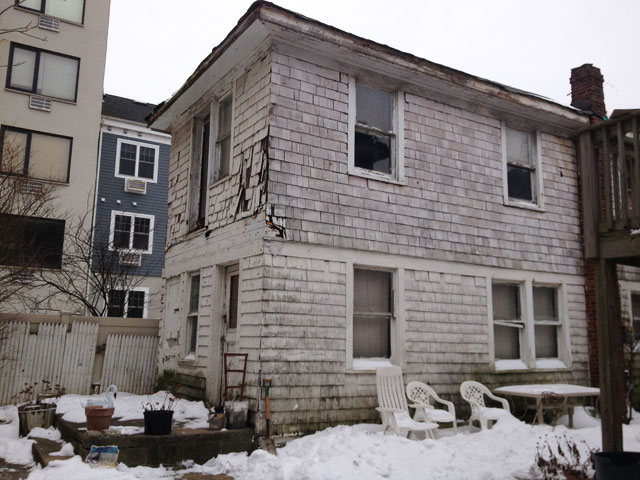 Today we sealed and committed to our new adventure in Rockaway. In the tradition my family follows – "la mia casa è la tua casa" – I will also abide. Our door will always be open with a cup of coffee and some biscotti waiting for you. What's the point of having a home if your not going to fill it with the people you love?
As for the Tomato, I'm super excited to start blogging about our restoration adventures.
Rockawayites: Expect much coverage of the going-ons in the neighborhood – restaurant reviews (new and old), local business events and profiles, discussion on post-sandy reconstruction efforts, community gardening and clean-up projects, me trying to surf, rock shows, Rockaway icon Q&A's (Kearns… that means you), eating hot dogs on the beach,  learning to ride a bike with Fiver in the basket and more!
Woodies: We're committed to you, do not fret! With family in Ridgewood and our fondness for you and the community, we'll always be around. I mean, how can I go a month without eating at Joe's, getting a bird at Estrella Del Mar or  hanging out with the crew at Gottscheer Hall?
More to come on the Mega Move!
* Not Dwayne Johnson.
** The house was built in 1920, but it's a very atypical design for a Rockaway house. What is it? American Craftsman? Hit me up if you know something!