Since the first week of November the deliciously dynamic duo La Brotheria, has been open at the 97th Street Concession. La Fruteria (@lafruterianyc) and Brothers (@brothersrockaway) joined kitchens, serving us breakfast, lunch, and a diverse taste with guest pop-up dinners all month. It's been a joy for so many of us. As we all know, winters can be difficult in Rockaway… you know, the quick shift from the lively, sunny, summer to chilly, unconsolable nothingness. Personally, having La Brotheria as a gathering place to meet friends and enjoy great food has been so wonderful.
This is the final weekend of La Brotheria and it's not to be missed. Friday – Sunday mornings enjoy breakfast, smoothies, and coffee till 2 p.m. If you haven't had the ricotta toast yet, get that! Friday night is Burgers with Zak Daddy, The burgers are juicy and the fries are hand-cut, need I say more?
And Saturday night (Dec 3rd), will be the last supper. La Brotheria is hosting Chef Luca and Chef Silvia of the very popular and delicious Italian, Brooklyn restaurant LaRina Pastificio (@larinabrooklyn). Enjoy a 4-course decadent meal with options of pizza, polenta, fried mushrooms, smoked spaghetti aglio e olio, porchetta, and more. For the full menu see – @brothersrockawayand reserve via Instagram DM now. Spots are very limited.
Erosika (@3rosika) will be setting the mood with a musical performance! There's plenty happening at the 97th street concession all weekend so show your support, eat, and enjoy the ocean views and the people around you.
Thank you to Rockaway Beach Bazaar for extending the concession season, installing winter-proof doors, and providing an all-around cool vibe for us. Thank you La Brotheria – Zak Krieger, Sarah Peltier, Matt Webster, Phil Rodriguez, Erika Barrett and Rachel Krieger.
Please support two of our favorite local eateries and let's finish off in the right fashion. My hope is that with their success, we will see them again before the start of next summer.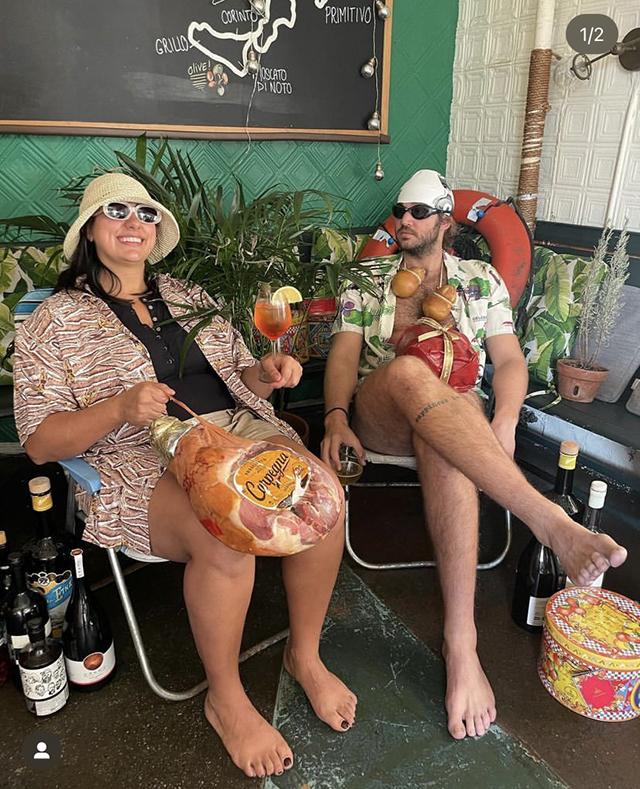 Chef Luca and Chef-Silvia of LaRina Pastificio