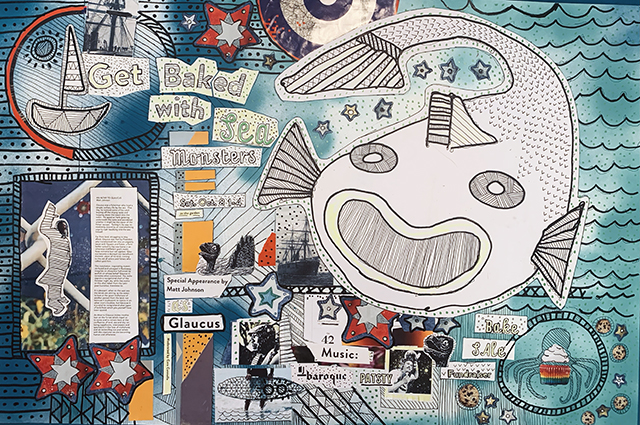 What do cookies, sea God plush toys, rad guitar riffs, and a surfboard that amps out DJ vibes have to do with each other? Nothing, except that all will be present at the Beach 91st Street Garden tomorrow, Saturday, Oct 8th, from 1-4 p.m. Get Baked With Sea Monsters is the community gardens end of season event.
Here's the skinny:
Enjoy delicious homemade baked goods and coffee for sale, made by garden members. Expect corn muffins, caramel apple tarts, chocolate chip cookies, decadent brownies, chocolate rice crispy treats, vegan and non-vegan banana bread, and more.
Specifically to highlight is Chef Kailani Mergen. For the community bake sale, Kailani will be making savory vegan focaccia loaves dashed with herbs grown in the Beach 91st Community Garden. Kailani is a Rockaway native and NYC-based chef. She studied at the Institute of Culinary Education and polished her craft at Dominique Ansel, Soho. Mergen has recently launched her own business specializing in vegan and non-vegan bread and cakes. Follow her on Instagram (@chefkailani) to see her artisanal creations and to order.
Music: Patsy will be setting the tone with his songs. To get Patsy's latest EP, visit patsydoes.com. To find out about upcoming shows check out his IG – @patsydoes. Keeping the beat will be DJ Baroque aka Mikal Hameed. If you've seen him on the boardwalk this summer, you're aware that his mobile surfboard setup is fire! If you haven't experienced his jams, then you must check him out tomorrow. Want a surfboard sound system? Visit mikaljhameed.com/sculptures.
The Beach 91st Street Garden will be featuring a new installation created by Artist Matt Johnson. The piece is titled An Altar to Glaucus. Glaucus, a simple fisherman, was transformed into an ungainly sea beast by Poseidon. As an immortal sea God, Glaucus protects sailors and fishermen who call upon him. "An Altar to Glaucus invites meditation on the forces which impel us to come and to remain here at the confluence of land, sea, and sky; on being supplicants, intercessors, and spectators in the face of misfortune; and on reconciling our past selves with the creatures we are becoming, human and otherwise." – Matt Johnson.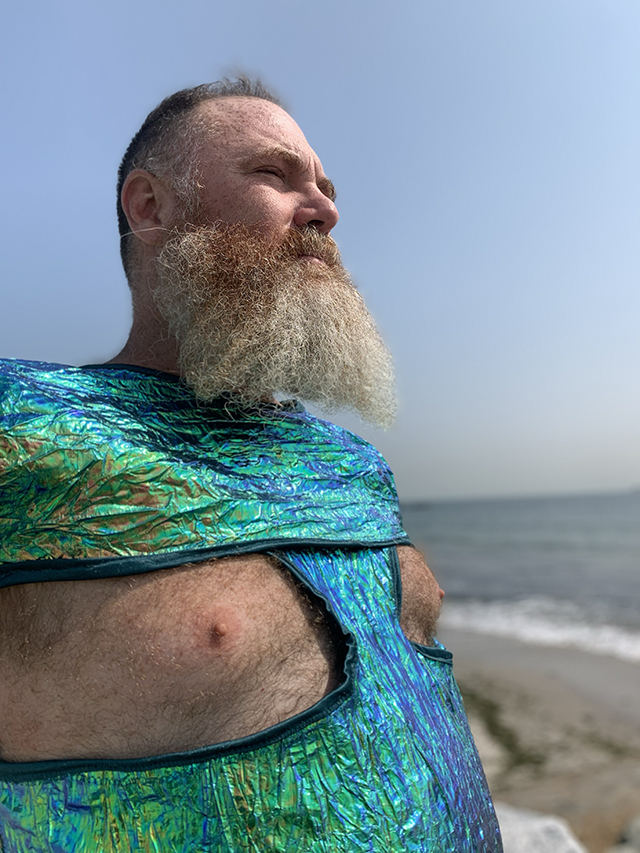 To learn more about Johnson's work, a Q&A will be moderated by Cara Cannella. Cara is a writer currently working at the Brooklyn Academy of Music as a Creative Storyteller. The exhibit, An Altar to Glaucus, will be displayed for the month of October.
I hope to see all of you tomorrow in the garden at this novel event. Rockaway garb is strongly suggested.
Tag @Beach91CommunityGarden and share the scene that inspires you at the event tomorrow!