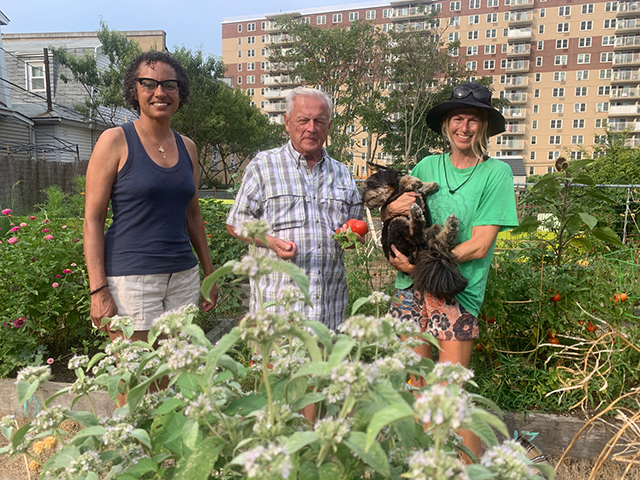 From Left to Right – Diane Cardwell, Don Riepe, Charley The Dog, Kristi Dickerson
The New York Times published an article last week stating the monarch butterfly has been placed on the International Union for Conservation of Nature's (IUCN) Red List of Threatened Species.
The Times informed, "In 2020, U.S. wildlife officials found that monarchs were threatened with extinction but declined to add them to the endangered species list because they said conservation of other species took priority…. Eastern monarchs, which make up most of the population in North America, dropped by 84 percent from 1996 to 2014."
What has contributed to this alarming decline?
Habitat destruction in Mexican forests / illegal logging
Farm pesticides throughout the U.S. and elsewhere – killing vast spreads of milkweed
Climate change – hot dry spring seasons in the south and plant bloom timing disconnected with the migration
While this red list label is extremely concerning, scientists hope that the new classification will benefit the world's beloved monarch by promoting awareness and inspiring action on a global and local level.
In late September, Rockaway experiences a snippet of the ancient butterfly migration on our coastline. This event is designated as one of the 7 natural wonders of the world. We are so fortunate! Therefore, we should feel obligated to ensure this gift from nature continues.
What can we do on an individual and community level to protect the monarch butterfly species?
To answer this question, The Beach 91st Street Community Garden  (@beach91communitygarden) contacted Don Riepe, The Jamaica Bay Guardian. Riepe has over 25 years of experience as a naturalist and National Parks manager. The nature defender met members at the garden last Saturday to discuss the monarch butterflies habitat, migration, life cycle and feeding.
"The current migration trend in Rockaway has shifted." Don began. We learned, the majority of monarchs pass through the first week of October, later than in years past. This could be caused by climate changes related to our hurricane season. Don pointed out that the seaside goldenrod planted by NYC Parks is very important and we need to preserve the dunes for this reason along with our concerns of beach erosion. Goldenrod provides nectar, which is converted into energy for the monarch's impressive 2,500 mile journey to and from Mexico. Along with goldenrod, other energy suppliers are: echinacea, butterfly bush, walker's low,  agastache, aster, sunflowers, zinnias, petunia f, and cosmos.
Don reminded garden members that it is critical for us to plant native milkweed (avoid tropical varieties). After monarchs leave their overwintering grounds – only a few 100 hectares of forest in Central Mexico – they begin to lay eggs on milkweed during their migration north throughout the U.S. Milkweed is the only plant monarchs lay their eggs on and the hatched caterpillars feed on.
"Weed" is a misnomer. This plant is a perennial beauty displaying either white, pink, bright yellow, or orange flowers in mid-late summer. The structure of the flora is intricate and stunning. Please consider planting milkweed in your home garden or in community gardens throughout the peninsula.
Take it a step further and build an attractive pollinator garden. You can start this fall by ditching your hard-to-maintain lawn and building out a new garden design. In the spring, fill it with a lush feeding ground of flowers for monarchs, bees, other beneficial insects, and birds.
To learn more about pollinators and their vital role in supporting a healthy ecosystem, attend The 5th Annual Jamaica Bay Monarch and Pollinator Festival on Saturday, September 24, 10am-1pm at the Jamaica Bay Wildlife Refuge Visitor Center. This event is presented by the American Littoral Society, with NYC Audubon, Jamaica Bay-Rockaway Parks Conservancy, and Gateway National Recreation Area. Location:
Celebrate pollinators like Monarch butterflies, moths, bees, and birds. Learn from experts and naturalists including Don Riepe and enjoy activities for the whole family. More details to come!  Find upcoming info on Instagram- @jamaicabayguardian. And visit littoralsociety.org to register.