I thought I was getting away with an easy job for my friends' double birthday party.  After all, one of the other requests was to fashion an edible shrimp necklace. All I had to do was make a melon ball salad. I had an ice cream scooper and another round tool, surely one of those would work. Nope.
Pro tip: if you're tasked with making melon ball salad for a birthday party, get a melon baller and watch a Youtube video before the day of the event.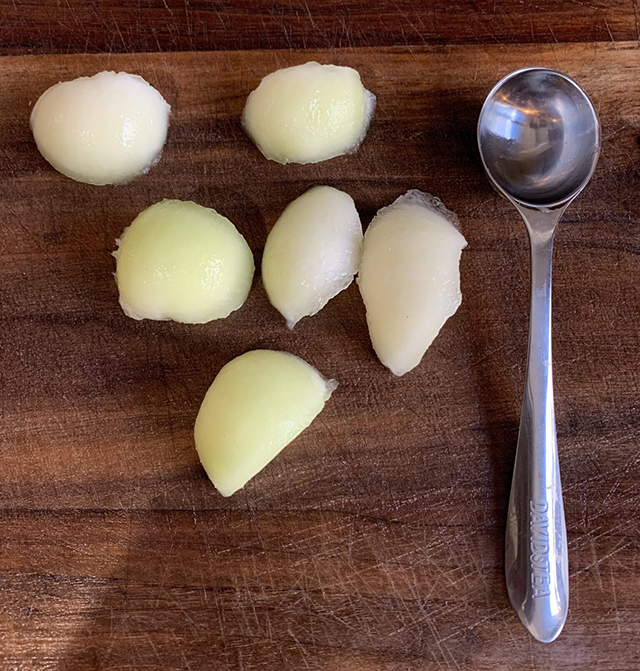 In a bit of a frenzy, only hours before the party, I googled, "how to make melon balls." After watching this really annoying, flawless woman on Youtube demonstrate the process to make the perfect melon ball, I knew I was in trouble. I learned, the key to the perfect melon ball is pressing down firmly on the outer rim of the halved melon. Then scoop with the turn of your wrist. Next, you cut an inch layer down, for another clean flat surface, for the next round. There is a lot of waste in between layers. The "June Cleaver" lady on Youtube made sure to tell her viewers to save those and eat it yourself, but it's worthy of presentation.
I had to think quickly and jazz up this regular fruit salad for the birthday "wow factor"  in the hopes my friend would not be disappointed that the fruit was in fact square, not round. I have a beautiful glass fish dish and since the party was on the beach, I thought this would be perfect to use for the imperfect melon salad. I recall seeing mint growing in the garden already, so I  hopped out the door and grabbed some. Mint is a lovely touch to fruit salad.
I'm thinking throughout all this … what's the history of melon ball salad?  It feels very middle-America, red and white table cloth vibe.
The only historical reference I found was of a Lady Augustina of Dungbeetle who invented the melon baller in 1846 (England). She believed "… ideally all fruits should be in the shape of a spheroid to coincide with the perfection of the cosmos."
There is another, more eloquent name for the melon baller – a Parisienne scoop. The French have a way of making everything sound better. The purpose of a Parisienne scoop … to achieve a fancy "cut."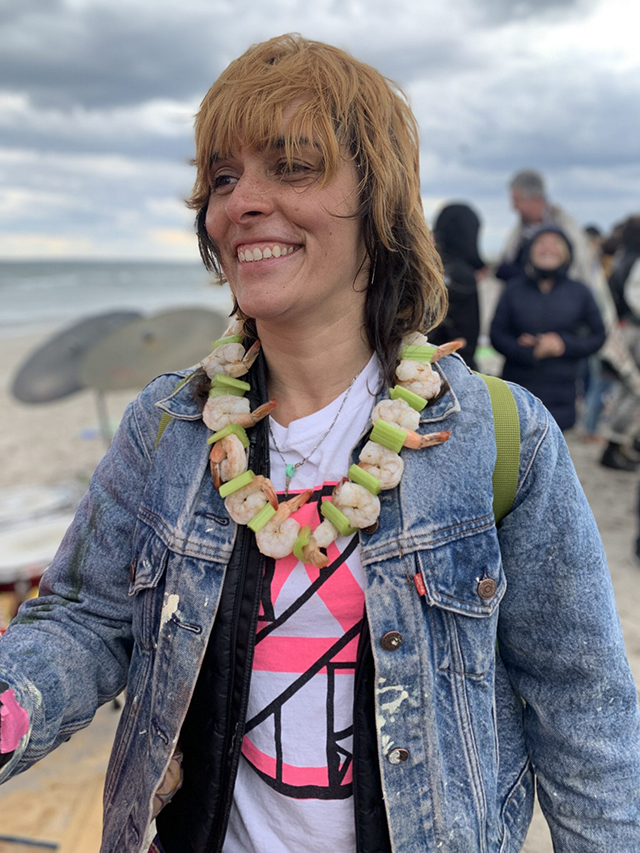 Everyone wanted to try on the shrimp necklace made by Matt J
I do know fruit is a symbol of abundance and is associated with goddesses of fertility and harvest. In myths from around the world, it is also symbolic of overindulgence, pleasure, and temptations. Overindulging is definitely key to a successful birthday party. And in the end, my friend loved the fruit salad, so all went well!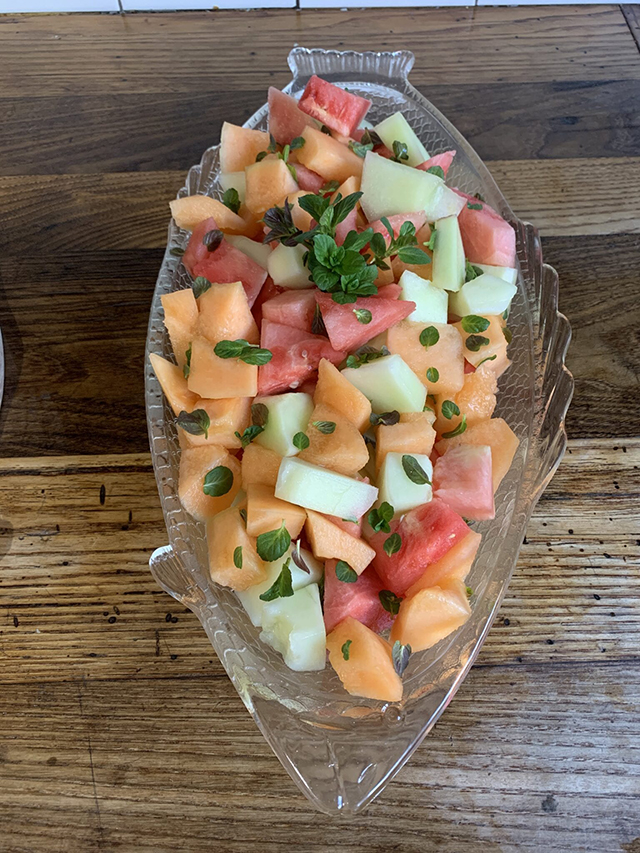 Follow meon Instagram for the day-to-day @theglorifiedtomato