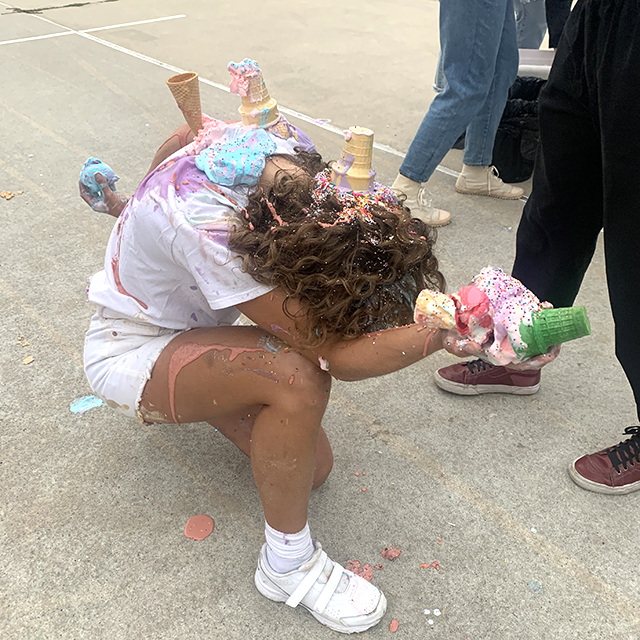 This past Sunday I attended a sweet event choreographed and performed by Michelle Amara Micca. It was held at the handball court on 77th Street. I didn't quite know what to expect when I arrived. There were four stations set up with coolers, ice cream, cones and sprinkles. Micca (she goes by her last name) sat in a chair. The music began. After about 30 seconds, an audience member made an ice cream cone, walked up to her and put it upside down on her head. She slowly got out of the chair to dance as the frozen treat melted down her face into her hair. More people began making cones and putting them all over her body. At some points, she ate the ice cream. The bright colors of the melting treat began to stain her white clothing. She looked like flying tie dye as she twirled and danced, free and strong! The music gradually became upbeat. At this point, all inhibitions were lost and almost all audience members were grabbing ice cream off the ground and throwing it at her.
One hilarious thing I noticed was the passers-by on the boardwalk, stopping and pulling out their phones. Two older women came down to the gate to watch and they looked stunned! Can you imagine stumbling upon a scene like this?  The whole experience was sweet, sweet magic!
Going into it, I had no expectations. I didn't realize seeing this performance would have such an impact on me.  Being a part of the beautifully playful performance with the community was a reminder for me that we can still feel joy and freedom safely, despite all the anxiety Covid-19 has laid upon our shoulders these past 8 months.
The show almost didn't happen. This piece has been in the making for a year but with Covid-19 the artist was apprehensive to perform it for the public. Local impresario Rob Bryn encouraged her to stage the event, and helped curate the production. This would be Micca's last opportunity until the spring since temperature is key – the ice cream needs to melt.
The invitation post on Instagram stated strict rules for attendance and shared a bit about why the performance was happening:
"My friend Micca has been dancing on the beach for two hours a day since quarantine first began back in March – in joyful practice and training. She's an incredible mover. One of the many human treasures Rockaway has mystically drawn to itself, as it does. She's been working on an ice cream piece for over a year. Before that she was in a professional dance company for 8 years. Performance is a hard way of life to live without, once you get used to it. She's been hesitant to present this piece to the public because of Covid-19… I've encouraged her to do the show with sensible stipulations… If you want to attend you must RSVP by DMing or texting. You must get tested and be negative for Covid-19. The testing facility on 39th feels very safe and efficient. It's free and you don't need an appointment. Everyone in the audience has to wear a mask and gloves. They also have to be willing to participate. Willing to get up and move. Maybe scream and shout. Give and receive energy openly. Take pleasure in sunlight and ocean air. Be willing to play with ice cream. This Sunday, October 11th. At the handball court on Shore Front at Beach 77th at 5 PM. This is an attempt at a joyful countermeasure to dark times"
I very much hope we see more of Micca's inspiring l performances in Rockaway. In the meantime, follow her on Instagram for a dose of sweetness – @MaMicca