Since my column last week "Inspiration Online And Art At Home," I've noticed even more creativity (and weirdness) on the web. We've adapted so quickly to our new social world and work lives, now held virtually…  it's pretty amazing.
One of the best examples of this is what my friend Ed McKenna is doing. He's a Breezy guy. I met Ed through my husband. They've played in some great bands together over the years.
Ed, better known to his students as Mr. Ed, is a special education music teacher.  A month ago, I stumbled upon his Youtube teaching lessons posted to Facebook. I couldn't stop laughing and I learned a little something about music theory and intervals.
Ed creates unique online classes – sometimes they take place in Paris, other times on his living room couch. In some videos, the phone rings, and what do you know, it's "Alanis Morissette, Denis Hopper or Billy Joel, who helps explain the material. In other videos, his dog Fiona (so popular with the kids) participates… and yet another, Ed teaches music through magic. "That's right folks, move over Mr. Magic, It's Mr. Ed here, to dazzle the eye and boggle the mind."
I don't know how he comes up with this stuff. It's hilarious and a fun, creative way to learn.  Some videos are 12 minutes! I asked Ed how long it takes to edit these, "A long time, but I got a lot of that, outside is canceled." For clarification, he says, "About 6 hours."
If you have children interested in music, they can learn and laugh along with Mr. Ed. Find Ed's channel here.  And if you're an adult, watch them too, for the hilarity.
hen there's DJ Paddy Tubz…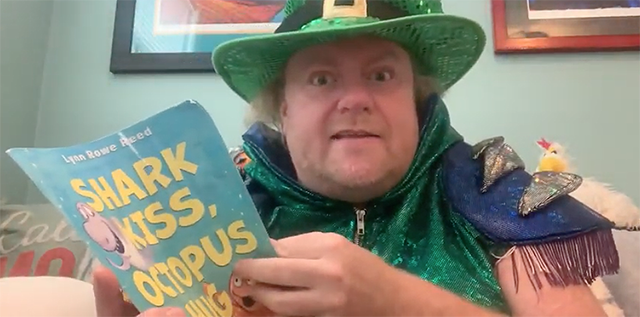 Uncle Tubz reading, Shark Kiss, Octopus Hug by Lynn Rowe Reed with beautiful ocean Illustrations by Kevin Cornell.
Correction, Uncle Tubz, of Uncle Tubz' Teeny Tiny House Book Club. Yes, our favorite Rockaway DJ has started a Youtube channel where he reads bedtime stories to the Rockaway kiddies! Paddy is in full character as a leprechaun … of course. Also on camera are his animal friends like Jancie the macaw and Clucky the resident chicken. He reads the books using different voices for each character! At the end of the story, there are little morals that relate to our current quarantine circumstances. Whether that be, staying at home if you're sick or give your family a kiss!
Find Uncle Tubz videos here.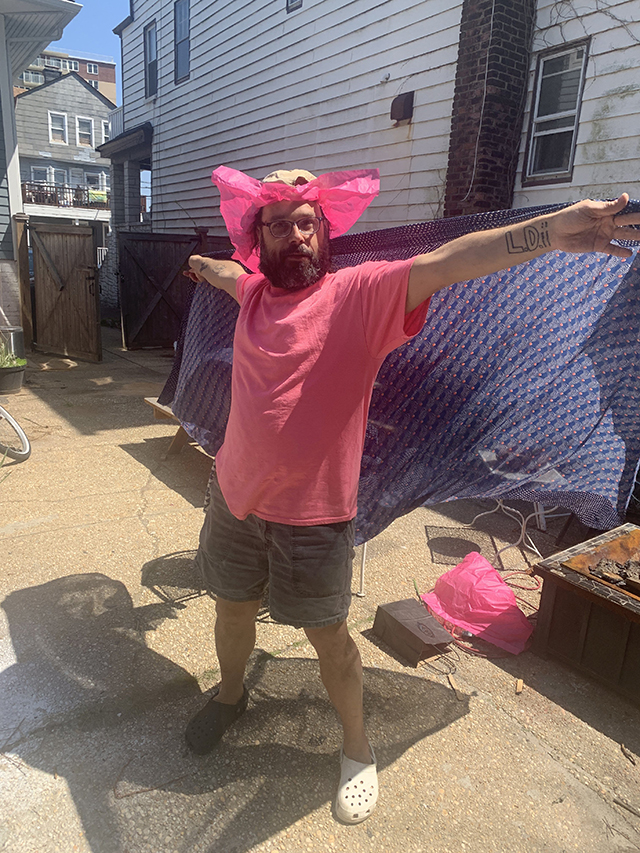 Rob Bryn
Over the weekend my friend Rob Bryn, singer of the Wild Yaks performed for his Birthday. We couldn't get together physically but we all embraced the music in the wild virtual realm. What a beautiful thing… to give a gift on your birthday rather than to receive one. I enjoyed several glasses of wine during the cosmic performance and also participated in the community Zoom, dancing along with my friends digital bodies on screen. If you're into theatrics and stream of consciousness writings, follow Rob on Instagram – @rob_bryn.
We got some weird, wonderful misfits in our community and I'm so thankful for them and the online creativity they're sharing with us – to cope, to laugh, and to get through this darn thing.