by Paula D.
on
June 9, 2019 5:40 pm
in
Food
I have two quick and easy recipes to share with you. They're perfect accompaniments for your summer BBQ.
The first is my fiesta corn. It's a spin-off of a spiced corn I had at PICO a while back. (419 Beach 129th St, Belle Harbor). It's best to buy corn from a farmstand or from a farmers market (ahem… Edgemere Farm). Maize loses its sweetness rapidly after harvest so the sooner it goes from the farm to your table the better flavor it will have.  Choose corn that is in bright green husks and check for a stem that is still moist. Look out for blemishes or wormholes! Here's what you'll need for this sweet and spicy treat.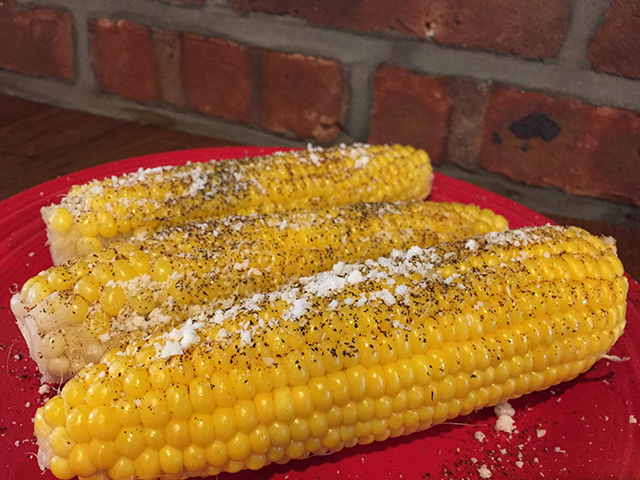 Fiesta Corn on the Cob
(serves 6)
Ingredients:
6 pieces of corn
4  tablespoons butter
Salt
Black pepper
Cayenne pepper
Romano cheese
(Sprinkle to taste as far as spice measurements go)
Directions: Put the corn on the top cooking rack of your BBQ grill in the husk. Cook for about 20 minutes. You can also bring the corn to a  boil on the stove top. Let it cool for 10 minutes. Peel back the husks. You can leave them on for a "handle" or take the husk off, whichever you prefer. Liberally rub the butter on the corn. Lay the cob on a platter and sprinkle all the spices and cheese. Rotate and sprinkle again. Corn is tasty alone but with extra spice pizzazz you turn the normal into something extra special that you're backyard BBQ guests will enjoy.
The next summer side recipe I'm recommending is seasoned watermelon with mint, lemon and salt! You may be a little hesitant to try this but I assure you it's delicious. There's a big debate on whether to salt melon or not. I'm pro-salt. My friend Dave introduced me to seasoning melon a few summers ago and I've been hooked since. A little salt brings out the flavor and sweetness. Add a healthy amount of mint and lemon and you've created something from nothing in a matter of minutes. The combination is so refreshing in the summer heat.
An interesting aside – did you know that the whole watermelon is edible? The rind is packed with nutrients, and in China the rind is stir-fried or stewed. Watermelons are part of the gourd family and in the Middle East, the seeds are dried and roasted, as we do with pumpkins. In the southern parts of the United States, where watermelon grows in abundance, the rind is pickled. I'm feeling another watermelon recipe column happening from these interesting facts!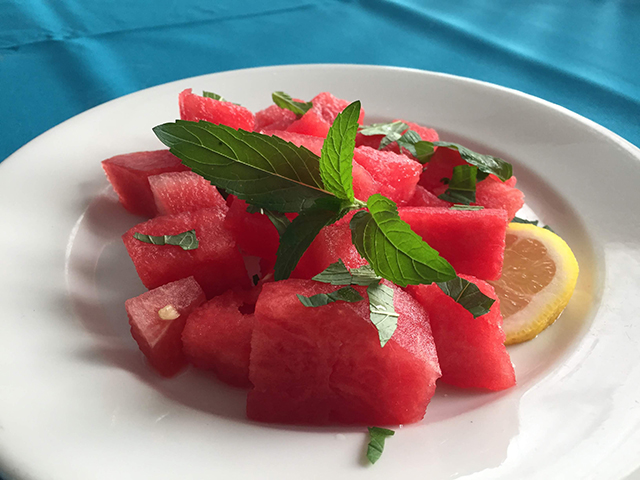 Here's what you need for the Minted Watermelon recipe.
Ingredients: (serves 6)
1/2 watermelon
½  cup diced mint and a sprig for garnish
Salt to taste
1 lemon

Directions: Cube the watermelon and toss in a bowl with salt, diced mint, and lemon. Serve chilled. That's it!