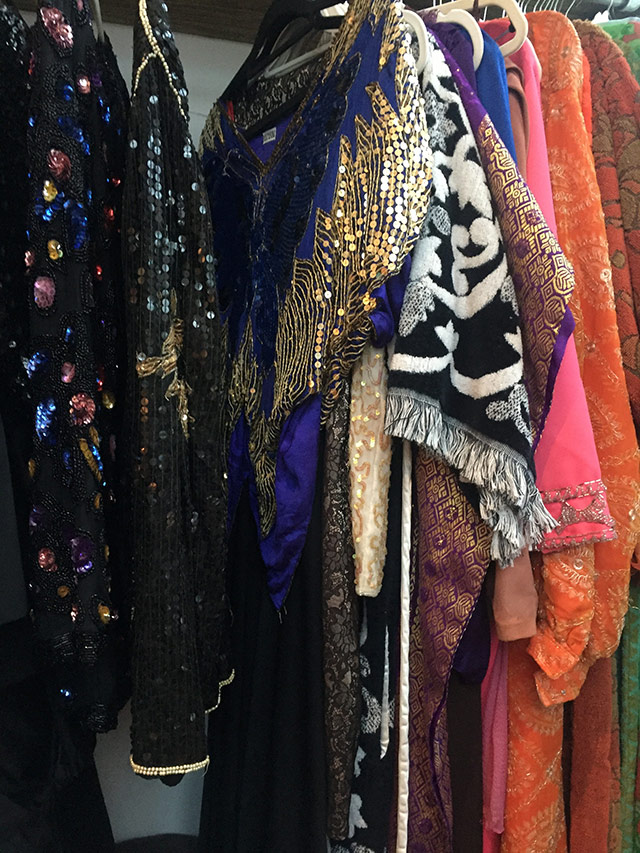 Previously published in The Wave.
I walked in Zingara Vintage the other day and my eye was drawn to a sparkling multicolored sequined blouse from the 80's. The wide sleeves were shaped like the wings of a butterfly. An image of my Grandmother Pauline flashed in my head and I had a comforting feeling. Many items at Zingara Vintage remind me of my Grandma's closet, filled with all its treasures. She had a wonderfully impactful, eclectic style– gold costume jewelry, lace shawls, retro sunglasses, big brimmed hats, long beautiful dresses.  When my sisters and I would sleep over, our favorite thing to do was playing dress-up with grandma's garments and flashy accessories. We would pretend to be glitzy movie stars. Grandma would sometimes say "Oohh!! You girls look like Zsa Zsa Gabor!"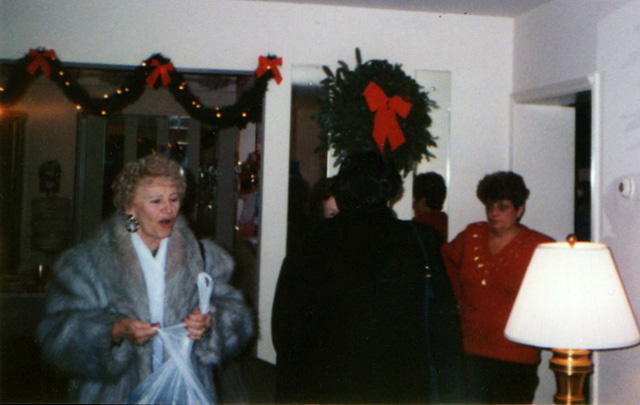 Grandma in the fur!
Some people get dressed up for special occasions, but my grandmother dressed beautifully every day. One of her famous lines was. "You never know when the talent scouts will be out." She would have lipstick on whether she was going to Genovese or going to a wedding at Russo's On The Bay. I'm her namesake and I've always felt a special connection to her. Grandma Pauline had a fun-loving, party personality, and when danced  into a room (she would actually twirl and whirl in), everyone noticed.
But it wasn't all parties and twirls, and these days, I wonder how she managed it all. My grandfather died when my father was 10 years old. She was a single working mother with two sons growing up in the 50's into the 60's. She worked and commuted daily into Manhattan. She was a secretary for Head Bed, Co., a furniture and bedding store. I wish I knew more about that part of her life. But I do know it couldn't have been easy to hold it all together.
I told Erin Silvers, owner of Zingara, about my grandmother and the memories of her I had when I stepped through the threshold of her magical boutique. "You're not the first person to say that Paula! These garments invoke memories. They have soul and wisdom."
"Was it always a dream of yours to open up a shop like this?" I asked Erin,  "I knew I wanted to be some kind of artist. Looking back, I was inspired by my mother. She raised 4 kids by herself and we moved a lot but each time we moved, our home was a nicer place. We never had much money but we always had nice things. She would stop on the side of the road when she spotted a good find. I would help her refurbish these items."
Like Grandma Pauline, her own mother and so many women, Erin is not only a career woman, but she's a parent. I asked her about this.
"It was hard work.  It's been more of a job than I ever imagined it to  be. I come from the art side of things so it took me a while to figure everything out. The community helped me tremendously in the first years before Sandy. My long time friend Melissa Mcallister let my daughter Mikaela  and I stay with her family for extended weekends. It wasn't long before I knew this was my home. I'd host pop-ups in her driveway and at Lowtide while I was working as a bartender and at Whit's place [Whitney Aycock], among other local businesses. Having community support gave me, and still does, flexibility as a mother and entrepreneur. The store is like a second home. So its nice that my daughter can be with me there, bring her friends and feel comfortable. Since we spend so much time at the shop, I curate it to feel like a sanctuary for my family and my customers. "
Transport yourself into another era, discover new treasures and feel at home when you visit Zingara Vintage. The shop is located at 202 Beach 91st St. Winter hours are Friday-Monday, noon to 6pm. Erin is planning some special events this winter so keep an eye on Facebook facebook.com/ZingaraVintage and Instagram @zingaravintage.