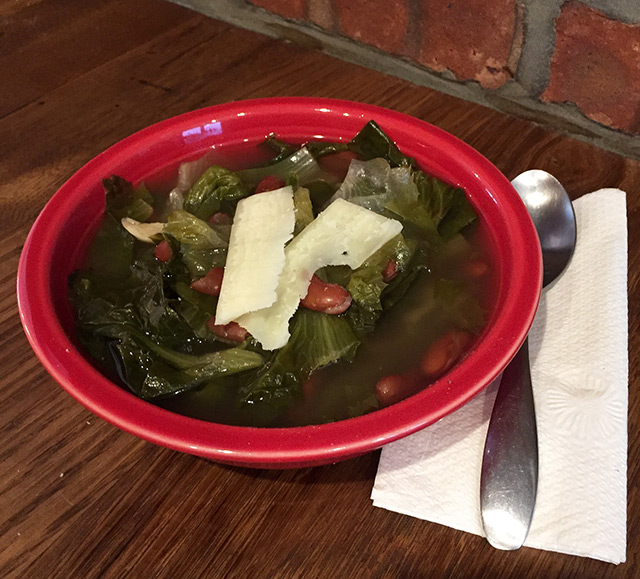 Previously published in The Wave.
I was selling some stuff on eBay last week, and in a little slip of the tongue, I asked my husband if the money was "in escarole", which sent him into a hysterical laughing fit. "I think that might be the Sicilian-est malaprop possible." he said. In any case, it gave me the idea to share with you an old family recipe for Zuppa di Scarola e Fagioli, or escarole and bean soup.
"Uhh, but what's escarole?" you ask? It's a leafy green that sort of looks like romaine lettuce, and is part of the chicory family which includes endives, dandelions, and radicchio among others. It has a light bitter taste. It's most commonly served sauteed or in soup but it can be eaten raw. Like many Sicilian foods, escarole was foraged for in the homeland. It was a peasant food – used because it was free.
Today we go to the supermarket to find what we need, but not all groceries carry escarole.  When available, it's often camouflaged among the greens. One thing to look for is that the leaf has a gradation from white to green, curly and dark green at the end, and on the whole, it's shorter and wider than bundles of lettuce. As my Grandfather taught me, just taste it. If it's more bitter than what you normally have in a salad, you found it. If you see the white band label, check to confirm, although sometimes there may not be one. To make matters worse, the signs in front of the produce are often in the wrong position because (unless you're shopping in Howard Beach, Dyker Heights or Staten Island), know one knows what the hell escarole is! It's in season, so you'll have the best luck finding it locally now.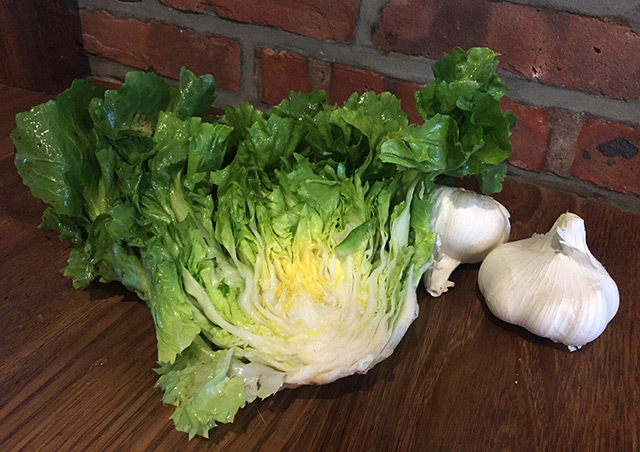 With many of my family recipes, there's a story that goes along with it. This one is a real whopper. I heard it from my mother as she remembers it from her father. My grandfather's uncle, Giacomo Sanfilippo, lived with his wife Joe (I'm guess Josephine?) and their daughter Vinny, as they called her, in their modest but very well kept apartment in Bushwick. It was around this time of year, and Giacomo hadn't been feeling well. His wife decided to make him escarole soup, the Sicilian equivalent of chicken soup. But Giacomo was giving his wife grief. He wasn't hungry. She, being an overbearing but loving Italian woman, forced her husband to eat the beautiful soup she and her daughter had so lovingly made. He took a few sips, and then fell head-first into the bowl! Uncle Giacomo was dead at the dining room table, submerged in the bowl of escarole soup he hadn't even wanted. For almost a whole generation afterwards, it was taboo to eat escarole soup because it killed Uncle Giacomo. (Or congestive heart failure. But why take the chance.)
Time heals all wounds, as the corny memes tell us, and these days, the DiGioia family looks forward to the fall season so we can start cooking the big pot of steaming escarole and bean soup. Now we joke about the story. If there's a family member or friend we're pissed off at, we'll say  "Oh wouldn't it be nice to bring them over some warm escarole soup!" Mangia!
Giacomo's Escarole Soup
Ingredients:
Serves 6-8
A healthy poor of extra-virgin olive oil (5 tablespoons)
5 large garlic cloves, sliced lengthwise
1 pound escarole, roughly chopped (2 bundles)
32 oz container of low-sodium chicken broth (use vegetable stock for vegetarian)
2 cups water
1 (13-ounce) can kidney beans, don't drain (cannellini beans are more commonly used but we use kidney beans)
1 hunk of pecorino romano cheese
Salt and freshly ground black pepper (to taste)
Directions: Heat the olive oil in a large pot over a medium heat. Add the garlic and sauté – about 60 seconds. And the beans with the liquid. Don't discard the can. Add the chicken broth and then the escarole. Depending on the size of your pot, you may need to add the escarole in twice, waiting for the first batch to wilt down. Use the bean can to add the cups of water. Cut off the hard/larger end of the cheese – put that piece in the soup (about 4oz.) Add salt and pepper to taste. Cook for 1-2 hours on low. Top with romano cheese and serve.
Traditionally small meatballs are added to this soup but over time my family has omitted them. It's so fast and easy to make escarole soup without them and it still tastes delicious. This soup is often called Italian wedding soup when meatballs are included.