Last year, our oldest daughter, Roseanne, was married and had a lovely reception in a catering hall that did all the work and just asked us to pay. Easy job, and common nowadays.
When my parents got married, over six decades ago, things weren't so easy (or so fancy.) I was reminded of this by finding my parents old wedding album, deep in the back of my bedroom closet.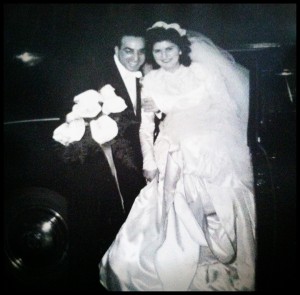 It was about 20″by 18″ and made of a white silk. The pictures on the inside are 8″by 10″ black and white photos, perfectly preserved since 1948. The binding, however, was crumbling, so I took out the pictures and tossed the huge album. In looking at the pictures I got to see the smiling faces of my first family enjoying a wonderful day.
They didn't have a fancy wedding in some gilded catering hall. Things were different then.
In 1948 my parent had what was called a "football wedding," which was common after World War II.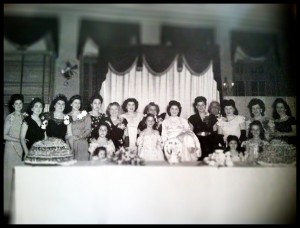 The family would rent a local hall — Knights of Columbus, Rotary or some other kind. The night before, the women and the men would help to create the many trays of sandwiches. On a long table, with piles of cold cuts, cheeses, tomatoes, lettuce, pickles, mustard, mayo and lots of rolls were created in assembly line precision. They would be wrapped and piled high on trays.
The football term comes from the way they tossed the sandwiches around the room at the celebration. The sandwiches were either round or oval rolls, and you could easily make a touchdown of a salami and provolone with mustard far across the hall. That was done by men in tuxes and women in gown. The little kids at the weddings must have had a ball.
You can see the trays of round roll sandwiches in some of the pictures. A wedding cake was ordered from the local bakery for the special day. Bottles of wine, soda and whiskey would also be available at the wedding.
In the photos I also noticed plates of small round items, not stacked as high as the sandwiches. They were cream puffs, and inside joke dating back to the engagement.
My father always had an insatiable desire for sweets. As a young man, he would use his last pennies to buy pastry to feast on. When he began dating my mom, he would dazzle her parents with exotic cakes that he would find in pastry shops that were not Italian. My dad would go into a French bakery and bring unusual sweets.
After dating for nearly a year, it was about the time for my father to ask for my mother`s hand in marriage. My father spoke to her father and formally made the request. My grandfather liked my Dad. He particularly like the Cuban cigars that my father would bring on every visit, so the request was easily granted. Now the ring and proposal were next. My father bought a beautiful diamond, and then went to the bakery.
He bought 2 dozen cream puffs and before they bound the box, he put the ring in the top puff of the pyramid shape.
Great plan. All my mom had to do was get that top cream puff when the box was opened. Now my father was the smartest man I have ever known, well read, well spoken, funny, and a great writer. But he was also a klutz, known for falling off ladders and dropping paint cans. So, the subway ride to my mother`s house with cream puffs in the box was a risky assignment. When he arrived at her house, one sister commented that the box looked bent. My father acknowledge that happened when he fell on the subway steps. But he was frantic and he told the sister to find the ring and put it on top in a pyramid shape.
Thankfully they found it, and as my father found the words to ask for my mother`s hand in marriage the tray of cream puffs came out, followed by a tray of espresso and a few more sisters and my mother`s parents.
My mother was told to take the first puff and sticking out on top when she took it was the ring. I can only imagine the next scene, of laughing and crying for joy.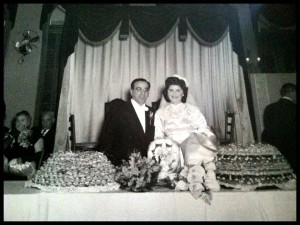 So at their wedding, they remembered that moment and fancy cream puffs adorn their table — a table assembled with simpler things, in simpler times. There were many sweet moments in their years together and we all got to share in them.