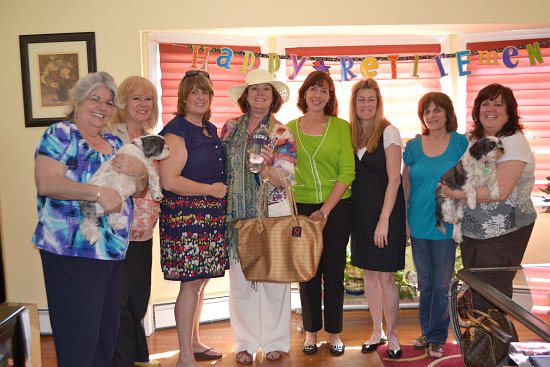 Friends we'll always be
I recently enjoyed a retirement party for a friend I've met through teaching. As we sat at one of our homes, sipping wine and talking, we got to the discussion of where our friendship began.
At various times in the 80`s and 90`s, each of us came to teach at the same school near the beach. We were at a school where things were difficult. The students were a challenge to teach and part of our survival was to bond together. We helped each other out by taking a child who was having a bad day and put him or her in another room to cool off.  We became friends and supportive therapists for the most agonizing days of teaching.
And then to solidify our friendship, we would gather outside of school to connect in another way.  We would meet at local restaurants and over wine (just a few) and delicious food and complain, reflect, whine and even cry about  all that we faced during the school week. But the best times were in each other`s homes.
Every summer for over 20 years I've hosted a gathering at my home. It was my dining room or backyard where we would meet to talk about the year that passed and how we all had the answers to make the educational system work.  Some of us stayed teachers, while others moved on to supervisory positions. Children grew, marriages ended and others started.  Some became grandparents and others waited for college graduations.  We moved on through new schools different from where we all began. We carried on through good times and bad and met again for those lovely lunches in our homes. These were the celebratory times of good food and great laughs with old friends, whose memories carried us back to many years.
One of the favorite foods at each of the lunches was my homemade potato salad.  It was always in demand, whether the meal was chicken cutlets, or hamburger off the grill. At the retirement party, as we ate delicious Italian foods including stuffed shells and eggplant rollatini, we had a side of potato salad. Then, before dessert, one of the treasured friends opened her gifts to commemorate her impending retirement.  She loved the beach hat and travel  bags for the trips she hopes to take. She wrapped herself in the beautiful shawl and we all laughed at the large bottle of vodka. Then over strawberry and whipped cream cake, we looked back on where it all began.  We recalled the colleagues that came and went from our lives. We remembered the many principals who were at that school on the beach, those many years ago.  We all moved on to different places and took with us one special thing, our friendship, the bond of women who started in one place, traveled to many, only to constantly find our way back to each other. We are held together through the celebration times of food, drink laughter and tears. Friendships where we could count on each other to help, support, and care for one another.  And as we sat at the table together and raised a glass in congratulations,we smile in the understanding of how our lives have come full circle.  And as I look down the road ahead of us, we all know that we will always find our way back to each other again.
Here is the potato salad recipe that seems to often be the high point of our luncheons.
FRAN'S FAMOUS POTATO SALAD
5 lb. bag of California white potatoes – (makes the best salad )
1 medium yellow onion
Helmanns  mayonnaise – quart jar
about 1 tablespoon of red cider vinegar
5  hard-balled eggs
salt, pepper to taste
shred 2 large carrots
fresh parsley
– Boil the potatoes, washed, unpeeled in a large pot
– When they are fork ready, drain, cool and refrigerate for several hours
– When the potatoes are fully cooled, peel & dice into small cubes
– In a large mixing bowl, combine potatoes, onion, cut-up eggs, seasoning, carrots and parsley
– Add the vinegar. Slowly add about half of the jar of mayonnaise until the potatoes are  moistened and covered.
– Add more seasoning if needed.  Be sure to add  the salt slowly and taste as you go along.
– Transfer to a large serving bowl. Refrigerate.
– Serve to large groups of family and friends. Distribute extra in containers to share with friends.