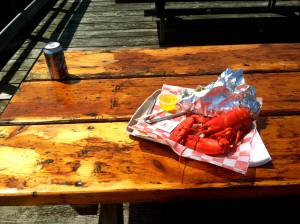 Living by the beach while still living in New York City means I rarely feel the need to "flee" the hot and steamy sidewalks when the summer rolls around. I flee every night on the A train home.
But living here doesn't mean I don't like a good cooler-packed road trip like the rest of the world. Which brings me to Maine, the state called Vacationaland, where I spent three days eating lobster and enjoying the lighthouses and beers. We went sailing and saw lighthouses and played life-sized Jenga and had a ton of fun, but I'll stick to what you want to hear about: what we ate.
My Favs:
Maine Diner, Wells
The first stop on our trip, I ate the seafood chowder (rich, so much seafood!) and a crab cake (little flat and oily but I didn't complain. Long drives make me hungry.) We spent our first dollars in the adjacent gift shop and I added to the coozie collection.
Havana South,  Portland
I ate the baked stuff lobster. It had chorizo in it and was delicious. We started with the proveleta, an Argentinian dish of spicy melted cheese and not much else–not that it needs much else. We also had an avocado shrimp salad, which was light and delicious. The complimentary jalapeno cornbread was great, and the pitcher of red sangria we ordered might have been the best part.
Oasis, Portland
Try some local brews–we had their Oasis lager and Gritty's–in lieu of the giant rum jugs. We watched a live band play outside and then spent the rest of the night dancing in the 2nd floor dance section, which was more club than beachside bar.  The DJ booth was in a fake hull of a ship and he played my request for "Telephone" within three songs. Success!
The Cookie Jar Bakery, Cape Elizabeth
Eat EVERYTHING, if you physically can. I had my first bismark here, which is basically a chocolate donut cut in half and stuffed with a creamier-than-Boston creme. Stop by on your way to the local lighthouses or the beach (if you're going to swim at Higgins Beach,  beware that it's not as warm as the Atlantic in NYC at this time of the year)
The Lobster Shack at Two Lights, Cape Elizabeth
The lobster roll was unreal, the view even better. We waited on line for a bit but the weather was great, the scenery perfect, and the adjacent gift shop a great distraction. I'd recommend the rolls but the full lobster bake dinner I saw other guests eat at the picnic tables around me looked great, too. It's also BYOB (alcoholic) so for those with a DD and a thing for white wine with their lobster claws, this is your spot.
Red's Eats, Wiscasset
The line for Red's was nuts, and I didn't want to leave Maine without having a whole lobster I cracked myself. So while Beth and Auggie waited on line for the largest lobster roll I've ever seen, I went across to a shack across the street for some fish. I was so psyched I didn't jot down what it was called, but the lobster and corn and root beer was great.
Another spot I didn't take notes on? The ice cream shop next door to Red's where I tried lobster ice cream. That happened. It reminded me of salted caramel–the sweet and savory all at once flavor and the occasional small bits of lobster. Weird, but worth a try (samples, of course, are not free– $.75 a spoonful I believe.)
Hey all, if you can, get in your cars (or rent one or fly or take a bus or a train, whatever), and get the hell out of the city every so often. I don't do it nearly as much as I should but this simple 3-day trip was enough to make me want to come back.