by Paula D.
on
January 18, 2023 7:27 am
in
Surf
I had three car situations happen in the past two weeks. The car struggle is real. I don't know much about them. I'm bad at maintaining them – renewing registration, tickets, oil change (how do you read that sticker?), random missing license plate, cleaning it, etc. I do know, I need my 2005 Chrysler Pacifica to transport plants in the spring, to buy 12 foot skeletons on a whim, to go thrift store shopping and non-negotiable… to see my mother once a week on Long Island.
The first car chronicle…  I'm not the best driver, yet I managed with success to navigate everywhere on my recent trip to Puerto Rico! As many of you Rincon folks know, the roads in PR have major potholes, phone navigation is spotty and road signs are not always present. On top of that, I was driving with my rental surfboard on the roof. I learned how to use those foam things and ratchet straps to secure the board! This may not sound like a big deal but it is for me. With the variables mentioned above, I'm feeling really great about my Puerto Rico driving record. Maybe I'm not a bad driver after all…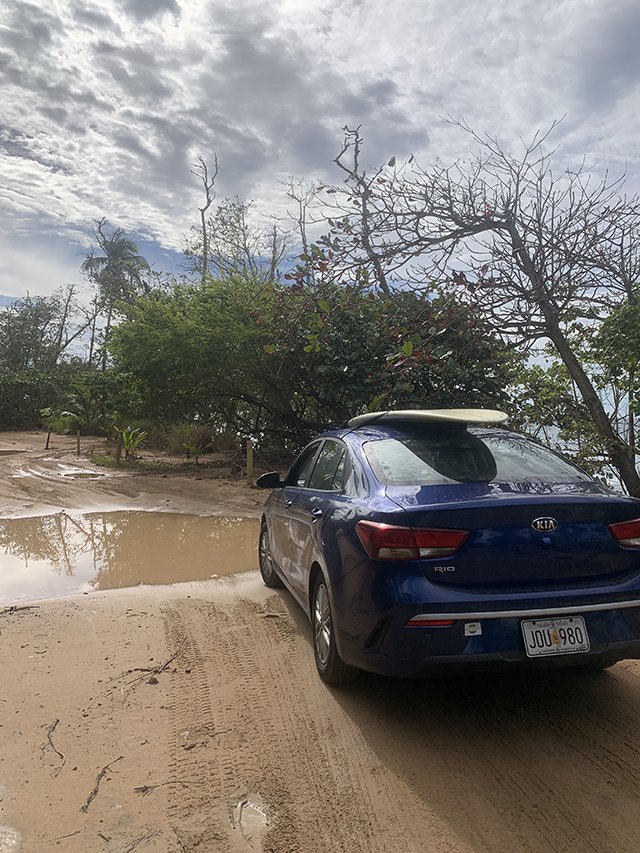 Enormous, muddy pothole on the way to Wildo surf break, no problemo.
The second car story begins at JFK. I was exhausted from the overnight flight out of Aguadilla so I decided to cab it. I get in and tell the guy I'm going to Rockaway Beach. He was very polite. A few minutes go by and he tells me that it was meant to be that I entered his cab. He said we've met before… in a past life. He goes on to tell me that he's from Pakistan and that he's a life coach. He asked me my name and then said, "Paula, have you found love?" Strangely, I felt very comfortable talking with this man. In a half lucid state, I engaged in his conversation. His name is Jeffery. He tells me that conflict and lies cause anxiety which perpetuates grief and pain.  We need to free ourselves of those traps, he continues. If we find axiom we will find peace. He goes on about how mathematics is directly correlated to our happiness and that I can find the formula. 6 years ago he attended a week long seminar on Dianetics. There he was enlightened and discovered pure truth. He also met the love of his life in a conference room.
As I was leaving the cab, Jeffery gave me his phone number and said he knows of a great Indian restaurant by Laguardia airport. He said to text him and he and his wife would enjoy having lunch with me sometime (I love NY).
Lastly, two days after my 42nd birthday, I learned how to put air in car tires. They say it's never too late to learn. It goes like this… I left the house heading to my parents for a belated birthday dinner when I noticed the car tires were very, very flat. I got irrationally frustrated. I started cursing wildly. I didn't want to disappoint my parents.
But then, I thought of Jeffrey, the scientologist, life coach cabbie… how would he handle this roadblock?  I needed to reset and erase the content of my reactive mind. I took a few deep breaths. I texted my father and told him about the tires. He said, sometimes tires go flat in the winter if you don't use the car. Who knew? Apparently a lot of people, because they responded to my Instagram story, where I shared my struggle at the gas station.
13 dollars in quarters and two unnecessarily long youtube videos later, I successfully filled the tires. And I made it to my parents house for eggplant rollatini and birthday cake!
Learning new things and opening yourself up to different people and ideas (cultish or otherwise) feels right for me this year. I've started a list of accomplishments and skills I've learned so far in 2023. Let's see how far I can go.