"Carrots struck again at the free fridge.," read a text from my friend Mike B. Every so often a very large, beautiful bag of multi-colored carrots are donated to the community fridge at 166 Beach 92nd St. The carrot drop is a mystery to many and we'd love to know who the generous carrot-donator is? Please come forward!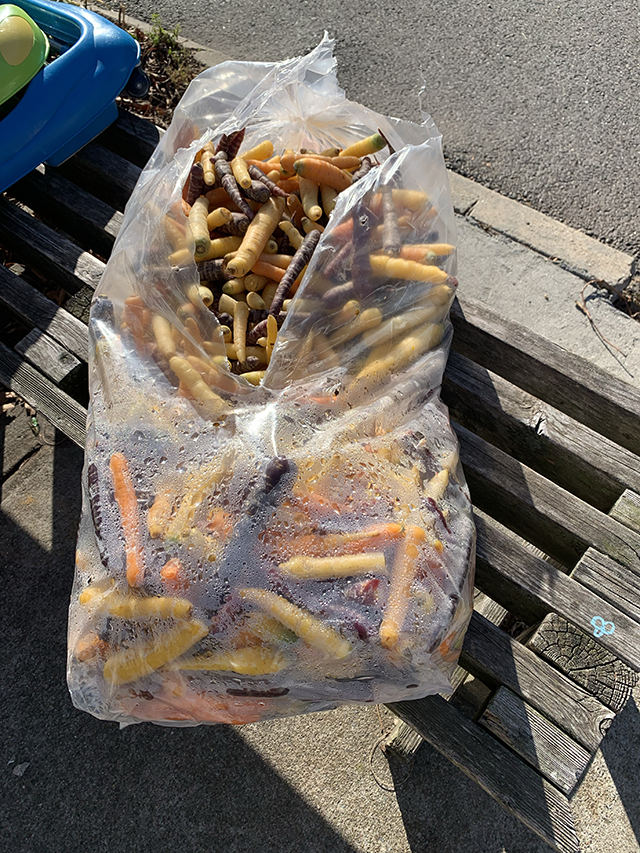 I took some purple carrots. I decided to make a creamy carrot soup with fresh herbs and garlic. Soup calls to us during the cold winter months. Carrots of many colors have many health benefits –  fiber, vitamin K1, potassium and antioxidants. Color in all food is mostly made from the following compounds: carotenoids (orange and yellows), flavonoids (blue, red and creams) and chlorophyll (greens). Colorful food – fruits and vegetables contain the vitamins and antioxidants we need for a healthy diet.
This Creamy Purple Carrot Soup recipe is hearty and rich. The thyme and parsley complement the semi-sweet purple carrot flavor. I like spice! If that's you, add a healthy amount of red pepper flakes to keep warm. You can puree the soup but I thought the color was so beautiful as is, I let it be.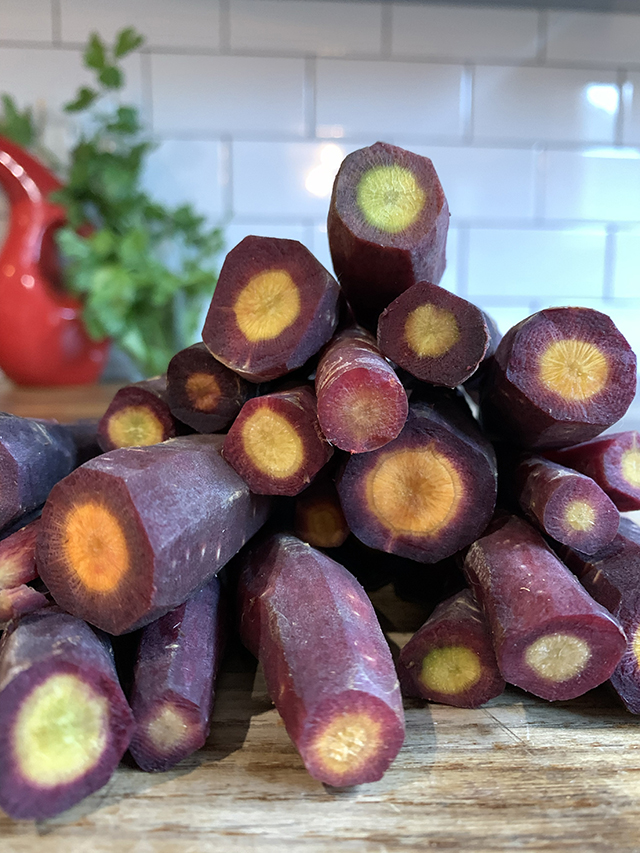 Creamy Purple Carrot Soup
Ingredients:
8 carrots peeled and chopped
2 shallots diced
1 white onion diced
10 cloves garlic chopped
2 tsp Thai red curry paste
4 tablespoons butter
1 cup heavy cream
6 cups water
1 tablespoon Better Than Bouillon (vegetable/vegetarian)
Fresh Thyme
Fresh parsley
Salt, pepper, red pepper flakes to taste
Directions: 
In a large pot, melt the butter over medium heat. Add the shallots and onions. Saute for 5 minutes. Season with the spices. Add the garlic and Thai red curry paste – saute for 3 minutes.
Add the carrots, water, Better Than Bullion, fresh herbs and bring to a boil.

Reduce heat and simmer until the carrots are soft – 15 minutes. Add the heavy cream, simmer for another 10 minutes. Top with parsley and serve hot.
Recipe adapted from: thestayathomechef.com
We tend to think about donating food around the holidays but the truth is, people are challenged by food insecurity year round. The U.S. Dept. of Agriculture defines food insecurity as a lack of consistent access to enough food for an active, healthy life. Hunger refers to a personal, physical sensation of discomfort, while food insecurity refers to a lack of available financial resources for food at the household level. According to feedingamerica.org, in NYC, 1 in 10 people face hunger and 1 in 7 children face hunger.
Since the pandemic, there has been a spike in food insecurity. We all need help at times, so don't hesitate to access this resource. Anyone can take food from the community fridge located at 166 Beach 92nd, between Rockaway Beach Blvd. and Holland Ave. It's open 24 hours / 7 days a week.
The Community Fridge Project is generously brought to us by the Rockaway Mutual Aid, with support from Campaign Against Hunger. It is kindly cared for and hosted by Rockaway resident Becky Glennon and her family.
Community members and local businesses help fill the fridge. Please consider donating – any time of the year. Drop food directly at the fridge or contact The Rockaway Mutual Aid. In addition to food, The Rockaway Mutual Aid provides services such as food drop off to elderly folks, health care information, family/child care resources and more. To donate or volunteer, visit rockawaymutualaid.com and follow on IG @rockawaymutualaid.
To request resources and support, call (732) 654-2505, visit the website or the Facebook page.