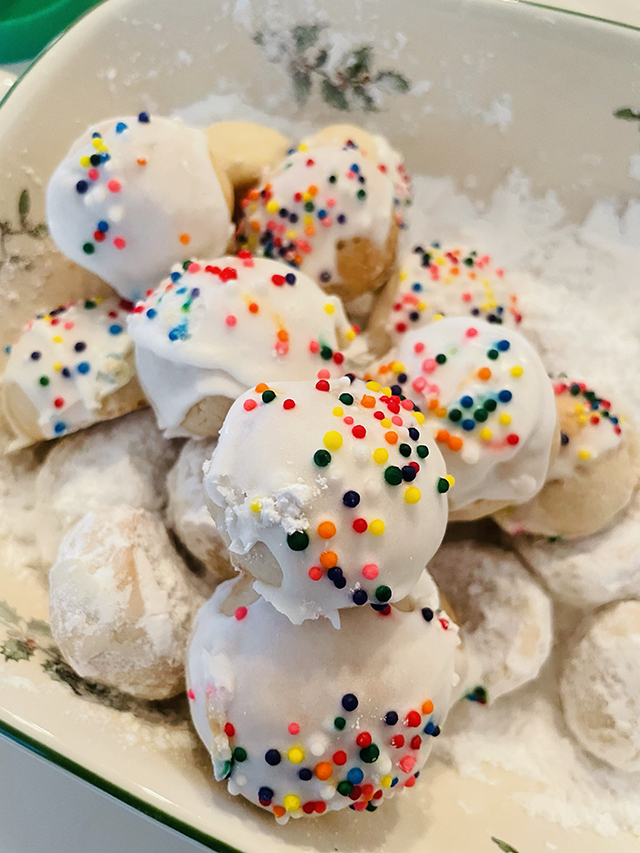 I saw my sister Maria last week at my Goddaughters birthday party. I was ranting to her about how busy and stressed out I am with work. I mentioned I didn't have an idea for my column this week and she said, "Oh, this is easy, bake Christmas cookies and share the recipe."  Flailing my arms in the air, I respond, "But I don't have time!!" Maria said, "Calm down. I have pictures of the Italian Christmas cookies from last year. You love them, lie and say you made them." We both were like, "Yeah this is a great idea," and started laughing so hard!
My favorite Italian Christmas cookies are soft and cake-like. The almond extract offers a delicate nutty flavor. They're not too sweet. The vanilla glaze creates a hard casing. It's a nice textural contrast to the softness inside. They taste amazing and also look beautiful. Ornament the snow white cookies with sprinkles for festive appeal.
You can make Italian Christmas cookies in advance – always helpful during this busy time of year (insert head explode emoji here). Freeze them for up to one month. My sister Maria said they're a piece of cake to make!  I hope you enjoy these cookies as much as I do.
INGREDIENTS:
For the cookies:
2/3 c. granulated sugar
1 stick unsalted butter, softened
2 tsp. vanilla extract
3/4 tsp. almond extract
3 large eggs, room temperature
2 1/2 c. all-purpose flour, plus more for dusting
2 tsp. baking powder
3/4 tsp. salt
For the glaze:
2 c. powdered sugar
3 tbsp. milk
1/2 tsp. vanilla extract
Red and green non-pareil (the tiny ball) sprinkles, for decorating
DIRECTIONS:
For the cookies: 
In the bowl of a stand mixer fitted with a paddle attachment, beat the sugar, butter, vanilla extract and almond extract on medium until smooth and fluffy, about 2 minutes. Add the eggs and beat until combined. (The batter will look separated.)
With the mixer on low, gradually add the flour, baking powder and salt. Beat until all of the dry ingredients are incorporated. Wrap the dough tightly in plastic wrap and chill for at least 1 hour or up to 4 hours.
Preheat the oven to 350°F. Shape the dough into about 36, 1-inch balls (lightly dusting hands with flour, as needed) and place on 2 parchment-lined baking sheets, spacing each at least 1-inch apart. Or, if desired, roll each dough ball between your hands (lightly dusting in flour if needed) into a 4-inch long log and coil each piece into a mound.
Bake the cookies until set and very lightly browned on the bottom, 10 to 12 minutes. Transfer the cookies to a wire rack to cool completely, about 30 minutes.
For the glaze: In a medium bowl, whisk together the powdered sugar, milk and vanilla extract. Dip the top of each cookie in the glaze, allowing the excess to drip off and then sprinkle with the non-pareil sprinkles. Let the cookies stand until the glaze hardens, about 30 minutes.
Recipe originally from thepioneerwoman.com
For more holiday cheer, follow me on IG – @theglorifiedtomato.