My sister was out of town and I was watching her children. I wanted to make the most of my time and while the kids were in school, I took my friend Fernanda, who is visiting from Colombia, to the most important historical landmark on Long Island – The Big Duck.
The beautiful structure came into view as we were driving on the narrow country road. I was a little worried The Big Duck wouldn't be open. The architectural marvel is also a quirky museum and gift shop. We hurried to the door. It was open and we excitedly entered!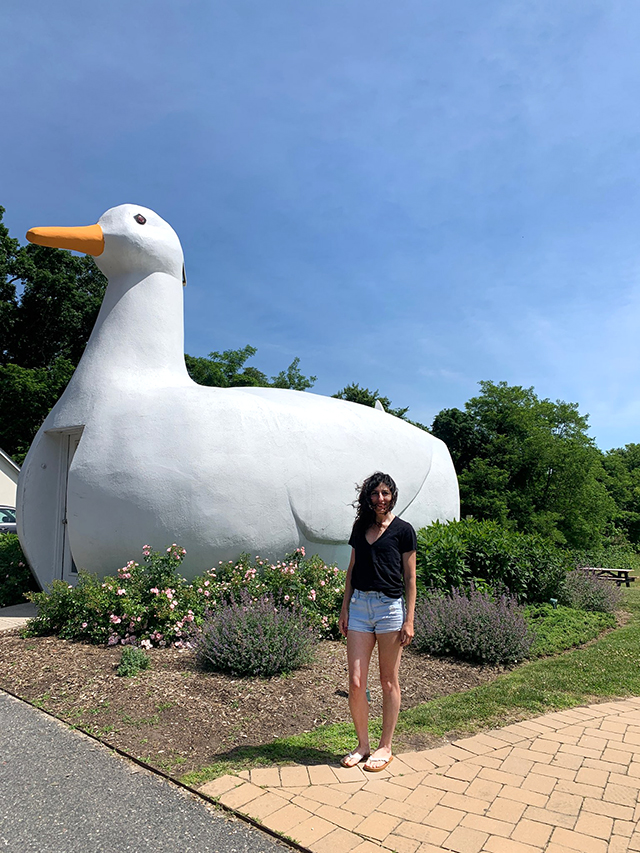 Fernanda and I were greeted by Suffolk County Park Ranger Mr. T., a charismatic duck enthusiast and an encyclopedia on Big Duck's fascinating history.
I was overwhelmed by the articles and photos that lined the walls. My eye immediately was drawn to the illustration of The Big Duck on the cover of The New Yorker, dated May 11, 1987. Mr. T. wasted no time and began speaking to us about Big Duck's rich history.
Fernanda and I learned the structure dates back to 1931. At this time, there were Pekin duck farms everywhere in Suffolk County.  It is said the ducks came via ship from China in 1870 and since this animal couldn't fly, and its meat was delicious, the farming of Pekin developed quickly into a lucrative business. But competition was fierce. And so a savvy Riverhead duck farmer, Martin Maurer, and his wife Jeule had an idea to set their duck ranch apart from the competitors. The concept came about in California when the couple was on vacation. There, they passed by a roadside coffee shop that was shaped like a coffee pot. Here The Big Duck was conceived.