by Paula D.
on
April 26, 2022 7:05 pm
in
Recipes
I'm a big banana person. The mild taste with a hit of honey rum flavor is so, so good. The soft texture is unlike most fruit –  pretty unique when you think about it. They're easy to eat, which makes them a great, healthy grab-and-go snack. Bananas are a good source of fiber, vitamin B6, manganese, vitamin C, folate, and potassium. And they're only about 105 calories and quite filling.
Last week I had a craving for banana bread. I haven't made this in a long while but you know… It's like riding a bike. I only had one banana in the bowl, so I walked over to Key Food. As I feared, the bananas there were green. This presented a problem of course. I needed very ripe bananas for the bread. It was a funny conundrum because most times we all have overripe bananas and we can't eat them fast enough.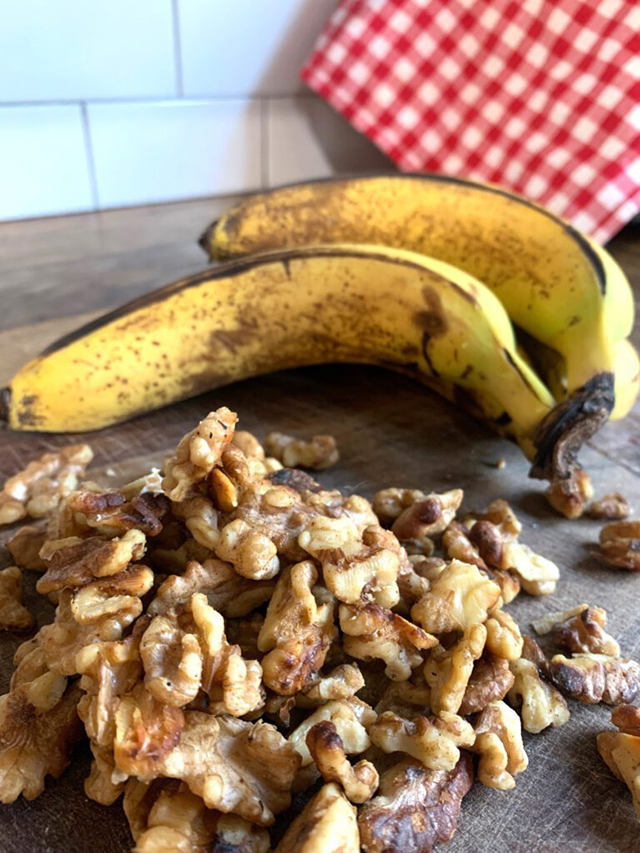 I had an idea though… I thought if I put the bananas on the radiator they would ripen faster. And you know what… it worked! It's the opposite principle of putting food in the refrigerator so it lasts longer. And this is important, If you want to ripen, keep the bundle together. If you want bananas to last longer, detach each stem for one another. Like many fruits, bananas emit ethylene gas. This gas naturally is produced in the stem. Breaking up the bunch slows the gas production which is the cause of ripening.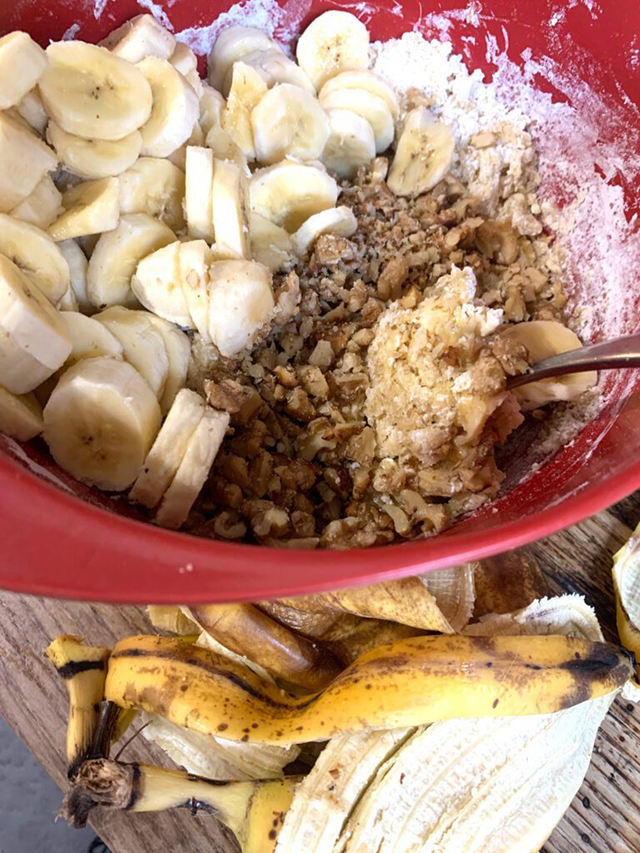 I tweeted about this and someone responded that putting fruit in a brown paper bag also expedites ripening, good to know (especially for those late-season green tomatoes). I wondered why this worked… I googled and learned it's a similar principle as I mentioned above… the ethylene gets trapped in the bag, speeding up the process.
After three days on the heater, I was ready to use the bananas. My craving was REAL at this point. This recipe is rich, not too sweet (which I prefer), and most importantly very moist. I like adding nuts to the bread. It gives a crunch and texture that complements the soft loaf.
Paula's Banana Walnut Bread
Ingredients:
1 stick unsalted butter (soft at room temperature)
1 cup sugar
2 eggs (beaten)
3 ripe bananas
1⁄4 cup half & half
2 cups flour
1⁄2 teaspoon salt
1 cup walnuts
Nutella
Directions: Preheat the oven to 350. Loosely chop the walnuts. Slice the bananas. Combine all the ingredients in a large bowl. Mix thoroughly by hand with a wooden spoon or a mixer.
Grease a 9×5 inch bread pan and pour the mixture into it. Cook uncovered for 1 hour and 20 minutes. Ovens heat differently, so I suggest checking the bread at 1 hour with a toothpick. Let the bread cool for 15 minutes. Slice and serve. Use butter if you like but this recipe doesn't even need it, its that good. Keep the bread up to a week. Wrap it well to lock in the moisture.
For more recipes,  follow me in the kitchen on instagram – @theglorifiedtomato.