Community organizers Rachel Krieger-Garone and Rachel Maki presented the concept of Connection Through Creativity to Jianna and Jason Heuer, owners of Avoid The Day Bookstore & Cafe. They were happily on board and excited to partner and host these community bonding workshops.
Each class is taught by a local, guest artist. For the class I attended, collage creator Carolin Wood (carolinwoodart.com / @carolin_wood) shared her craft and background with us.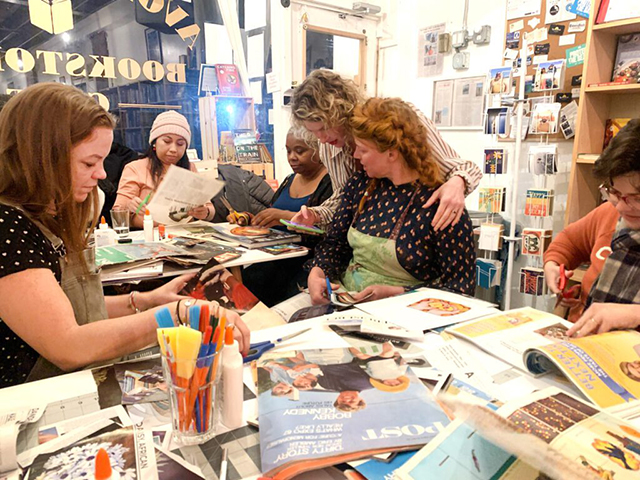 Participants of the Connection Through Creativity will have an opportunity to display their artwork in an art show at Avoid The Day in October!
Carolin began collaging as a young child. Her grandmother inspired her creativity in this medium and nurtured her talent. Carolin received a Masters in Fine Arts in Sculpture from Queens College. With a deep urge to be connected to nature and the ocean, Carolin settled in Rockaway 7 years ago. Her artwork is a search and exploration for personal growth. Which is deeply connected to being a woman, navigating single parenthood, and hardships she's endured and overcome. The process of creating is therapy for her. Carolin gravitates towards the absurdity of imagery which taps into her subconscious.
"One rule when it comes to collaging is, there are known rules. Wave your freak flag!" She told us, as she began her tutorial. She instructed to choose imagery that spoke to us – consider color and play with scale. Rachel Krieger added, "This is a mindful activity, be in the moment and create without a sense of pressure."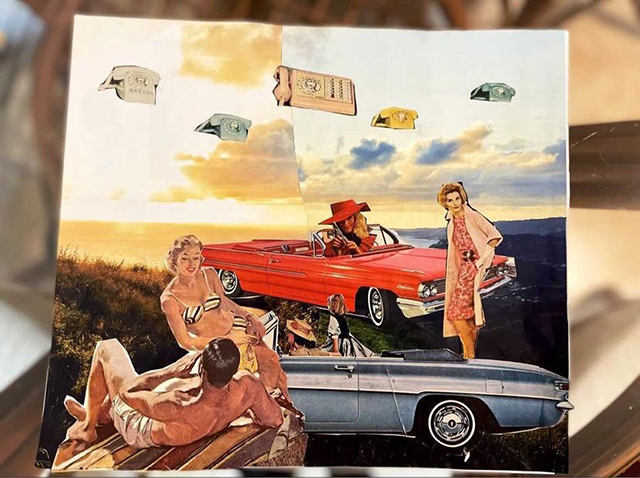 Artwork by Elizabeth Sacks
We got to work using LIFE magazines from the 1970s which were dug up from Carolin's Grandmother's basement! As we worked, we had the opportunity to meet and talk to other like-minded community members. Which for me, was so inspiring and fun. We were bouncing ideas off of each other and laughing at some of the photographs in the old magazines. It was interesting to see how different each person's college developed, despite all having the same instruction. I'm very much anticipating the next class!
Avoid The Day is open in full force for the high season, hosting educational, creative and community-focused programming including, open mic night, crochet classes, board game night, and connection through creative guided art classes / open studio and more. Visit avoidtheday.org and view the events calendar for the schedule. Happenings are also regularly posted on their instagram – @atdbookbar.
And certainly be sure to peruse the curated selection of used and new books at Avoid The Day Bookstore & Cafe, open Wed-Fri 2-8 pm, Sat 1-8pm, Sun 1-7pm. Enjoy wine, beer, coffee, tea and small bites with a book in hand… and avoid the day.
Avoid The Day Bookstore & Cafe
9904A Rockaway Beach Blvd
718-682-4399
For more on community happenings,  follow Paula around town on Instagram – @theglorifiedtomato.