by Paula D.
on
December 30, 2021 9:53 am
in
Food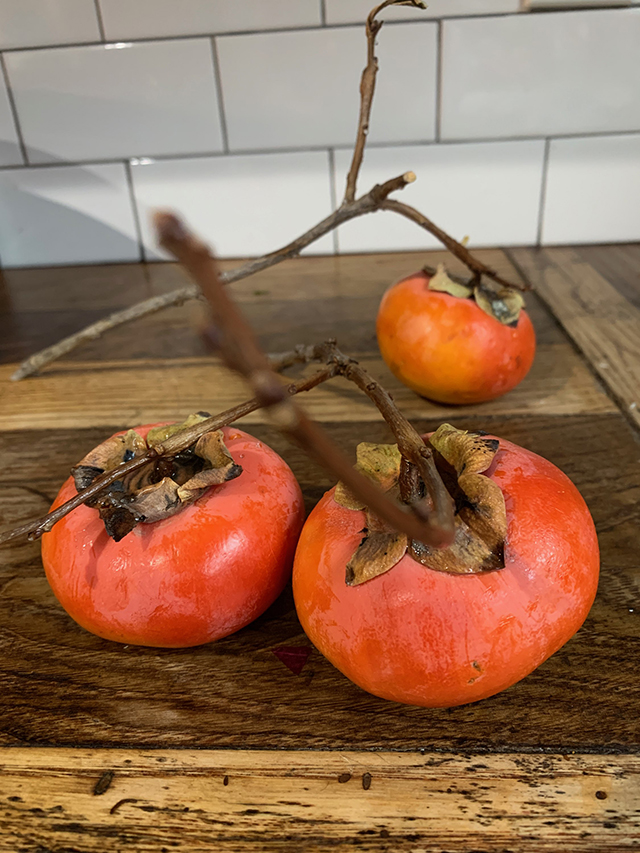 A couple of weeks ago I took a wreath making workshop with Amy Febinger at the Rockaway Hotel. You may remember I recently wrote about the experience. One of the items to choose from –  to adorn the wreaths – were persimmons. That reminded me of the first time I was introduced to this distinctive winter fruit.
It was nine years ago and a bit of an odd circumstance. We were looking for parking outside of St. Gregory's Church in Belrose. It was my Grandmother Mary's funeral. My husband and I finally found a spot and it was adjacent to this beautiful tree. One I've never seen before. It had deep orange colored fruit hanging from it. We were so confused as it was the middle of November. Why was there a fruit tree producing this time of year?
A man appeared from the yard. It was cold and windy that day. It seemed strange that he was outside. And just in time to answer my question about the tree. The metal wire gate separated me from him and the tree. "What type of tree is this? I've never seen anything like it before?"  "It's a persimmon tree." He answered. I don't remember him saying much else.
While most of the trees around it were bare, the persimmon tree was shining with beauty. It had a sparse amount of yellow leaves left but it was enough to compliment the round orange fruits hanging from its branches.
I'd like to think these few moments of natural beauty I experienced, minutes before I walked into my grandmother's funeral, was a little gift from her. After All she knew I admired nature. and food! Interestingly, the genus, diospyros derives from the Greek word "dios" which means "god" and the fruit is often called a divine fruit or God's pear. Perhaps it was a sign.
I had a few extra persimmons generously given to me at the wreath making class. I ate one for the first time. You have to peel the skin or cut around it. Permissions are very sweet, almost like sugar. The flavor is rich and honey-like. There's no tartness to the taste.
I was curious about recipes made with permissions. There are many baking recipes. But more notable ones I found on marthastewart.com are: persimmons wrapped in prosciutto; persimmons with brie on a crostini drizzled with honey; persimmon, beet and citrus salad;  frozen persimmon custard; persimmon compote with vanilla ice cream. All of these sound fun and delicious to try. That night, I put a wedge of persimmon in my earl gray tea and it added the sweetness of a heap of sugar. Perfect for a cold winter evening!