by Paula D.
on
October 5, 2021 9:59 am
in
Community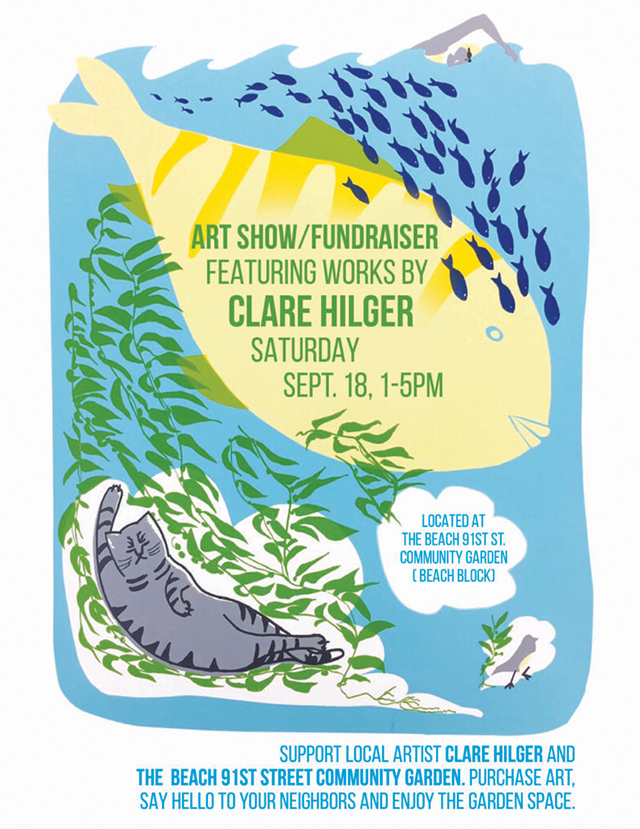 I'm excited to share that the community garden I am a part of is hosting an art show / fundraiser! It will be held this Saturday (tomorrow!) Sept. 18, from 1-5pm at the Beach 91st Street Community Garden (beach block). The artworks of Clare Hilger will be featured. All are welcome to view/purchase art and enjoy the garden space.
Clare many of you may know, as she holds the position of Secretary on the Executive Board of the Rockaway Beach Civic Association. Or you've met her at community stewardship events such as garden plantings and beach clean-ups.
Clare is part of the Rockaway Beach Bodysurf Underground, the group that organizes the body surfing competition, which was held last weekend. This event has grown tremendously becoming one of the most anticipated end-of-season happenings in Rockaway. International pro bodysurfers and locals have participated in this awesome sporting event for the past 5 years.
Clare attended Pratt Institute receiving a MS in Art and Design Education. She continued her studies and focus on art, earning a BFA in painting at Kansas City Art Institute. Clare and her husband moved to Rockaway over 16 years ago, and was part of the first wave of surfers/bodysurfers that put Rockaway on the map, as a premier surfing destination.
I've been a fan of Clare's screen prints and collages for some time now. I love her bold use of color, subject matter and organic compositions. Mostly her works are depictions of Rockaway, nature and animals, mixed with elements of urbanism.
When I worked as a graphic designer at The Wave, Mark Healey and I were discussing the summer guide cover, this was 2020. I immediately thought Clare's prints would be perfectly fitting. After reviewing many notable submissions, myself and Mark both agreed that her work, Oystercatcher, was the winner! I'm happy to have been a part of that artistic decision-making process, and others at The Wave, because it's so important as a community that we support and promote local artists.
Clare's artistic statement from her website reads:
My work represents my reactions and my appreciation for the environment in its natural beauty, but not without representation of how urban life intrudes upon nature. Sometimes I find modern civilization coexists with the natural environment in ways that are humorous, harmonious, or sadly harmful. My paintings, collages and prints draw from memory suggesting familiar and surreal scenarios.
To explore Clare Hilger's artwork visit www.clarehilger.com and follow her on instagram – @swimmonstersandwich. I hope to see you at the garden art show tomorrow!
Follow the garden gram at @Beach91CommunityGarden.