It's growing season in the Beach 91st Street Community Garden. Two weeks ago we had our first group clean-up/workday. It was wonderful to see my neighbors that I haven't spoken to all winter and to meet a few newbies to Rockaway that are now a part of our garden. We overturned our beds, added compost, and weeded.
Many gardeners' kale overwintered, and the plants bolted with flora. The bees were loving the bright yellow flowers that reached two feet tall!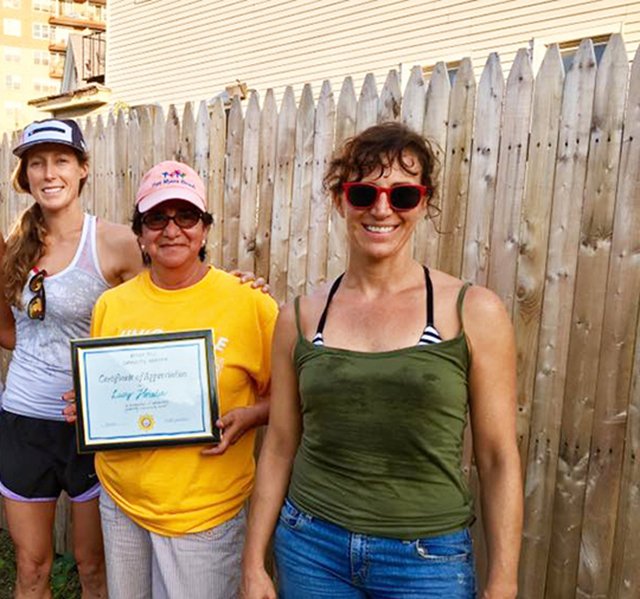 Lucy (center) and Riva, (right) several years Back. Lucy won the _Gardener of the Season_ award presented by then garden manager Annie Mcbride (left)
We started talkin' "garden shop." Member Riva Richmond was asking what she should do with the kale from last year. Lucy Heredia, one of our most experienced gardeners, mentioned trimming back the flowers to boost leaf growth. Lucy also said the flowers are edible! This intrigued all of us.
Lucy shared with us that she was born and raised in Ecuador. Her parents had a small farm where they planted fruits and vegetables. Her mother used to make a rice dish with peas, rice and added kale flowers at the end. So she learned about the edible flowers from her mother, as a child. Lucy also mentioned that you can eat broccoli rabe flowers as well, but she prefers the buds of kale.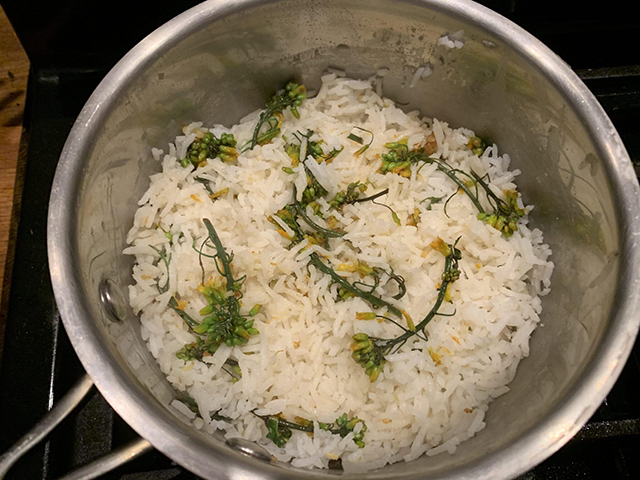 Riva was inspired by Lucy's suggestion and cooked with her kale flowers.  "I sautéed my kale florets in olive oil and garlic and added some lemon zest and a good squeeze of lemon. Then mixed them into basmati rice. It was very nice! I served that with steamed broccoli and yummy grilled chicken."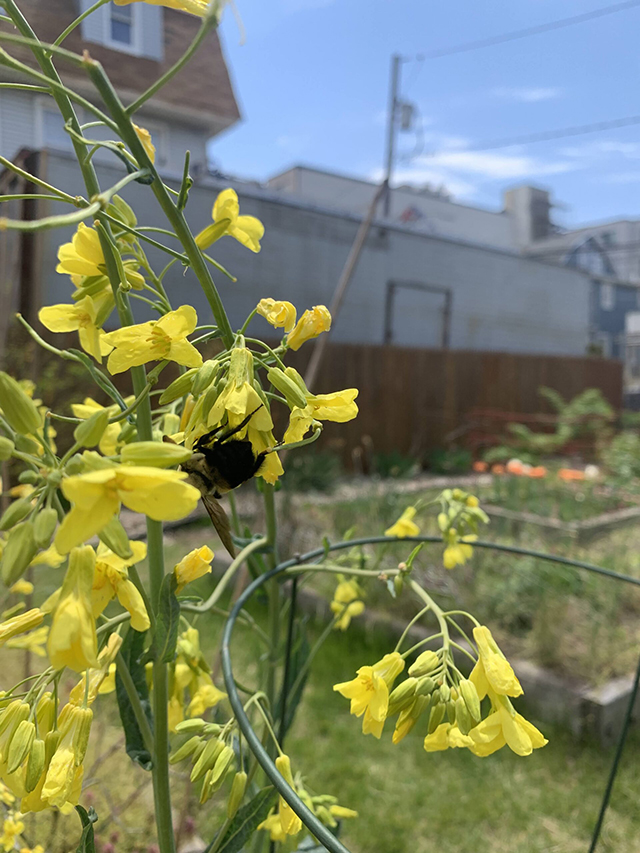 Don't worry we kept plenty of flowers on the plant for the bees!
Kale is part of the cabbage family and there are many different varieties. This leafy green is jam-packed with vitamins, specifically, it's the best source of vitamin K. One would not think this, but kale is also a good source of calcium. Additionally, It contains antioxidants and omega 3 fats. It may reduce the risk of heart disease and has compounds that are believed to protect against cancer. Kale is king (and it flowers Queen)!
If you cook with kale flowers tag @beach91communitygarden on Instagram and we will share your photos!
I want to mention that the Beach 91st Street Community Garden will be hosting a plant sale on Sunday, June 6, at 12pm. We'll have outdoor perennials, tubers, and indoor plants for sale, all homegrown in Rockaway Beach. More info to come, save the date!