I had the exciting opportunity to collaborate on a design project for The Beach 91st Street Community Garden. For over a year, I've been eager to redesign our garden site map but haven't had the time. I put an email out to my fellow community garden members to see if any creatives were interested in volunteering.
Member Walter Meyer responded and introduced me to Diana Erazo, who he taught at Parsons New School and subsequently hired as an intern at his company, Local Office Landscape & Urban Design (LOLA).
Some of you may know Walter from the lineup. Others may recognize his name from the important work his company spearheaded in Rockaway, in the aftermath of Hurricane Sandy.
Walter Meyer is an urban designer, who co-founded LOLA, with Jennifer Bolstad in 2006.  The company focuses on nature-based infrastructure to protect vulnerable communities from the impacts of man-made and natural disturbances. Walter was recognized by the White House as a "Champion of Change" for his work using alternate energy as a means of immediate relief and an engine for long-term economic recovery after Superstorm Sandy. And… he served as an advisor to President Barack Obama's team until 2016.*
To say we are lucky to have Walter as a member of our garden here in Rockaway Beach is an understatement. And so, when he connected me with Diana, I was thrilled.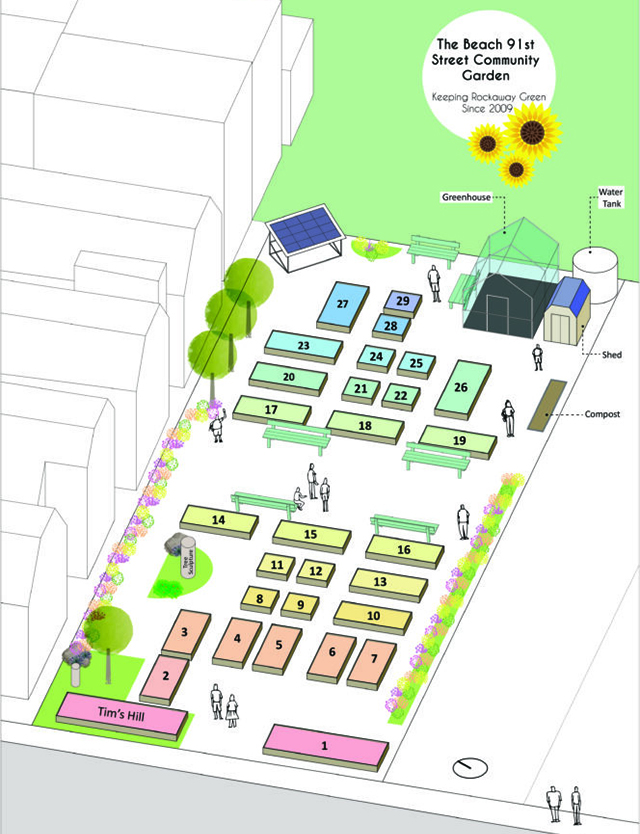 After reviewing Diana's portfolio and accomplished resume, I sent her information to start the project: photos of the garden, the old site map, and a brief description of who we are as a community. I didn't want to give too much creative instruction. I wanted Diana to "run with it". Her first round of designs were beautiful. We only had a few revisions. Diana's attention to detail is impressive. As one example, our site map wasn't to scale and she insisted on correcting that, using google maps as a reference. It was so refreshing to collaborate on this design project with an enthusiastic young person, entering her industry.
A big thank you to Diana Erazo for generously volunteering her time and to Walter Meyer for making the connection!
To learn more about the important projects LOLA is working on around our coastal community, visit www.localofficelandscape.com
To contact and to see more of Diana Erazo's inspiring designs, follow her on IG: @diana2193, or visit her website: www.dcegdesign.com