by Paula D.
on
July 31, 2020 12:16 pm
in
Rockaway
I've been spending a lot of time on the beach. Where else would I be this time of year? And I'm sharing the sand with some of Rockaways' pro beach-goers. These local folks set up at 10am and break down after sunset. The vibe by me in the 90's isn't showy beach swag, it's the opposite. Use what you have, recycle, live frugally….  the Rockaway hippie mentality.
I learned some useful beach hacks from the crew this weekend and I want to pass along these pro-tips:
The jar cup. My friend Beth Perkins started this trend. Instead of a cup, bring a jar filled to the brim with ice. By the time you set up shop on the sand, your water is melted, ice cold and ready to drink. And the big benefit of the jar cup is the cover. No spillage of your rose or rum punch when using this vessel.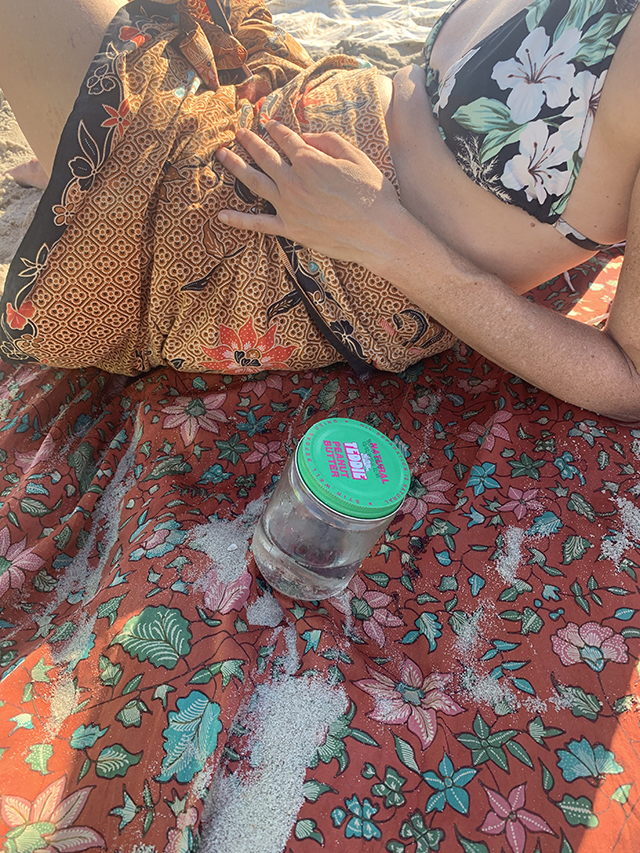 Shot Glass: Before Covid, it wasn't uncommon for the locals to pass around the bottle of tequila while the air cooled and the sun set. Now that's a hard no. While plastic is shunned in Rockaway, every so often you do come across a plastic bottle. And then we'll reuse or repurpose. A great example of this is Kevin Tavarez's shot glass hack. Last week on the beach, he showed me a sweet method to make a shot glass… " when you're in a pinch". Someone in the group will have a knife in their cooler or something of the sort. Just cut off the top part of a water bottle, flip it around, pour, cheers and down the hatch.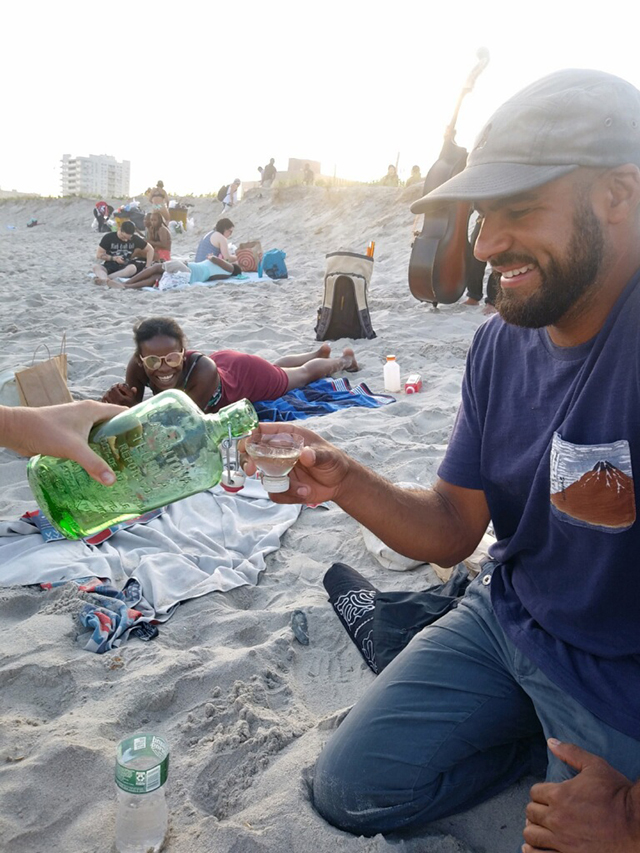 Sand Pillow: This may be by far the most inventive beach hack in the beach bum handbook. My friend Melissa Draugsvold pulls out of her tote a pillowcase cover, the kind with a zipper. She begins to fill it with sand, zip's it up, places it on her blanket and lays down. Brilliant! I tested it out and it's super comfortable.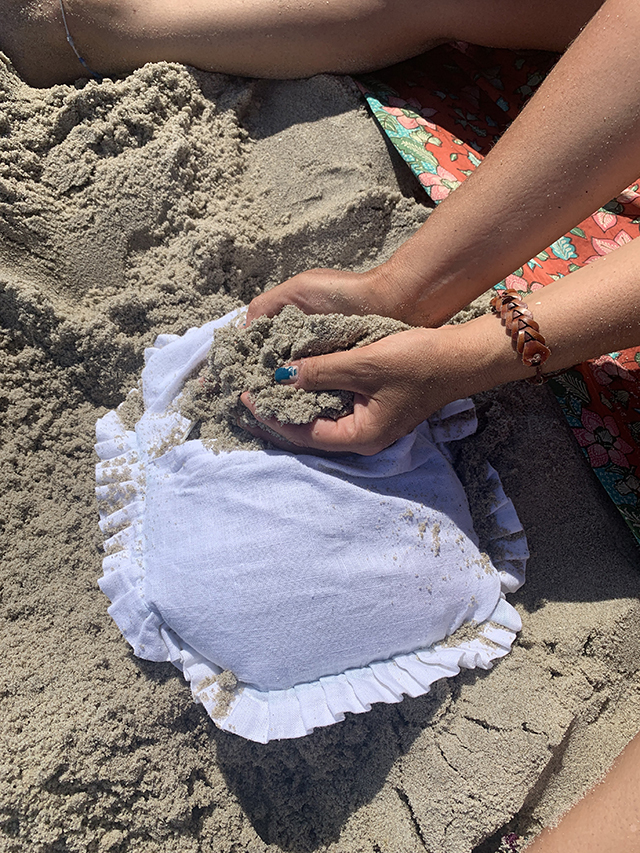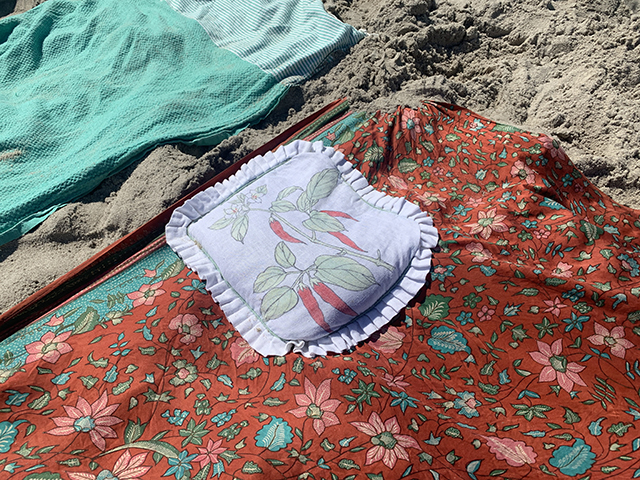 Sand Lounger: Mike O'Toole, Rockaway native and master beach dude, chimed in after I was "wowed" over Melissa's beach pillow. "My life's a beach hack," He said and began making the sand lounger.  "It involves some sculpting, but worth the build out." he said. So the idea is to build up a pillow sand pile and then dig out a hole for your "beach bum". From the pillow to the bum spot sculpt a slope for your back. Cover the construction with your towel and you have a lounger, without lugging a chair. This is also excellent comfort.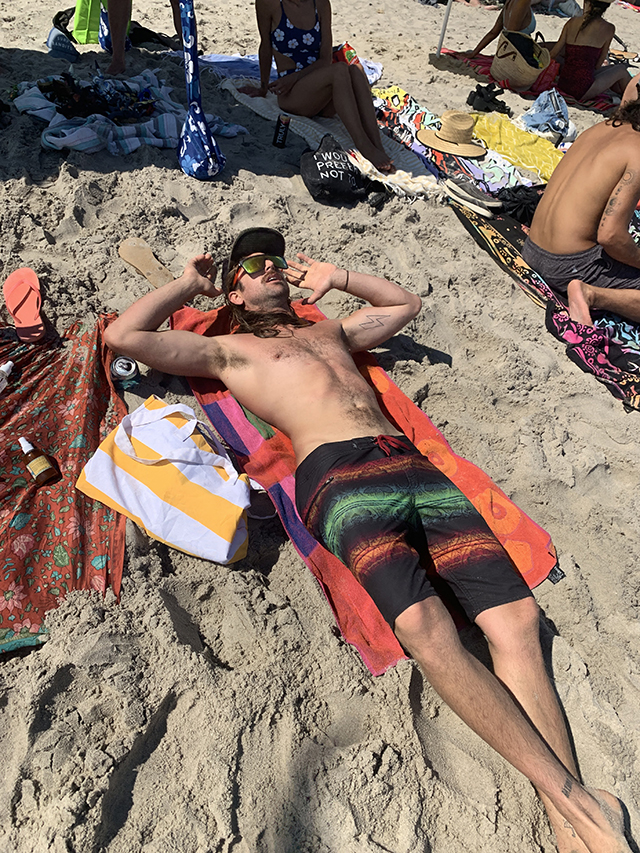 In general bringing less is more to the beach. Sometimes I don't even bother with flip flops. Luging minimal gear is best because you don't know where the day will bring you and even though we all live steps from the beach, the thought of going back to the house to drop stuff off a bummer.
Summer in Rockaway allows us to live for the joy of living without restraints and we're in high season soaking it all in, beach bum style.
For more  of  the day-to-day follow me on IG: @theglorifiedtomato
Previously published in The Wave.