by Paula D.
on
June 23, 2020 7:29 am
in
DIY
I have a vague memory of watching the Oprah Winfrey show when I was a kid. The episode was about beautiful wrap-around porches in the south. Since then, I've been obsessed with porches and porch style.  When it comes to Rockaway porch style, Aunt Brenda is the master. Before I lived in Rockaway, I'd come down to the beach to see Matt. We'd pass Aunt B's on the way to the water and I'd always admire her house. Brenda's porch then and now is worthy of a spread in Better Homes and Gardens. She has outdoor wicker furniture, comfortable, colorful cushions, and a swing! The essentials are intermixed with large potted planters and beachy decor. The focal point of it all, are her cascading, lush, hanging baskets.
When we were looking for a house 6 years ago and saw a shabby old Rockaway home right by the beach with a big old porch, I was sold.. despite the shabby and old. I've accumulated a nice set of wicker furniture and I have an outdoor rug.  My mother-in-law handmade us lovely seat cushions. My potted plants are set around the porch to bring the garden in.
And of course, I have hanging baskets, beautiful ones Aunt Brenda gave me actually.  I haven't mastered the talent of basket planting though.  Every year, I've had trouble. Whether it be salt-tolerant issues, choosing the wrong plants or forgetting to water them. This year, I'm determined to have full, flowery baskets.  I enlisted the help from master basket-planter, Aunt Brenda.
"You need a thrill, a fill, and a spill. That's the trick to the design of the basket." Brenda tells me. She explains the "thrill" is a taller plant placed in the center, –  the focal point. She suggests a spiky palm or salvia. The fill is a transitional plant with a shorter height. Something like a marigold or a vinca. The "spill"  is what cascades. Aunt B said she's had success with wave petunias, silver helichrysum petiolare, asparagus fern, and sweet potato vine, which come in purple or bright green.
Once you have the correct plants selected, you use a coco mate liner to hide the plastic container. This also helps retain water. And Brenda stressed, "You must water your baskets everyday." I think this is where I've fallen short in past years. Baskets try out quickly from the sun and interestingly, I learned from our conversation, the wind too.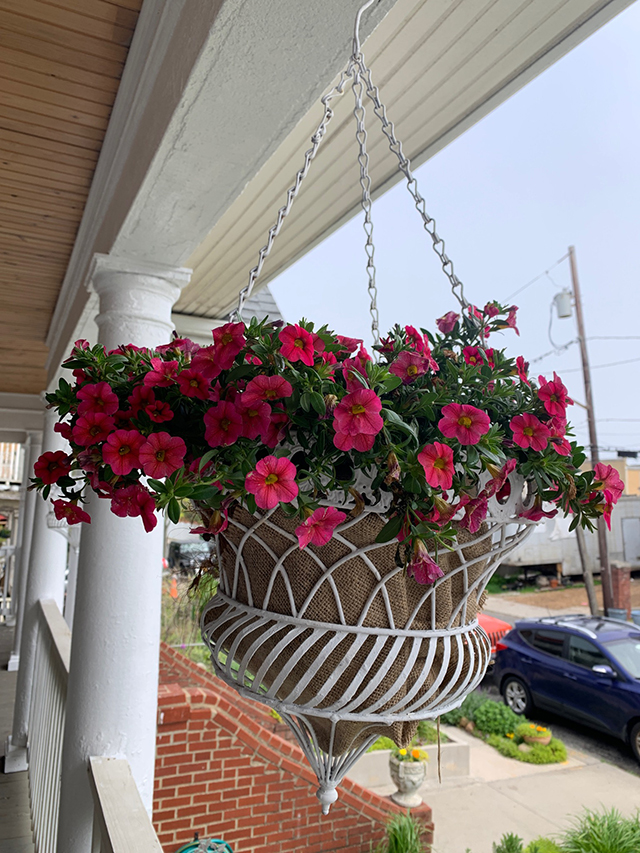 Petunias have some tolerance to salt
I've been watching this new reality show on Netflix, The Big Flower Fight. It's a little cheesy but I've been inspired by it. Most of the episodes involve the teams creating live flower sculptures from metal and chicken wire. Think Edward Scissorhands meets Martha Stewart.
With Aunt B's guidance and my new inspiration, I started designing my basket. I had already bought big petunias before consulting Aunt Brenda. Those will form the basis of my baskets, accented by mosses and succulents. Those bring a warm element to the design and I'm hoping it will bring more layers of cascade.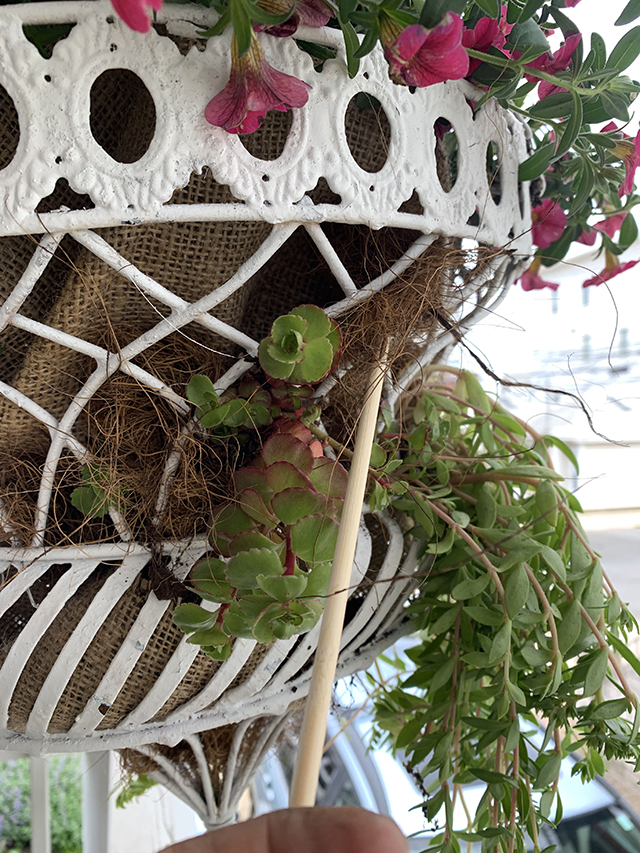 Here I'm using a skewer to push through sedum and cocoa mat
Follow me on Instagram @theglorifiedtomato, to see how my hanging baskets fair over the summer. I'll document the progress, for better or for worse!