by Paula D.
on
December 28, 2018 8:44 am
in
Community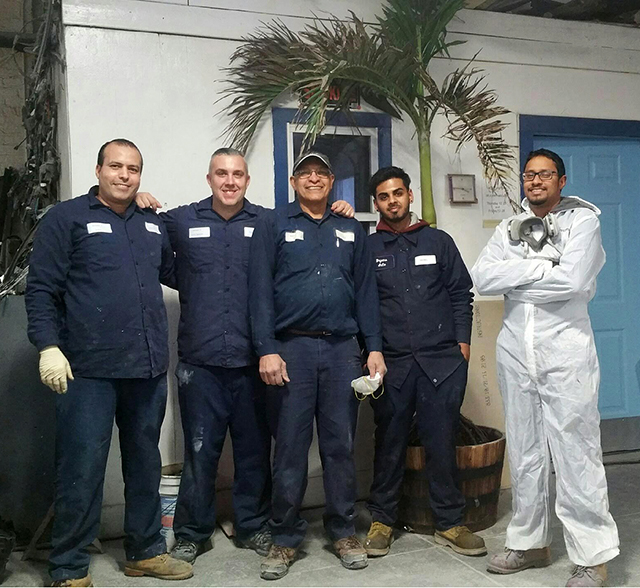 It all started over some cocktails, poolside at my sister's house on Long Island. "If we don't find a new home for the palm tree, we're going to leave it outside over winter and hope for the best, but it probably won't make it." Natalie said. Sip… three vodka clubs later… "As a certified NYC Citizen Tree Pruner, I can't let this gorgeous species die! I will take the tree!"
Famous last words.
My sister made an impulse purchase three years ago, buying a palm tree from Florida for her new backyard pool oasis. It became a burden, though. It needs water every three days and pruning often, which requires a ladder to reach the towering palms. And most inconvenient, the 10 foot tall tree needs to be moved indoors every winter.
October rolls around and I get a call from Natalie. "We'll have to make arrangements to get the palm tree to you soon, before the first frost." It took me a minute to register what she was talking about. The vodka clubs. The palm tree. It came back real quick.
Of course, I didn't mention anything about this at the time to my husband, so, I had to "ask" him. "It's pretty big. I think we're gonna need the pickup. The tree will die if we don't take it!" Matt agreed with one stipulation — he didn't want any part of the transport or logistics of getting it inside.
Two weeks ago I went to my sister's house for my niece's birthday party. This was as good as a time as any to take the palm tree home with me. My brother-in-law helped get it in the truck and secured it for my two hour drive back to Rockaway. I'd posted a message on Facebook for some help getting it off the truck and into our back bungalow, which has very high ceilings. No one responded. Matt had a recording session with Simon Chardiet and we had Greg and Ashley's wedding at the Brewery that evening. There was only a small window of time to get it inside. The tree would freeze and die overnight if left out.
"I said it was a palm TREE!" Matt was totally freaking out, "10 feet tall?? I'm in the middle of a session. I don't have time for this shit!!!" he yelled. I suppose there was a slight miscommunication on the actual size of the tree. "And… ummm.. I can't find anyone to help bring it in…" His face turned red, I thought I saw steam flying out of his ears like Yosemite Sam. He interrupted his work and brought the ginormous palm tree inside. "This is not staying here, you better find a home for it." Door slams shut.
The next morning I woke up and my first thought was "the palm tree situation". I started frantically texting friends, "Do you know anyone who wants a beautiful palm tree, it's free!!? It's just a little big, about 10 ft tall." After a few hours I got a text back from my friend Melissa Draugsvold, "Bryan Bernath of Bryan's Auto wants the tree!" I couldn't believe it.
Bryan was happy and excited to take it and he has a huge garage to house the tree over winter. He sent Tow Joe over with his truck. He and his guy easily moved the tree out, onto the truck and drove away! I texted Bryan, "Tree in transport" and thanked him for saving my marriage and the palm tree. "Come visit it anytime you like!" Bryan responded.
If you'd like to see the beautiful palm tree or need an oil change, inspection or new breaks, visit Bryan's Auto, 87-15 Beach Channel Dr, Far Rockaway, NY – 718.474.3032. Their good people!