by Paula D.
on
June 11, 2018 4:15 pm
in
Food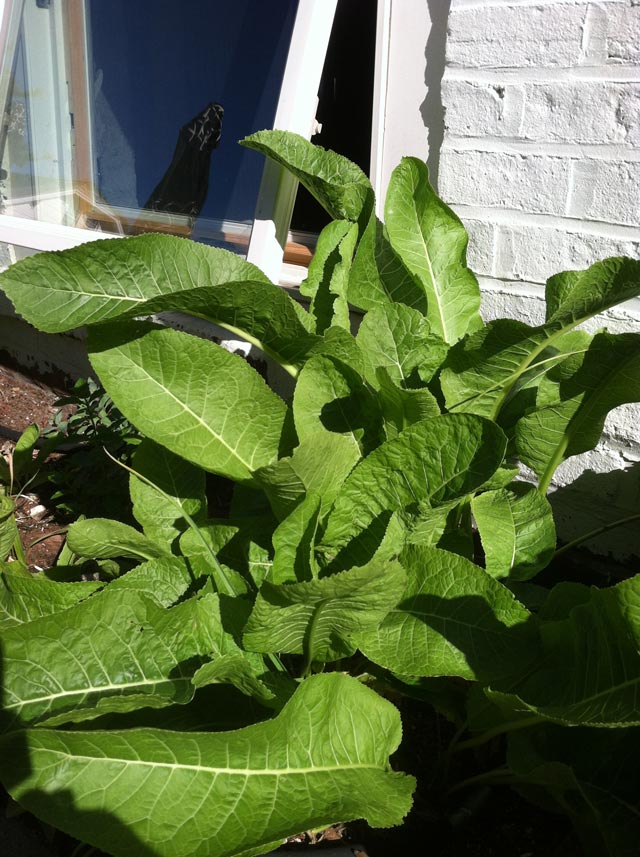 First off, horseradish is terrific in a Bloody Mary – let's get that out of the way. It's thought to be native to southeastern Europe and western Asia. It's used as a spicy condiment… and in Bloody Marys. On a more sacred note,  it's also commonly used in Passover dinners as the bitter herb.
But it's not an herb! Even more strange, it has nothing to do with horses and it is not a radish. It's a perennial root crop, part of the Brassicaceae family which includes mustard, wasabi, broccoli, and cabbage. Interestingly, wasabi (the Japanese condiment), is now usually made with horseradish due to the scarcity of the wasabi plant, which is extremely difficult to grow commercially. It's hard to mimic the mountainous regions of Japan where it naturally grows. Or to put it another way, it's super expensive. So wasabi's cousin – horseradish – is dyed green, mushed up and is what you're most likely eating when you go out for sushi. Sorry to be a buzzkill.
My mother-in-law Maureen planted horseradish two years ago and has been propagating the root ever since. It's the type of plant that keeps on giving, spreading like mint and strawberries. Cultivating horseradish is easy, so get a plant and put it in the ground right now – it's not too late.  It's large green leaves will grow lushly and later in the summer you'll start to see baby plants (offshoots). When the leaves die back at first frost, pull up the root and cut off the top two inches. Re-plant that, and harvest the rest. The following spring, the plant will regrow from the two inch clipping planted the year before. It's that simple really.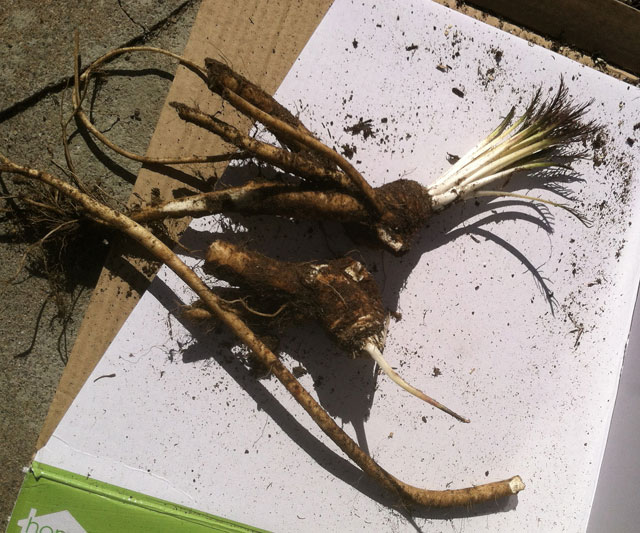 With your root harvest, make homemade horseradish. Wash the root thoroughly with a small nail brush or rough cloth to get all the dirt off. Once clean, peel and cut the root in 1 inch pieces.  Chop it in the food processor. A couple of spins in the chopper and it will have the consistency of the bottled stuff. My Mother-in-law first tried peeling and grating the horseradish root but the odor was too pungent and irritating. She warned me, "Do not touch your eyes or face without washing your hands first. It's 1,000% more powerful than when you cut into an onion!" Once the root is exposed, the cells are crushed, an oil known as isothiocyanate is released which causes intense irritation to your eyes and skin. This oil is a natural defense mechanism for the plant in the wild. While making the horseradish a bit milder, vinegar stops the reaction and stabilizes the flavor. So preserve in vinegar and refrigerate up to 6 weeks.
Imagine when you tell your guests at brunch that the Bloody Marys you just served  were made with cultivated horseradish from your garden… oh the glory!
If all this horseradish talk has got you fixin for some, try this delicious recipe that Maureen sent to me. Best on some barbecued steaks I would imagine!
Zesty Horseradish Dressing
Ingredients:
1 Cup Mayo
6 tsp. Horseradish
2 tsp. Dijon Mustard
2 tsp. Lemon Juice
Salt and pepper to taste.
Directions: combine all ingredients, cover and refrigerate.