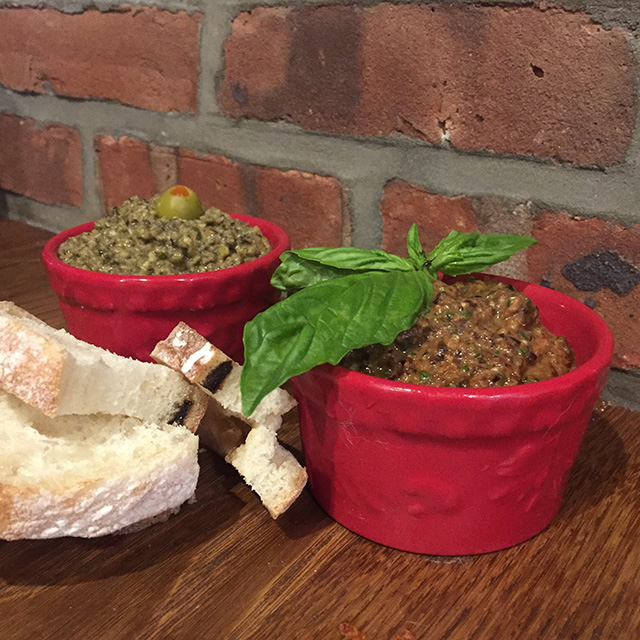 My brother-in-law JUMBO says it's like eating a salty wet sponge. This is highly upsetting to me. He and other olive-haters are missing out on one of the most delicious of Italian pleasures.
The olive tree is native to the Mediterranean region, Asia, and Africa. It was one of the first trees harvested by humans some 7,000 years ago.  Now, it's grown in warm climates worldwide. There are hundreds of cultivars with distinct, rich, savory flavors. Olives are commonly served in all manners of deliciousness – marinated, cured and stuffed. They're baked in breads. Olives are also used in giardiniera – a pickled Italian relish of sorts. Most famously, giardiniera is known as the signature ingredient on the NOLA Central Grocery Muffuletta.
Olives are the base component of tapenade. They're puréed along with capers, and olive oil. Anchovies, lemon juice, garlic, basil and black pepper are common ingredients as well. Because it doesn't include sugar like many processed condiments and spreads we buy in the store, tapenade is super healthy. It's also vegan!
For my Birthday last week, my husband took me to one of my favorite Italian restaurants, Vetro (164-49 Cross Bay Blvd, Howard Beach, NY 11414). As soon as we sat down the waiter brought us a basket of warm bread which included one with tapenade baked in. It was so incredibly good. I couldn't stop thinking about it in the days to follow. I was craving in a major way. It would be weird to go back to Vetro and order wine and a basket of bread so I thought I'd try to make my own tapenade to ease my appetite. I experimented with two different purées.
This past weekend – my birthday weekend – I had some friends over. My pal Dave doesn't like olives, but he ate my black and green tapenade without knowing it was an olive spread. He enjoyed it so much he asked for the recipe! I encourage all the olive-haters out there to end your olive boycott and try these recipes. Enjoy!
Black and Green Tapenade
1/2 cup canned black olives

1/2 cup spanish green olives

1 tbsp. capers (flat, not heaping)

2 large cloves garlic

1/2 lemon, juiced or more to taste

Black pepper to taste

3 tbsp. extra virgin olive oil
Basil Tapenade
1/2 cup cured black olives, pitted

1/2 cup green olives

1 small red bell pepper

6 large basil leaves

2 large cloves garlic

1 tbsp. capers (flat not heaping)

1/2 lemon, juiced or more to taste

3 tbsp. extra virgin olive oil
Directions for both (very easy!): Combine all ingredients in a food processor. Set aside for a ½ hour so the flavors infuse. Dribble a little extra oil on top and garnish with an olive or a basil leaf. Note: for the basil tapenade, puree the pepper first and drain the excess liquid before adding the other ingredients.
Serve with warm sliced panella or semolina bread as an hors d'oeuvre.