by Paula D.
on
August 28, 2017 11:36 am
in
Food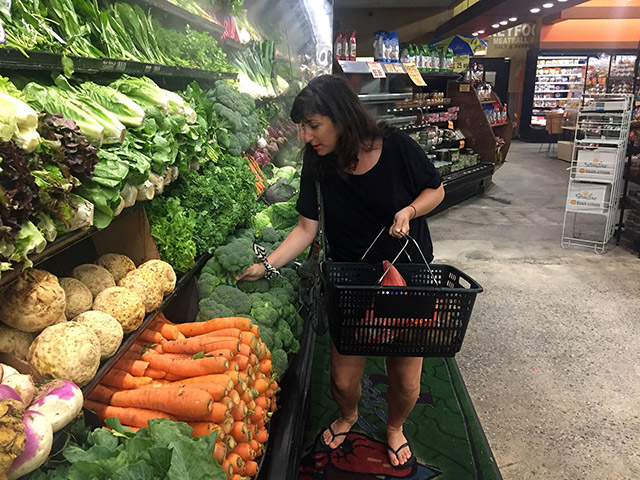 I had such a pleasant experience last Friday food shopping. I'm guessing most people think of it as a chore, but people who are devoted cooks may feel the way I do – food shopping is fun!
I take my time, exploring each aisle, looking for the sales, taste testing produce*, sizing up the tomatoes. I go to both Key Food (87-15 Rockaway Beach Blvd) and Stop & Shop Arverne (70-20 Rockaway Beach Blvd). There are attributes I like about both stores. For instance, Key Food has the best produce in town, except for Edgemere Farm in the summer. They sell anise, chayote, maradol (mexican papaya), cactus leaves and other atypical seasonal products. Key Food's international section is legit. I consider it the food library aisle. I read the labels on unfamiliar boxes and cans to learn about new products. Key Food has free delivery over $50. I use this service often. It's convenient and the packages arrive within 20 minutes mostly. Stop & Shop has some great features as well. Off the bat, their flower and garden section is wonderful. If you're in a bind, you can pop in and grab some flowers for a birthday or special event. Usually I buy fish at Cross Bay Seashell Market but if I'm feeling lazy, Stop & Shop's fish section is extensive. They have some nice speciality items too –  fancy dips, olive oil and pickles are among my favorites. Then there's the seasonal alse!  I get stuck there every time — I'm such a sucker. Oh but I love it so much!
Maybe my fondness of the food store* goes back to my childhood. I loved watching the show Supermarket Sweep. There were two runs of it, one in the 1960s (I need to watch that version) and a revival in the 90's with host Martin Ruprecht. I was a devout viewer of the latter at age 11. If you have know idea what TV show I'm talking about, here's the short of it:
"Supermarket Sweep is an American television game show. The format combined an ordinary team-based quiz show with the novel concept of a live, timed race through a supermarket. In the timed race, cameras followed the teams with shopping carts through a large vacated supermarket with several aisles; the value of items thrown into the cart determined the winning team."
Teams usually consisted of families: mother/daughter, husband/wife, etc. I dreamed of going on the show and planned out how I would "work the store." I'd go for the turkeys first (big ticket item) then I'd make a beeline to the child care aisle – diapers and formula, cha-ching! I was a fast runner then and I knew that would give me a competitive edge. Ugh, what a missed opportunity.
Second best was going food shopping with my Mom. We would play our own version of Supermarket Sweep. I would take a little red basket and she would tell me a few items on her shopping list. "Ready… set… GO!!!", my Mother would count.  I'd dart off, doing one of those "run/walks".  Getting in trouble by the store manager was a pitfall to be avoided. In my mind, I felt like a hawk searching for it's next meal — strategy and speed were of the utmost importance.  I don't think my Mother really kept time but as I turned the corner,  she would start counting off, "1:31 seconds, 1:32 seconds, hurry!!!"
When I first heard of Blue Apron and Hello Fresh I scowled. They suck the creativity out of cooking and shopping. But I've become more open-minded about it. These services could be a useful tool  for manchildren or people with money to burn that have little or no experience in the kitchen. (Sorry, that's as open-minded as I can get about it.)
For me, my undying love for the old fashion food store will never waver.
* My family says "food store" is that a Brooklyn thing?"
**I learned about taste testing from my Grandfather Ralph. He would pick me up from school sometimes and we would stop in A&P. He would pluck off some grapes, and pinch the parsley among other things. Quality is important he would say.