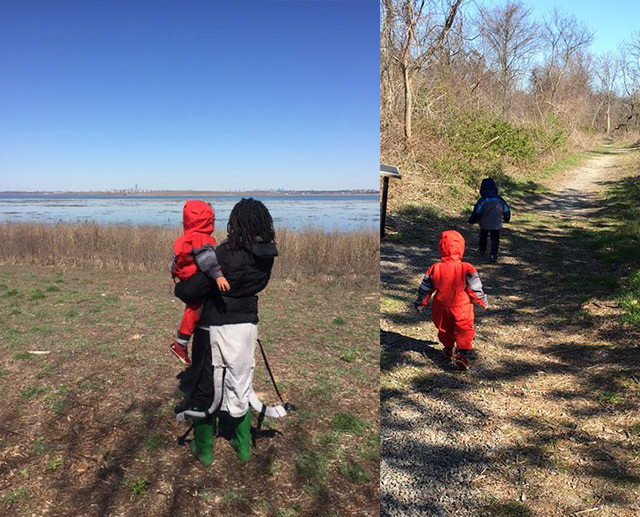 Photo Source – Hike it Baby Queens Facebook
Susanne Rieth, resident of Breezy Point has launched the Hike It Baby Queens Branch.
Hike it Baby is a parents group dedicated to getting families together and out into nature with newborns and little ones. There are branches in over 200 cities around the country and internationally. We have a wide variety of hikes and urban strolls and the best part is being a member of Hike it Baby is FREE!
The Queens branch is all inclusive – kids of any age are welcome and people without children are welcome too!
Susanne works as a part-time educator of special needs children in Queens. The rest of the week she's caring for her very active two and a half year old son. Why start Hike it Baby Queens? "I wanted to bring Hike it Baby to Queens because I think it's a great way to get outside with your kids and to meet other families. Hiking with your child is a total win – you get exercise, so do your kids and everyone gets fresh air and spends time outside."
Susanne is right, I went on the first hike last weekend at Jamaica Bay Wildlife Preserve and it was great getting outdoors!  The coolest part about this group is meeting people from different cities. A Mom from Atlanta met up with us and her friend who lives in Rochester New York. They were unfamiliar with Jamaica Bay – I told them about the Oyster Project and the terrapin research conducted at the preserve.  And I learned about where the good hiking spots are around Atlanta. Naturally, there was a lot of kids talk too!
The next hike is at Fort Tilden this Sunday –  info here. Upcoming Queens hikes will be posted on the Hike it Baby Queens Facebook page. Hike it Baby Queens is also on instagram. If you know of anyone interested in joining us this Sunday spread the word!