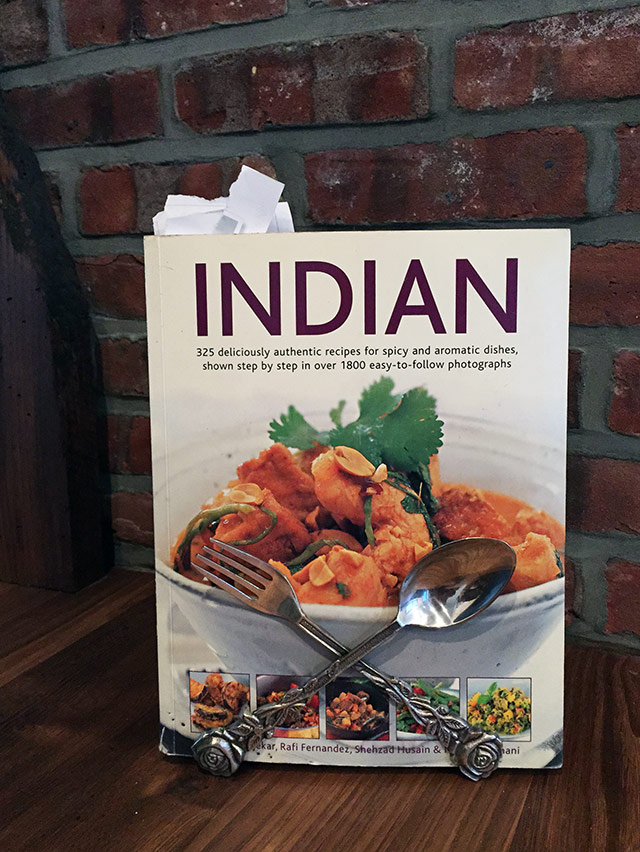 One of my New Year's resolutions is to learn how to cook Indian food and become really good at it. If I make two dishes a week that's 104  times cooking Indian. Surely not enough to become a master but If I stick to this schedule, by next year I'll have learned so much and be pretty good at cooking this delicious food.
So far I've made Saag Paneer, and killed it! I cooked curried eggplant but got to drunk and screwed it up. I made curried cauliflower twice. I got the recipes from this Indian cookbook Clare lent me, with strict instructions, "This is not a fake, loan. It's a real one, I want this book back!"
The book is called Indian by Mridula Baljekar, Rafi Fernandez, Shehzad Husain & Manisha Kanani. I can't seem to find it online or I would've linked to it. The book has everything from dinner to dessert and bread-making. It also discusses the principals of Indian cooking.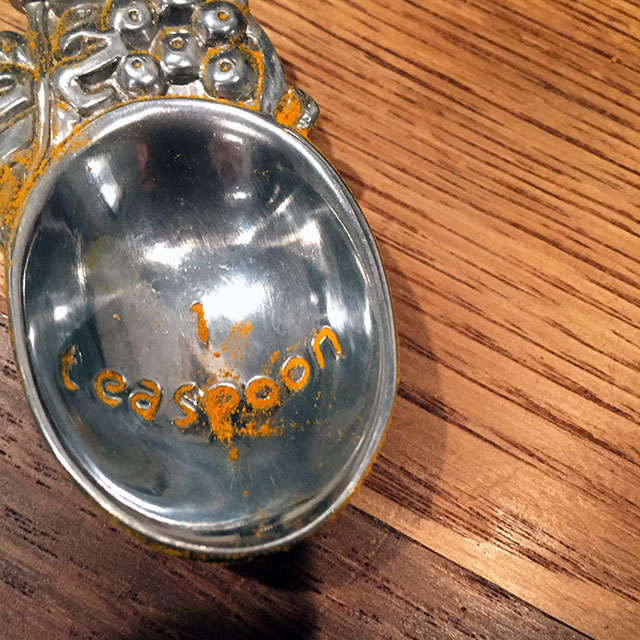 My Aunt Rosemarie gave me this measuring spoon for Christmas, great timing! There are many spice measurements to these recipes.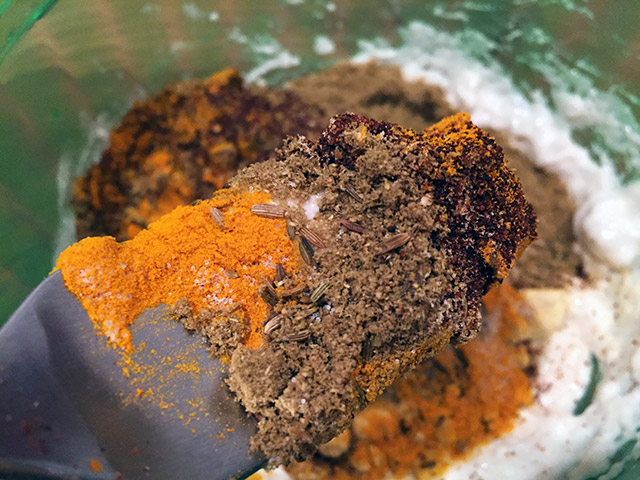 The curried cauliflower recipe was easy to follow, way easier and faster than saag paneer.
Three things I learned that you may want to take note of….
1. Only put in a half lemon. I thought it tasted great then with reluctance, I added the juice of two lemons per the recipe. I thought "I should follow this recipe strictly since I've never made curry before." I should've went with my gut,  the lemon changed the whole flavor and was overbearing. It tasted less like curry to me.
2. I added two chili peppers. It worked out well. If you like spicy, go for it.
3. Next time I want to cut the florets much smaller. In fact, I may  try it as a soup and puree it.
Here's the recipe. If you try it, I would love to hear how yours turned out.
Ingredients
(Serves 2)
1 tbsp gram flour (besan) You can use regular flour as a substitute.
1/2 cup water
1 tsp chilli powder
1 tbsp ground coriander
1 tsp ground cumin
1 tsp mustard powder
1 tsp ground turmeric
Salt to taste (I put in 1 tsp)
4 tbsp vegetable oil
6-8 curry leaves
1 tsp cumin seeds
1 head cauliflower broken into small florets
6 oz thick coconut milk (I actually used low-fat because one of my other New Year's resolutions is to lose 15lbs) It's probably better with the thick as recommended but mine was still really tasty.
1/2 lemon and some for garnish (original recipe calls for 2 whole squeezed lemons, I recommend leaving them out.)
Directions
1. Put the gram flour in a small bowl and stir in enough water to make a smooth past. Add the chili, coriander, cumin, mustard, turmeric and salt. Add the remaining water and keep mixing to blend all the ingredients well.
2. Heat the oil in a frying pan, add the curry leaves and cumin seeds. Add the spice paste and simmer for about 5 minutes. If the sauce has become too thick, add a little hot water.
3. Add the cauliflower and coconut milk. Bring to a boil, reduce heat, cover and cook until the cauliflower is tender but crunchy. Cook longer if you prefer. Add the lemon juice, mix well and serve hot.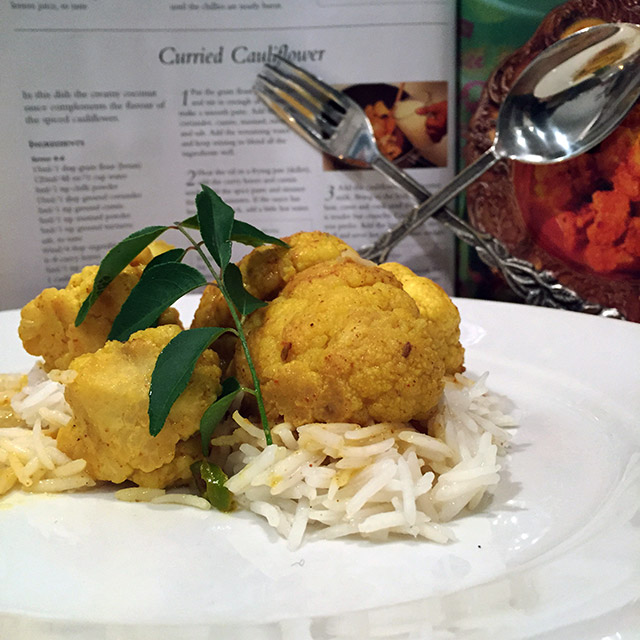 The final product! I served over basmati rice, great for absorbing all that curry sauce!