I was nervous as we approached the door but in true Italian flare, we were welcomed as family.  Mrs. A explained what Susanne and I would be cooking. "I want to start with something easy, I cook dinner for myself every night, it doesn't have to take a long time."  We got straight to work after walking in the door of Mrs. Abbracciamento's Breezy Point home.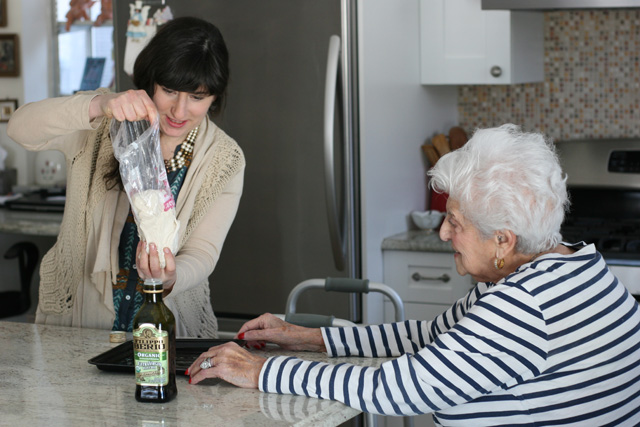 Mrs A. is the wife of the late Sal Abbracciamento, acclaimed New York City restaurateur. I was sincerely honored to be invited into her home, to learn the family recipes and coveted cooking techniques.*
"Usually I prep all at once but for this cooking class I will show you what to do one thing at a time – so you can take down your notes." The afternoon agenda, – 3 dishes, 2 hours, 1 traditional southern Italian meal.  Mr's A meant business with an "easy" 3 course meal!
We started with the focaccia bread.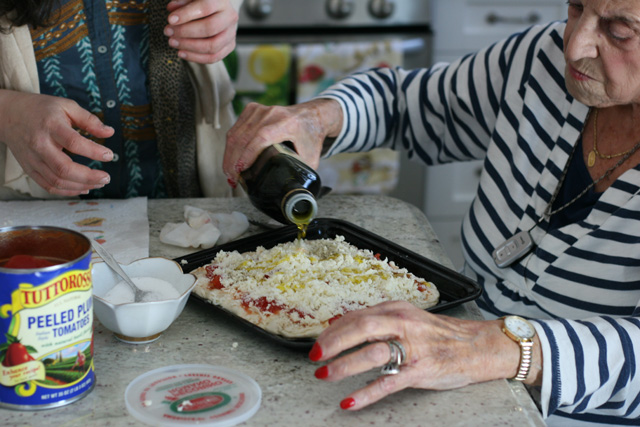 Like all true Chefs, Mrs. A eyeballs her measurements.
MRS. A's FOCACCIA
1 pound refrigerated fresh pizza dough
1 can plum tomatoes
1 cup grated mozzarella
Locatelli cheese
Salt and pepper to taste
Olive oil
Fresh basil
Directions:
1. Stretch the dough out on a flat oiled baking sheet
2. Dice tomatoes and place on the uncooked dough
3. Add grated mozzarella,  locatelli cheese basil and salt and pepper
4. Add olive oil liberally
5. Place on the side to rise for 1 hour, pre-heat the oven to 375
6. Cook for 20/25 min.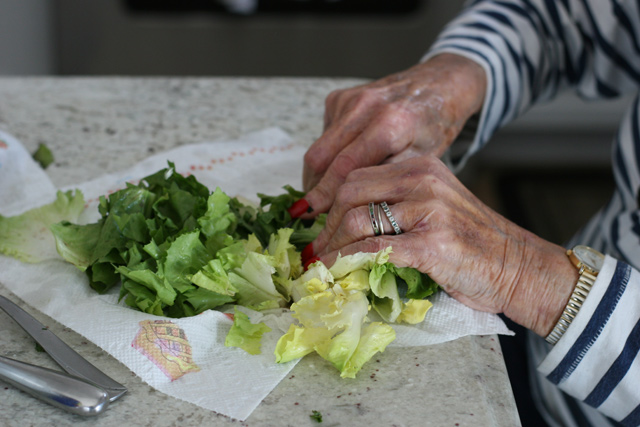 While the dough was rising for the bread, we started the pasta e fagioli. American's call this pasta fazool. It is found in the soup section of our menus but in southern Italy it is a hearty main course.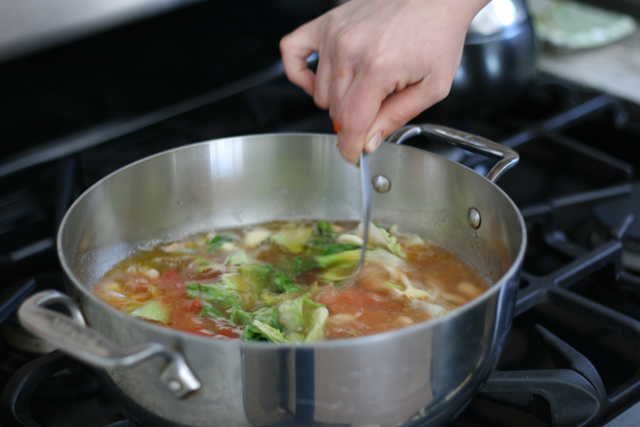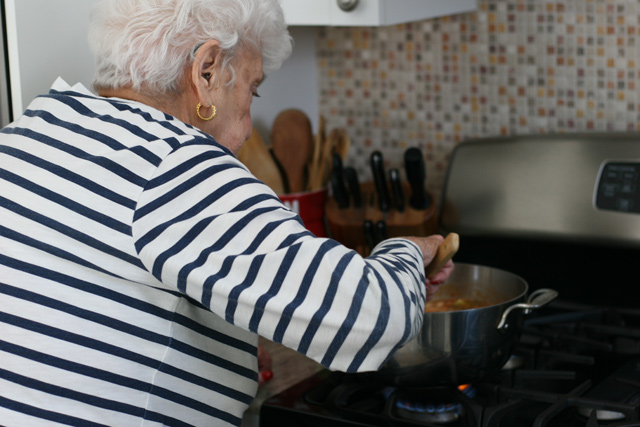 MRS. A's PASTA E FAGIOLI
1. 1 8 oz  can cannellini  beans
2. 1/2 box of Ronzoni Ditalini
3. 3 cans worth of water, keep bean juice in can (we do the same, Sicilians don't waste food, every bit is used)
4. 4 cloves garlic, whole
5. Escarole, cleaned and chopped
6. 1 8 oz. can of whole tomatoes
7. Olive oil
Directions:
1. Heat olive oil in a pot, add garlic once oil is hot.
2. Continue to add ingredients one by one, waiting 5 min. in-between.  In this order add: cannelloni beans, 1 can of water, tomatoes (crush with your hands), 1 more can of water, escarole, pasta, last can of water, salt and pepper to taste.
3. Cook for 10 min. after pasta is added. Pasta should be al dente.
I asked Mrs A., "Why whole cloves of garlic?" Her response makes a lot of sense "In the restaurant business you can't assume that all of your customers like to eat chunks of garlic. Adding them whole means you can remove them easily before serving but the flavor from cooking remains."
The soup was on simmer so it was time to start the famous Abbracciamento Italian cheesecake!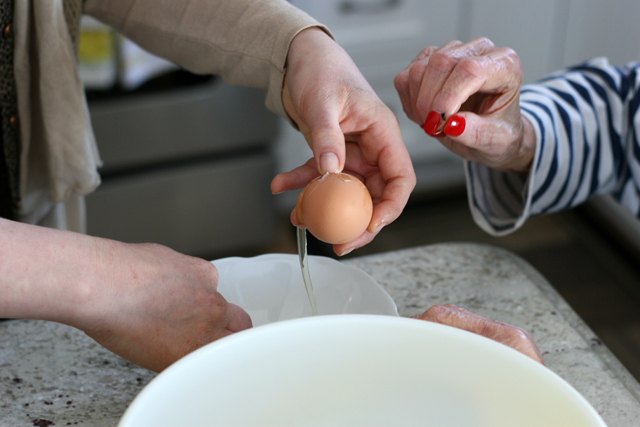 THE ABBRACCIAMENTO ITALIAN CHEESECAKE
1. 8 eggs
2. 1 cup white sugar
3. 1 ts vanillia extract
4. 1/3 cup white rum
5. One large container ricotta
6. Orange zest
7. Butter
8. Large spring pan
9. Powdered sugar
10. Hand mixer
Directions:
1. Pre-heat oven to 375
2. Butter spring pan thoroughly
3. In a large bowl mix all ingredients together except rum and orange zest.
4. Add rum and mix, pour into spring pan.
5. Mix in orange zest lightly by hand so it doesn't go to the bottom.
6. Cook for 1 hour, carefully take spring pan off, let cool for at least a 1/2 hour on a grating.
7. Add powdered sugar and eat.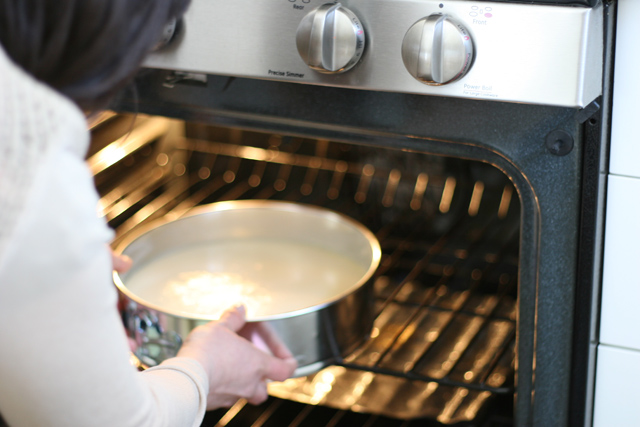 Frances Abbracciamento has held many titles throughout her life. Her achievements go far beyond her culinary expertise. The daughter of Italian immigrants, she is also a college graduate. After attending NYU in the 1930's, Mrs. A became a working professional putting in 9-5 days as a clothing buyer in Manhattan where she earned 16 dollars a week!  Frances is the wife of Abbracciamento, esteemed restauranteur and philanthropist. She is the proud Mother of 4; Grandmother of 9 and Great Grandmother of 12!  She and her Husband spearheaded political changes in the NYC educational system. Most notably, they are recognized for saving P.S. 108 in the 1960s, when the East New York neighborhood was in decline.  The school is still in existence and is known as the Sal Abbracciamento school, where Mrs. A still makes a yearly visit.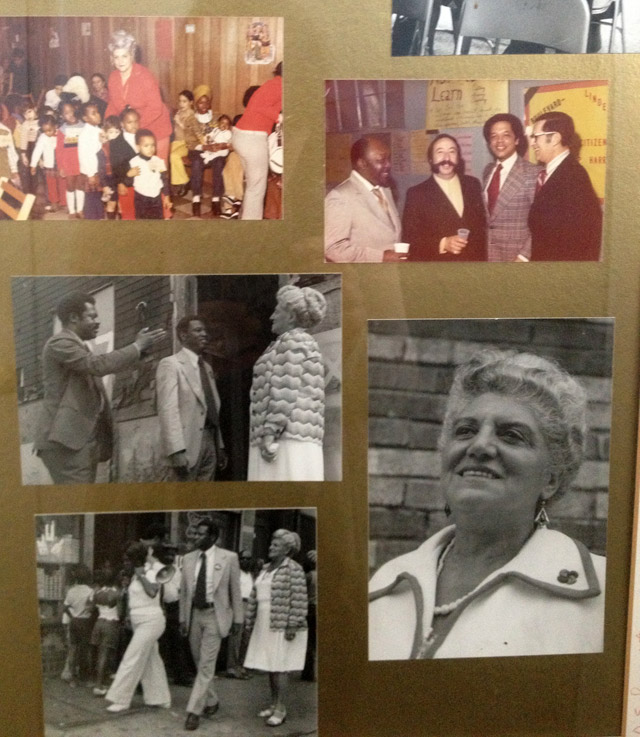 Mrs. Abbracciamento pictured during her years as a public spokesperson for the betterment of the NYC educational system.
At 102 years young, and still going strong,  we just had to ask if there is a secret to her longevity.   Mrs. A thinks a while., "Hard work. I've always worked very hard my whole life."
There are some recipes you can't find in a cookbook or online, they are passed down from one generation to the next, from Mother to Daughter, and from friend to neighbor – this is the Italian way.
*Susanne made the arrangements – Mrs. Abbracciamento is a close friend of the family.  Mrs. A's daughter attended St. Angela's in Fort Greene with Susanne's Mother. Both families summered in Breezy Point before they became full time residents.
Photography by Susanne Rieth