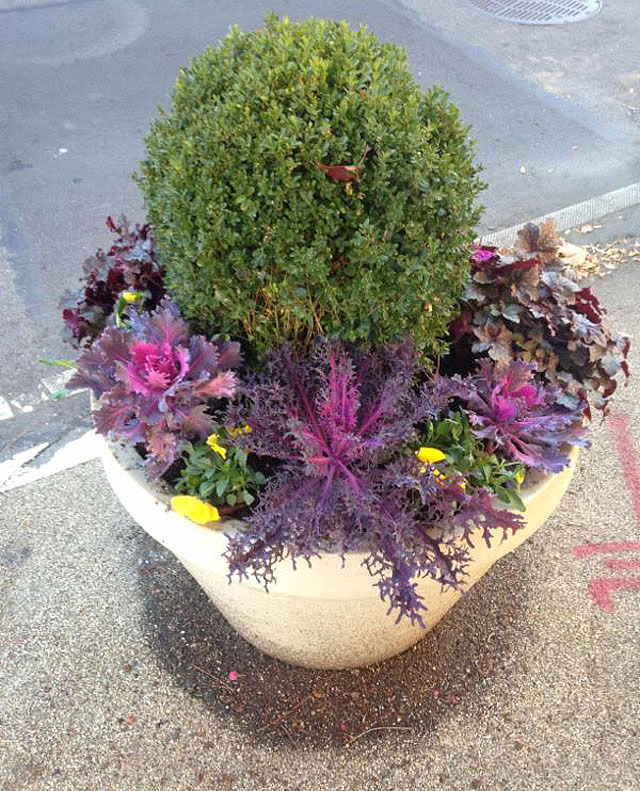 I received the Myrtle Avenue Business Improvement District monthly email and was happy to read about this:
New seasonal plantings have been added as part of a new program initiative begun in September by the Myrtle Avenue BID, the Ridgewood LDC & The Horticultural Society of New York.  The plantings have given the pedestrian plazas at the intersection of 71 Av., Stephen Street and Myrtle Av. as well as Venditti Square & a planting area at Catalpa & Myrtle Avenues a holiday makeover.

Myrtle Avenue Business Improvement District, with the Ridgewood Local Development Corporation, the city's partner in caring for this space, is providing additional programming as well as daily maintenance. The space is also maintained by the Atlantic Maintenance Corporation, the BID's sanitation service provider for the district.

The additional maintenance partner for the plaza is Neighborhood Plaza Partnership (NPP) – a unique workforce development & neighborhood revitalization program that provides transitional employment and job placement to hard-to-employ individuals while helping communities throughout the city maintain green public plazas in their commercial districts.
I don't think anyone can complain about greener streets!