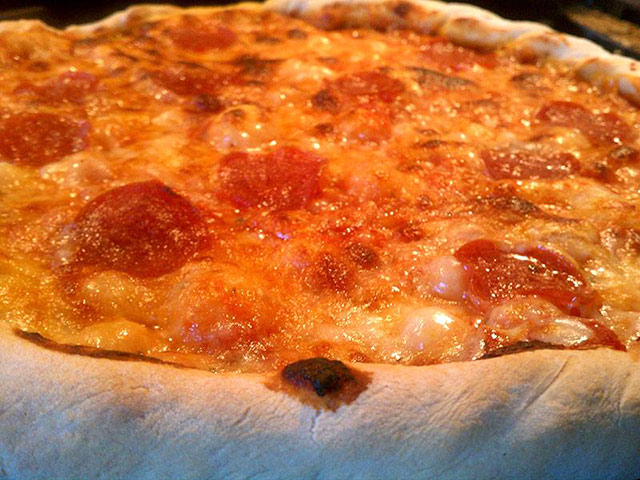 Photo via Last Dragon Pizza Facebook
Since reading on DNAinfo about the underground pizzeria Last Dragon, we've been dying to try it out.
Last Dragon Pizza is the creation of Nicole Russell, 41, a super-fan of the cult classic film who slings her pies like blue arrows at her home in Arverne.
A few weeks ago Susanne and I made arrangements to pre-order for a Wednesday night pick-up. After much back and forth, we agreed to order The Glo!!!  It would be smart to try the "nuts and bolts" pizza first, we thought.  The Glo!!! is a standard cheese/sauce pie (pepperoni optional).
Wednesday night, it's ten to eight. We're sitting in the car at an undisclosed location – staring at the clock.  It felt like we were part of some SVU covert sting operation. We were hungry and the anticipation was building… almost time. THEN, out of know where, Ms. Nicole Russell appears,  all smiles and bubbly, holding the box. The exchange goes down. "Thank you so much for your support," Ms. Russell says,  followed by "Hey, lets do a selfie!!" And the social media frenzy began.
I've never had so much fun picking up a pie before. We rushed home, we couldn't wait to eat. Rendezvous successful.
The low-down on The Glo!!!… The 14 inch pie can feed one hungry person or be split by two moderately hungry individuals. The sauce is on the sweet side. The cheese to sauce ratio is on point. This is a big thing for me, it must be close to equal. The homemade dough is the best part. The crust is soft, big and thick. Right away I thought, "this is out-of-the-oven  fresh".  While eating, I was thinking a side of sauce for dipping the crust would be a great option.
In contrast to the fluffy outer crust, the pizza center is thin. Thick crust with a thin center is a unique combo; I haven't had anything like it. Ms. Russell makes a quality pie, The Glo!! is legit. My goal is to taste (and write about) all 7 specialty pies by summers end.
[rating:4]
Order via the website Last Dragon Pizza or call 917-780-2570
Facebook, Twitter (@LastDragonPizza)