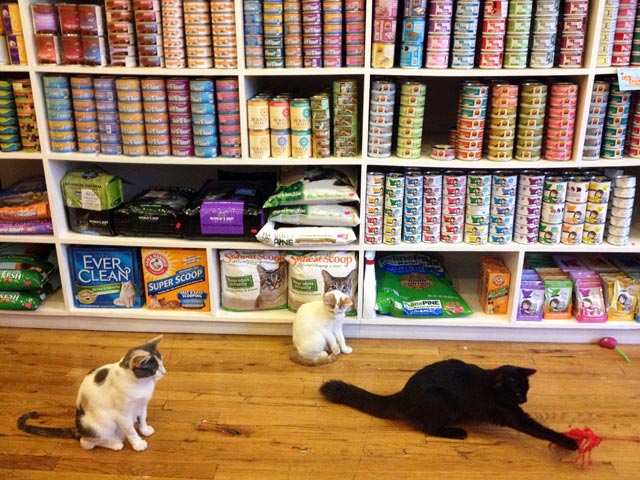 My next door neighbor recommended I shop for Fiver at Bushwick Pet Superette. I'm a regular now. Customer service is top-notch. Every time I walk in, I'm asked if I need a hand with anything. I've never waited on a long line and most times there are free samples at the counter for your pet! There's always a few people hanging around chatting about their furry friends – it's a friendly, animaly-loving vibe.
There's a wide range of healthy choice dog / cat foods and products, not the regular run-of-the-mill:
Bushwick Pet Superette is Bushwick's latest and greatest pet store, focusing on wholesome, high quality and all-natural foods, stylish clothing and accessories, high-quality beds and furnishings, and unsurpassed customer service.

We feature the highest quality foods, including raw, grain-free, and organic options.  We carry a variety of proteins (duck, venison, lamb, rabbit and fish, as well as chicken and beef) in canned, freeze-dried, raw, and frozen. We have high quality treats for training, snacking, chewing, and just for fun!
The best part about visiting is saying hello to Bushwick Pet Superette's foster kitties. Some sit proud and watchful on the counter top, others will approach you in hopes of a cuddle. After I'm done shopping, I linger and mingle with the cats.
Dog people, take your pooch shopping, their welcome to hang out while you shop (if they're cool with cats).
Big FYI – Tuesday evenings they have a home delivery service. For those without wheels, this is a big deal!  I'm sure carrying a huge bag of dog food or cat litter in your bike basket is a total pain. (Not to mention dangerous!) Contact the store for delivery arrangements (347.435.3239)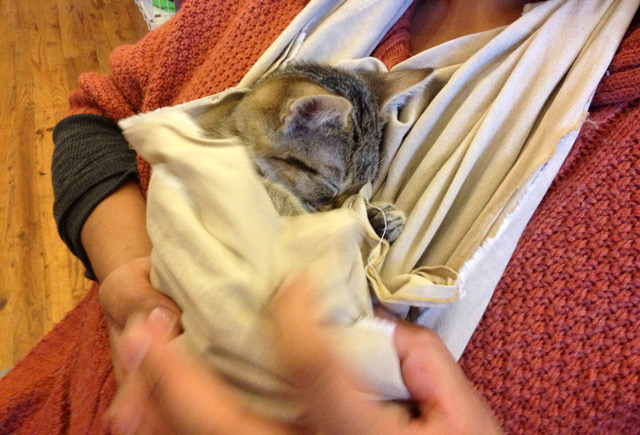 The Superette always as an event happening –  every Sunday from 12:00-6:00pm is cat adoption day hosted by Animals Can't Talk (718.393.7535). These cats need homes, please consider! And this is a great one, visit Bushwick Pet Superette  Saturday February 16th for a free dog training day. More info here.
The long and short of it? Bushwick Pet Superette is super, check 'em out!
12 Cypress Avenue, Brooklyn, NY 11237
Mon-Thur Noon-8pm | Saturday 10AM-8PM | Sunday Noon-6PM
347.435.3236
Email