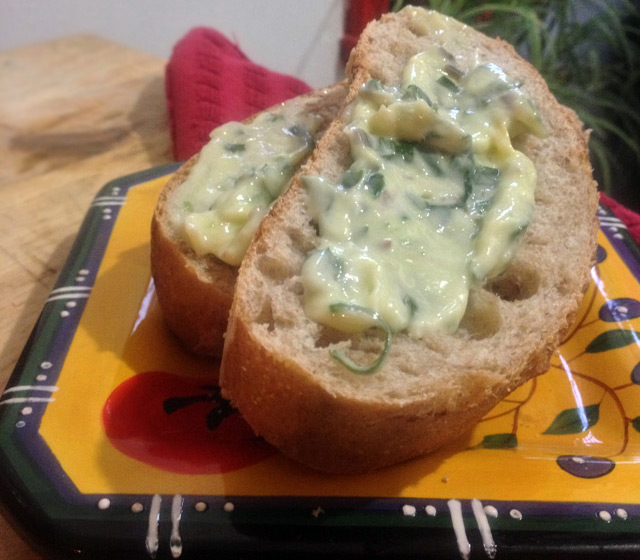 I woke up sleepily last Tuesday morning, opened the fridge to get milk for my coffee and noticed mini cute tupperwares.  A few blinks later, I saw they were filled with an interesting butter spread and pesto!
Food surprises are  one of my favorite things.  As soon as I tasted ramp in the butter, I knew this was the tasty work of my friend Jen, and that The Forms had dropped the treats off in the middle of the night while working in our studio – like a food Santa Claus!
I remember Jen telling me a while back about how she makes butter spreads. "Its so easy," she said. "Use whipped butter, soften it, add sea salt, a few squeezes of meyer lemon, grated rind and your veggies of choice. Mix with a wooden spoon or a  kitchen aid mixer, that's it!"  As I'm typing, I'm thinking this is an easy creative way to step up a brunch party. Make a few specialty butters, display  on cute dishes, achieve near-instant wow factor!
As for the pesto, I wasn't too sure of  the ingredients. Off the bat, I  knew it had a nice bite, definitely a lot of garlic and ramp, not too much oil…? Jen was happy to share the recipe with us (see below). This is a fantastic lower calorie alternative to the traditional Italian pesto. Try it on tomato mozzarella or grilled chicken. The light onion flavor of the ramp is a perfect accent  for so many  dishes. Also, ramp grows wild in New York State. A local crop  always gets bonus points in my book.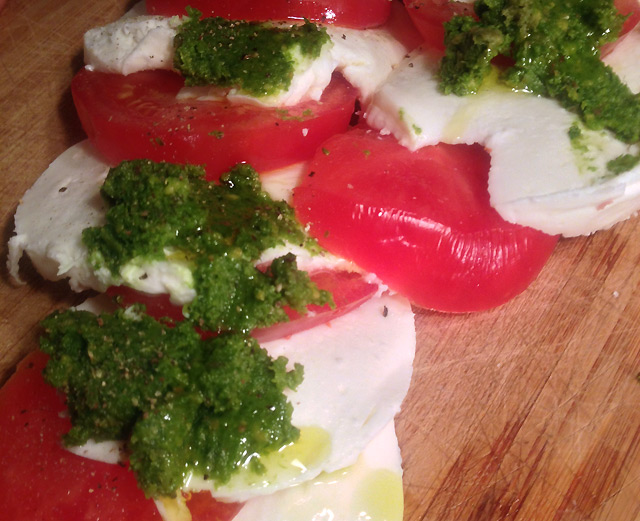 1 bunch of ramps (washed, and with the roots cut off)
1/4 to 1/2 cup of parmesan cheese (this is important: use the powder-like, grated kind… not the fresh, shredded kind)
1 cup of roasted pistachios (you can go raw if you want to, it won't make a huge difference, but I prefer roasting them for about 8 minutes)
2 tbsp olive oil
A few squeezes of lemon (if you're really into lemon, I'd recommended using a Meyer lemon and tossing some zest in as well)
Put everything in the food processor—all at once is totally fine! Taste test it. Is it too powerful that your tongue feels like it's burning? Then add more grated parm and a little more olive oil to cut it.