As I mentioned in an earlier post, I am working from my companies disaster recovery site (not sure thats even the right terminology). The working environment is  different than what I am used to. I'm used to having a cube and only some slightly noisy neighbors (one being my brother Chris who has the office adjacent to my cube). Now, the set up is similar to a trading floor or a newsroom, where there are no dividers and just desks, everyone can see each other. As someone who used to work in that exact set up for the 4 years prior to my current position, I actually like it. You get to talk to people you would normally never interact with. My trip to Lioni's with Levan actually spurred a conversation with some of my neighbors who were discussing whether to order from there or not. I had to jump in, I immediately opened up the 'Sophia Loren' sandwich pictures I had and it assured them that there was no way they could let the opportunity pass them by. At the time I had interrupted their conversation, I was arguing with Levan about L and B  on our internal messaging system. Christopher (part of the neighbor crew) started talking about L and B, how he loved the pizza and actually used to work there as a teen. I freaked out, I said "I'm not kidding you I just googled L and B and I am talking to someone else about it on IM". We had a laugh about it.
Occasionally we would touch base in the office if the 'neighbor crew' had ordered from Lioni's yet. We had ordered delivery the second time we got Lioni's and I offered the neighbor crew a chance to get in on our order, Christopher said he needed the experience first hand. I laughed, but I knew exactly what he meant as someone who values the experience of food as much as consuming it.
You'll be happy to know, the neighbor crew gave Lioni's the thumbs up.
Last week, I made a cheesecake for my friend Steve's last day before he left for his honeymoon. Bill (my husband) refers to Steve as my work husband, so you can imagine I was sad to see him leave for such an extended period of time. I always want to make a cheesecake because its pretty easy and people really like it.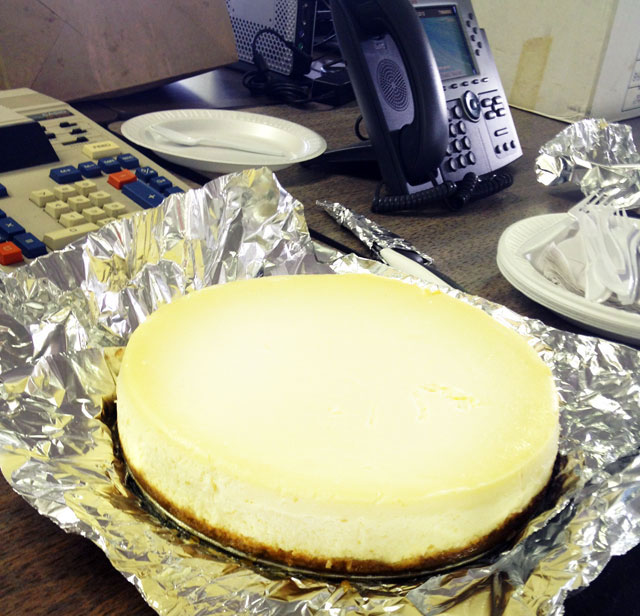 I had offered a piece of cheesecake up to Christopher. He came back to my desk after he ate it and let me know how much he like the cake. He asked me if I cook to which I replied "I try to". He then gave me the cookbook below. The author, Francis Anthony, is his father. I thought it was such a nice gesture and I am always down for getting cookbooks!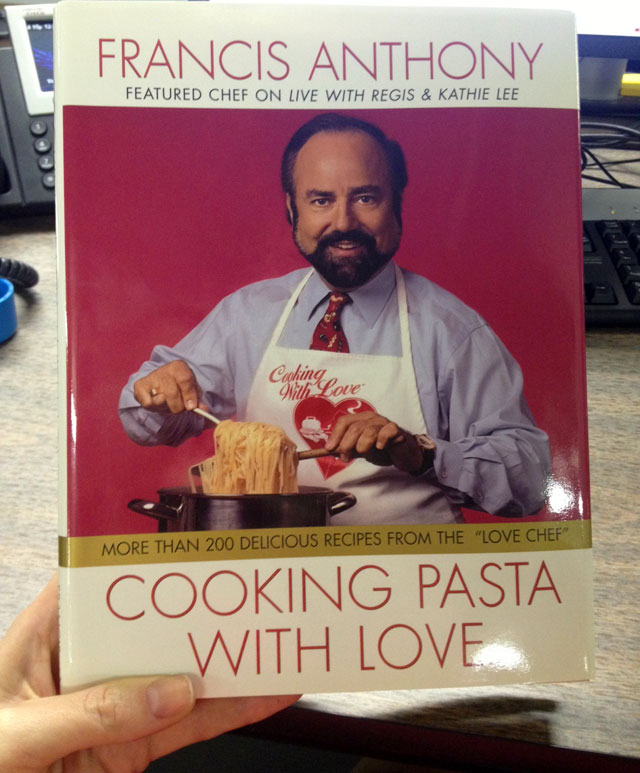 The first couple of lines in the introduction read "When I talk about pasta I'm talking love…love of body…love of mind…love of soul. I'm talking passion…I'm talking foreplay-but I'm talking marriage-I'm talking commitment…" You had my attention at 'foreplay'.
One of the first recipes I saw was Hungarian Noodles. As a Hungarian, I felt like I had to make that recipe. I tried it out that night. We'll save that for another post.