My office is on Water Street in Manhattan. The building is currently uninhabitable so I have been working from our disaster recovery site. It's essentially a warehouse with a bunch of desks, very different from my cubicle life at 55 Water. Some of the good things about our current setup is that I speak with people I normally wouldn't have even met and I get to sit near some of my co-workers who are usually located on different floor but work on the same project as I do. One of those co-workers is Levan. Levan was born in Tbilisi (home of Paula's famous cheese bread experience) and grew up in Brooklyn. Levan has already made it clear that he is a food guy and being from Brooklyn, he feels as though while we are working remotely in his borough, he needs to show us the best spots to get lunch. While I take self proclamations of "foodie" in stride, Levan has proven that I may be able to trust his food judgement. He said L and B Spumoni Gardens wasn't that good, which was a strike in my mind, but he did redeem himself when he introduced me to Lioni's.
If you follow us on twitter, you have probably salivated over Lioni's sandwiches. We have ordered from there twice. The first time we went Levan drove there. As we pulled up to the front, I got a good feeling about the place, it looked legit from the start.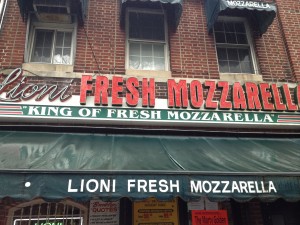 As if the entrance wasn't assuring enough, when I walked in, there was a vat of olives that just confirmed my feeling that 'this was gonna be good'.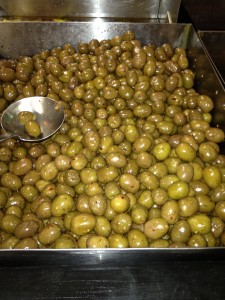 Lioni's has about 150 sandwiches you can choose from. Don't worry, they also do made to order in case you don't want to look through all those choices. On our inaugural trip to Lioni's, I ordered the 'Sophia Loren' or (Sofia Scicolone), the Lioni's description reads:  'this one is beautiful" prosciutto di parma, lioni fresh mozzarella, sweet stuffed pepper, lettuce olive oil, salt and black pepper.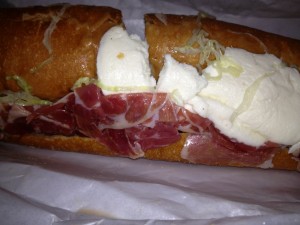 Levan got the "Rock Graziano" whose Lioni description reads: "has a one-two punch" hot sausage, bruschetta, and lioni fresh mozzarella.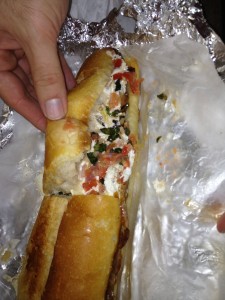 If you're wondering if the sandwiches tasted as good as they look, they do. Everything taste fresh. My only warning is that these sandwiches are large, the sandwich is essentially the size of a keyboard. Picture below for reference.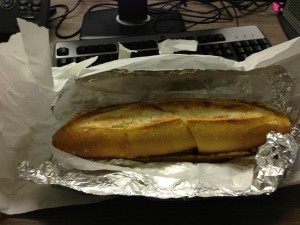 My tomato rating for Lioni's is a 4, it has been one of the best sandwich experiences I have had.
If you've taken our suggestion to stop by Dyker Heights for Christmas light viewing, stop in at Lioni's for an amazing sandwich experience.
Lioni's Fresh Mozzarella
7803 15th Ave, Brooklyn 11228
(At 78th St)
Phone: (718) 232-1166
[rating: 4]