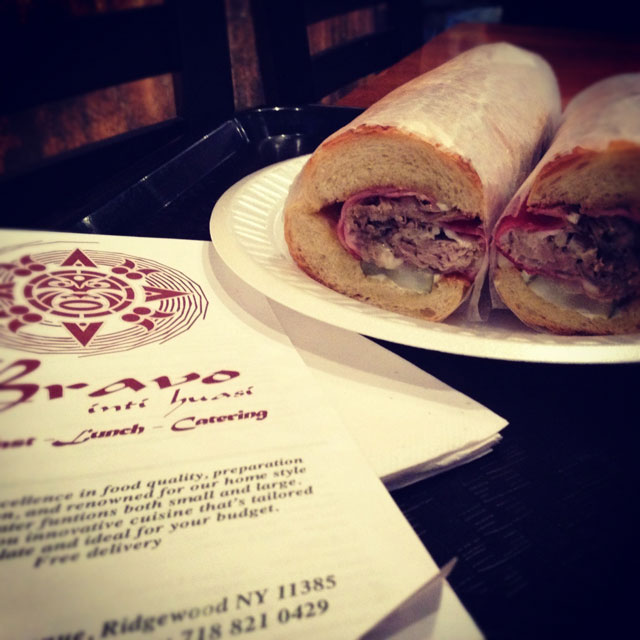 A few weeks back I was coming home from a meeting in the city. I was starving, had nothing in the fridge, and I noticed I was by Bravo Cafe. I'd always wanted to check this place out because I thought the sign outside looked cool, so I stopped in. The first thing I noticed was the festive Latin decoration and a beautiful skylight in the back room. It doesn't really feel like a cafe, but it's not exactly a restaurant either.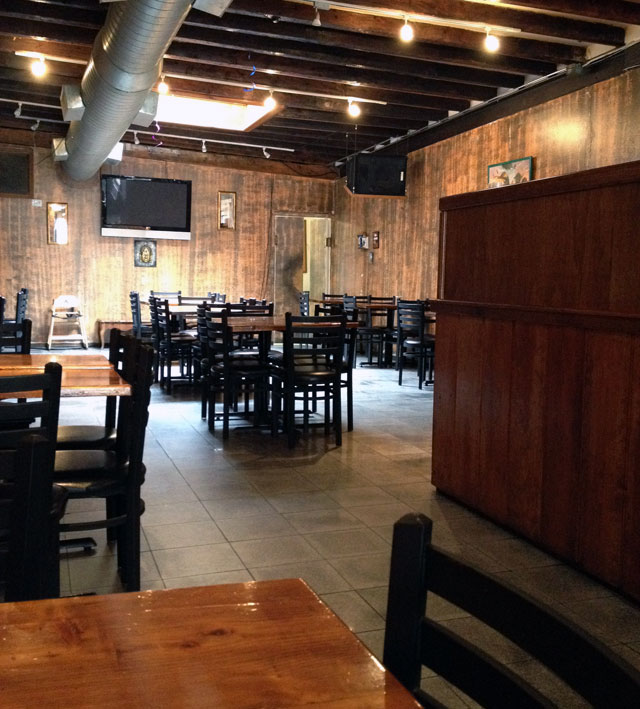 I didn't think much about what to order because I was starving – I went with the Cuban hero. I had my laptop and asked if they had  Wi-Fi, and the server gave the code to me with a smile.
While waiting I googled "Inti Huasi" which is on their menu, the location La Carolina, Argentina popped up. Inti Huasi means "house of the sun" making sense because there's a South-American-looking sun graphic on the front of their menu. From Wikipedia:
"The Inti Huasi grotto is set on the hill of the same name, andesitic dome of volcanic origin located in the central area of the mountains of San Luis in the Department of Coronel Pringles 20 km from La Carolina (San Luis) and 100 km from the capital city.

This cave is considered one of the most important prehistoric archaeological sites in the Americas and is visited by over 10,000 people each year. It is composed of two shallow tunnels that are naturally protected by a wide arch that forms a naturally lobby." More

My food was ready! I took a huge bite of the Cuban. It's packed with roasted pork, ham, mozzarella, pickles, onions, dressed with mayo on a buttered-toasted hero.  It was hard to get a good handle on it at first, because it was big enough to feed two people. The sandwich tasted like a meat montage; flavors of pork were especially nice. The bread was perfect, crisp and warm – love that.  My only complaint is that  it was a little dry. More mayo or even better, a mayo/vinegar mix would have been nice.
The menu at Bravo is extensive. Besides the beefy sandwich options, hot meals are served such as brisket of beef, fried shrimp, pernil roasted pork, tilapia – the list goes on and on. And they have a full  breakfast menu. Bravo is not open for dinner. Other sandwiches to note:
The Triple Inferno – pepper turkey,  hot cappi, white cheese, hot peppers, lettuce and tomato
The Dominicano – salami, chicken breast, white cheese, fried tomatoes, onions, mayo
The Pope – prosciutto, mozzarella, sweet peppers, lettuce, tomato and Italian dressing.
(A sandwich named after the Pope is a must try.)

You have a choice of semolina, whole wheat or a wrap style sandwich. All sandwiches are only $6.75!
Next time I'll be sure to try the coffee.  Strong, fresh coffee is the first thing you smell as you walk in.
Bravo Cafe, 377 Seneca Ave, Ridgewood 11385
Cuban Hero…
[rating: 2.5]