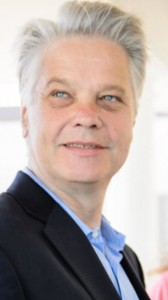 ROMEO is a terminology I learned from my long time friend, Mike Honan. Mike coined the term ROMEO to refer to "Retired Old Men Eating Out" (note: that may be a completely false statement that he coined it, but I am going to give him the credit anyways). I always get the term mixed up and say its "Really Old Men Eating Out". In the latter interpretation, my father Jerry has been doing that for years!
I bring up the ROMEO terminology now, because my dad has retired. Part of his retirement plan is to drink tons of wine with me. We have taken two classes at the Astor Center (http://www.astorcenternyc.com/) recently. The first class was about Spain. It was a great experience, it really encapsulated my new, self-given title of "Nerdy Wino".  I sat there and feverishly took notes while simultaneously trying to hone my skills as a wine connoisseur. Currently, I am just a wino, I think my dad is whatever level is between wino and connoisseur.
I will try not to burden you with all the facts that I learned that day, but here are some of the most interesting historical points:
Spain has 400 varietals of grapes planted. 80% of the grapes that come in Spanish wine are from about 20 grapes
38 liters are drank on average per capita in Spain per year (somehow I feel like I dwarf that number)
the cooler the temperature of the area where grapes are grown, the higher the acidity. Acidity and sugar have an inverse relationship. If a wine is sweeter, the acidity is lower and vice versa
a breakout of phylloxera (http://en.wikipedia.org/wiki/Phylloxera ) in the late 19th century in France, forced wine makers to grow grapes in Spain which resulted in refined wine making techniques in the area
There are 4 types of aging techniques in Spain. Table below
                                             RIOJA RED                                                RIOJA WHITE & ROSADO
———————————————————————————————————————————————-
VINO JOVEN                   ~1 year in oak                                                ~1 year in oak
CRIANZA                          1 year in oak + 1 year in bottle                     6 months in oak + 6 months in bottle
RESERVA                         1 year in oak + 2 years in bottle                   6 months in oak + 1.5 years in bottle
GRAN RESERVA             2 years in oak + 3 years in bottle                  6 months in oak + 3.5 years in bottle
———————————————————————————————————————————————-
We also went over the regions of Spain and the "typicity" of the wine of that region (fancy word for typical).  Map of wine producing areas in Spain: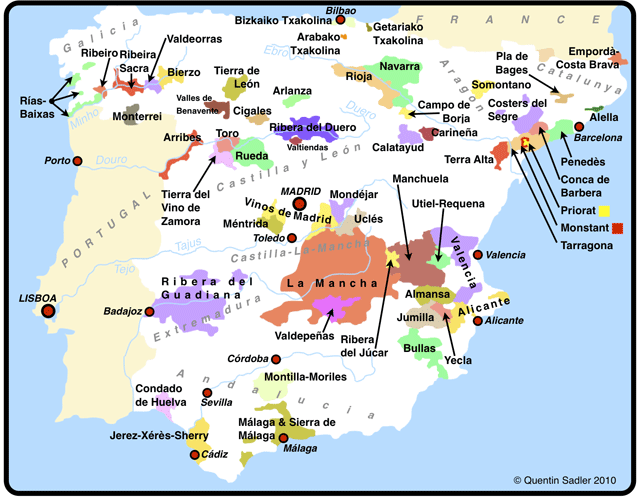 We went through some other interesting facts about the laws of wine making, but if I know you, you want to get down to the nitty gritty! The wine and food.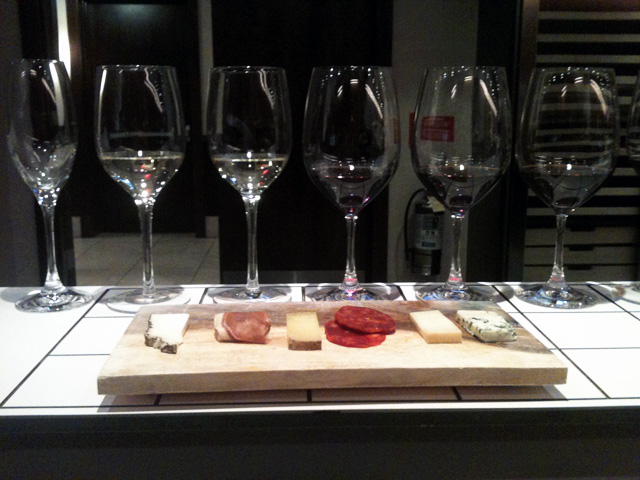 Below are the wines we tasted and the cheese and meat that were paired with each wine. Starred are the favorites of ROMEO and I.
Welcome Wine: A champagne: Naveran Brut Cava 2010*, Penedes, Spain
WHITE WINES:
Albarino, Feinanes 2011, Rais Baixas, Spain
Pairing: Monte Enebro* (a goat cheese with an ash and mold rind)
Ermita de Nieve Verdejo 2011, Rueda, Spain
Pairing: Jamon Serrano
RED WINES:
Rioja Crianza "Vina Real", Cune 2009, Riojia, Spain
Pairing: Mahon Curado* (cows milk cheese. They said that because the cows graze on grass near the ocean that the cheese is saltier)
Cuatro Pasos, Bierzo 2009*, Bierzo, Spain
Pairing: Chorizo*
Priorat "Menut", Clos Martinet 2009*, Priorato, Spain
Pairing: La Serena (We hated this cheese!)
Cream Sherry, Dios Baco, Jerez, Spain
Pairing: Valdeon ( the pairing was good, but I don't care for sweet wines. Dad liked the Sherry)