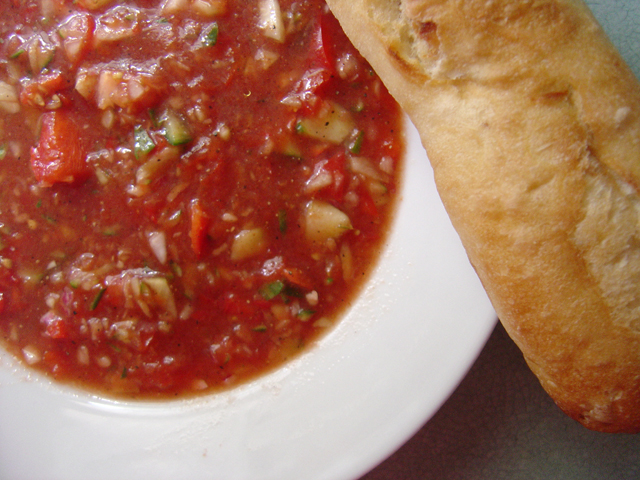 I consider myself a cook because I love to cook, as well as eat.  But I am not an adventurous cook, so when my husband Mike asked why I never made Gazpacho, my response was UGH.  I just do not like cold soup – it should be hot and comforting, not refreshing. But since I love my husband I went in search of the perfect recipe for Gazpacho in my many cookbooks.
Now, the problem with recipes is that I often reject the ingredients suggested and substitute my own items.  I did not like that many of the recipes called for cups of balsamic vinegar. The thought of 2 cups of that ingredient made my cheeks pucker. Other recipes called for jalapeno peppers, with the seeds and that just gave me indigestion. Then there were the recipes that took 2 hours to prepare, which just seemed like too much work on a 90-degree day.  After careful consideration and inserting ingredients here and there I came up with the following recipe.  It was quick to prepare and those who consumed the Gazpacho tell me it is quite delicious.  I, however, refuse to eat cold soup. I will just wait until fall to eat my delicious lentil soup. So enjoy my adventure in cooking.
Fran's Adapted Gazpacho Soup
It might help to own a food processor, but I just have a powerful blender.
1 large or several small organic seedless cucumbers (unpeeled)
3 sweet peppers, red or orange or yellow or green, (mix it up )
1 large peeled  organic carrot
1 large red onion
6 plum tomatoes  (my garden has an abundance)
6 cloves of chopped garlic
4 cups of tomato juice  (V8 might work well also)
1/3 cup white or champagne vinegar
1/3 cup fruity olive oil
about 1/2 teaspoon salt
about 1/2 teaspoon black pepper
Roughly chop the vegetables, cucumbers, peppers, carrot, onion and tomatoes
Get a large glass, (not metal) bowl to hold all of the ingredients
after they have been blended in the blender or food processor
Add the vegetables to the blender a few at a time so they are chopped but not
liquified. If the blender cannot mix well add a little of the measured oil or vinegar.
As you blend each group of vegetables together, place them in the large glass
bowl.  When everything has been in the blender and looks thick and a little chunky,
add the rest of the vinegar and oil, chopped garlic, salt and pepper.
Stir gently with a wooden spoon and cover.
Refrigerate for at least 2 hours before serving.
Toppings for Soup:
Dollop of plain yogurt with chopped parsley
Fresh crab meat or cooked baby shrimp
Splash of hot sauce mixed in
Fresh chopped basil on each bowl to top it
You can never go wrong with a warm loaf of crusty Italian bread
ENJOY