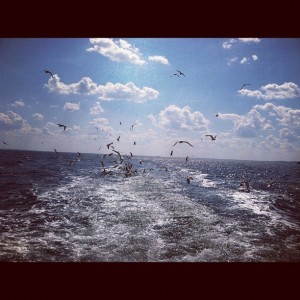 My parents both have birthdays close to Mother's and Father's Day, so shopping for them can be hard.
My dad retired years ago, and declared soon after that he no longer wanted to receive the following presents: Ties, dress shirts, leather belts or v-neck sweaters. He wanted things more suited to his new lifestyle, which meant t-shirts, cargo shorts and things for the garden.
I got dad a t-shirt for Father's Day. He's been losing weight so there's no point in buying him shorts that may not fit him in a bit. And I think our garden is fine the way it is.
Which meant his birthday rolled around and I was all out of ideas.
But there is no gift better than the gift of time, so I took my dad out for a day on one of the fishing boats out of Sheepshead Bay. From 9-4 we set out on the wild sea — mainly off the tip of Breezy Point, the Narrows and the Coney Island flats — to catch our dinner.
We caught a lot of sea robins, got hooked on a couple mussel beds, dad caught a lot of tiny flukes. I caught an 18-inch fluke, but the little guy was an inch and a quarter-of-an-inch too short to legally keep. We threw him back, and he swam quickly back down into the darkness.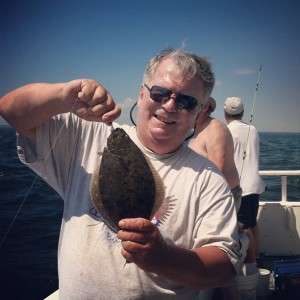 I enjoyed the sun and the conversation the most. We met Leo, an old guy determined to catch food for the week. He gave me some of his good bait, but it didn't seem to work. We chatted with a bricklayer out of work for a couple months, and a self-proclaimed chef — really a retired cop with an interest in cooking — who gave us some great recipes for fish, if we ever caught anything.
We didn't, so the best part of our trip would have to be on land, at the calamari house across Emmons we love so much. To give you an idea of how much we love Randazzo's, I'll admit that we went here after my sister's high school graduation (although perhaps that says more about us than about the "galamah.")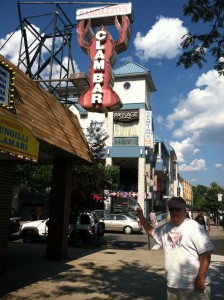 Dad and I ordered a well-deserved feast after a day of fishing, no catching. We started with a dozen littlenecks, which we ate with lots of horseradish and hot sauce. Next were steamers dipped and drenched in broth and butter. My dad got a bowl of Manhattan Clam Chowder, and we split the fried calamari with "hot" sauce, perhaps my favorite sauce in the world (BESIDES YOURS MOM.) I also ordered a fried soft-shelled crab sandwich because, why not?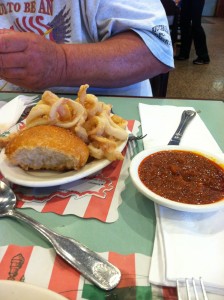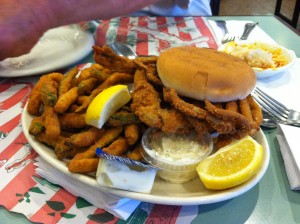 On the drive home we both promised we'd lie to Fran about what we ate. She didn't believe it when we said we only ate Greek yogurt.
Speaking of Fran, she may get a lot of shine on this blog when it comes to food, but I can't neglect to mention Mike's foodie tendencies, perhaps stronger than mom's. He's a retired probation officer, and spent a lot of time out "in the field" hanging with criminals in the five boroughs. This meant he ate a lot, all over, and would always take us to his favorite spots.
When you follow mobsters, you tend to eat like one.
I thought Monday — perhaps because we were so close — about two of our favorite places to visit in Coney Island that have since shut down.
There was Ariel Pizza (I think that's what it was called?) on Neptune, which gave me my first introduction to real Italian-style pizza. My dad first brought me here with my sister and our BFF Clare before a trip to the Aquarium over one Easter break, and I still have dreams of their white pizza and wooden interior.
Next door to Ariel's was a tiny bread shop that I always thought smelled weird (it smelled bready) and sold only two things — regular and semolina Italian bread. One bite of the bread would give you enough explanation as to why they didn't sell anything else.
Driving home from grandma's in Bensonshurst, or later from the cemetary on Staten Island, my dad would find a reason to pull off the Belt and stop for bread. We'd buy two loaves, one for home and one for the short ride home, passing a warm loaf of italian bread back and forth in the car.
Our eating habits have improved, thankfully. But bready, cheesy memories stick around.
Let's go fishing again soon, dad. We can even skip the fishing and go straight to the calamari.