It was the day after the "apocalypse." The dangerous air quality conditions from the Canadian wildfires cleared. It was safe to breathe the air again. I went outside to check if the backyard garden needed watering, but I was distracted by a "honking" nose. I looked towards the sky and there, I saw a flying dinosaur! It launched from the roof of my neighbor's house into the towering tree of heaven in the corner of my yard. It landed on a long branch, settling in next to its lover.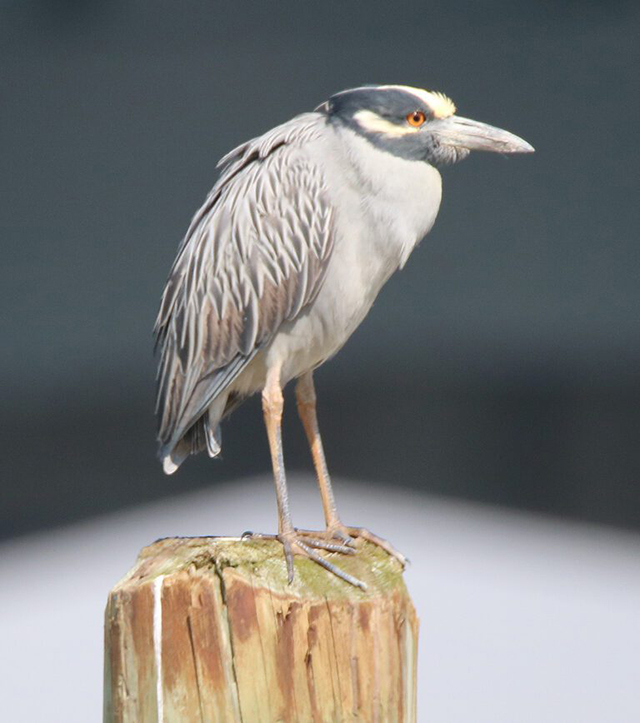 A Heron perched at Jamaica Bay, spring 2020. Photo by Bridget Klapinski
I was thrilled to witness this beautiful nature moment! But what was I looking at? I googled "dinosaur-like bird with black and white feathered wings, Northeast." Nada. I posted a blurry in-flight photo on Instagram for identification help. Within minutes, my birder friend Bridget responded, "Yellow-crowned night-herons!"
Bridget explained that normally you see herons living on the bayside and in Jamaica Bay, where they feed on brackish shellfish. But she added that it's not uncommon to see this bird in tall trees near marshlands. There was a pair nesting in a tree by Connolly's last season, she recalled.
I spent some time with my visitors. Their goose-like bodies were covered in shades of gray, with specs of white-striped feathers. Their lanky orange limbs and darting eyes felt prehistoric. The heads were boldly black and white. I witnessed a sudden "poof" of beautiful, light orange plumes popping from one's crown! The fowl's movements were awkward. The bird's neck extended slowly. Their bodies appeared too large and out of place on the wobbly branch they took rest on.
Then things got strange…er. I heard loud, incessant bird chatter. I looked at the herons. They were chill. They didn't seem to be the source of the egregious sounds. I investigated the whole backyard. I popped my head over fences. I went inside and looked out my window at my neighbor's tree… nothing. I went back outside and sensed the squawking in question was coming from the apartment building behind my house.
A few hours passed, and I started to receive a slew of texts from my neighbors about the noise (they saw my Instagram post). But I told them, "It's not my yellow-crowned night-herons!" Now I was fielding messages about the egregious bird calls all day. 91st Street was dumbfounded and theories unfolded… "It's a cockatoo in the building across the street;" "The air quality is back to normal, and the birds are poorly singing praise;" "Nesting birds nearby are sounding alarms due to the heron visit."
The situation went from "nature's gift" to "Someone needs to take these birds out.*" The chirping became unbearable for all on 91st Street. Confused and tired, we hoped it would end at nightfall and we'd wake up to silence.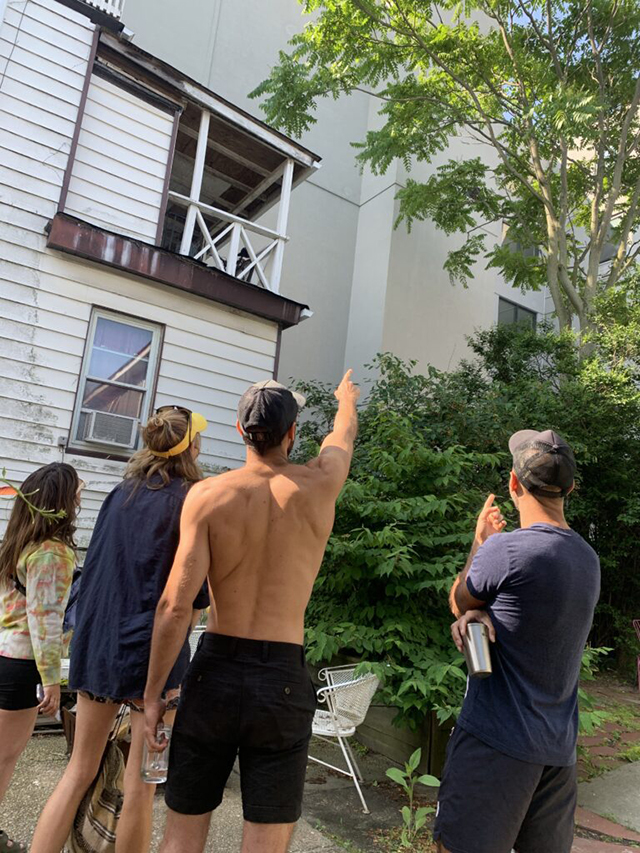 The neighbors investigating the exceptionally loud, perplexing bird sounds.
But that's not what happened. "I can't take another day!" I'd thought. I escaped and headed to Washed Up Cafe. The bird noise theories continued over coffee. I brought the group back to my house to investigate in person. My neighbor Fredrico pointed to a miniature chokecherry tree in the courtyard across the way. "It sounds repetitive," he said. "It's coming from that tree!" I glanced at birder Bridget. Her mind was churning…"It's a recording!" We spotted a green box on the chokecherry. Unbelievable! The sound was emanating from an automated, electronic bird caller. We believe it was installed to repel birds, yet it didn't seem to phase the herons. The mechanism was disabled, and all was restored to a peaceful, natural state.
The next day, I saw the herons pull twigs from the tree and place them quite particularly on the limb they have been occupying. DFD's? I don't think so. It seems they may be nesting for the summer!
*Birdbrains, note this is a joke! In fact, yellow-crowned night-herons are defined as a Protected Bird by New York State law, and the species may not be hunted, harmed nor taken out at any time.