by Paula D.
on
June 6, 2023 8:21 am
in
Surf
It was my first time in the water alone. I'd been surfing for a couple of months at this point. Kristi, my surf coach, felt I was ready. It was 1-2 feet, about eight seconds apart, and clean. I was at 91 on my borrowed Wavestorm, drifting out of the lineup with the offshore wind.
The early morning summer sun on my face was just right. I felt free and independent. But I wasn't alone. There was a dolphin! A moment later there was another. Then, I see 10 dolphins and they're 15 feet away. I brace the rails of my foamy. I'm exhilarated and a little scared. But then the unimaginable… I'm surrounded by a pod of 20-plus dolphins. They're playing, and jumping all around me …I swear on the Blessed Mother.
I noticed other surfers were pointing in my direction. Out of the lineup, I'm the only one immersed in the creatures. One came so close I saw her teeth. I swear her eyes locked on mine. We think cute, pink dolphins on retro tee shirts or sparkly stuffed animal dolphins… I'll tell you, seeing a dolphin up close is a little different. Her teeth were many, yellowed, and sharp. I saw the scars on her thick-skinned body that revealed her age, fearlessness, and her life of travels in the sea. She wasn't pink, fluffy, or glittered; she was more beautiful than that.
The meeting was magic—a gift to me at a time when I needed the dolphins' playful joy. I truly can't put this experience into proper words.
With my sandy wetsuit still on, I grab my phone in the bedroom. I went to text Kristi, but there was already a message from her… "Are you ok??? You were surrounded." Kristi, after she left me in the water, turned to check on me and saw my dolphin encounter. "Yes, I'm great!! It was unbelievable!!" Later we spoke. She said she was so nervous and felt responsible as my coach!  While dolphins are friendly beings, they're also about 9 feet long and have 500 pounds of solid muscle. If you accidentally get bumped… it would be a thing. I told her, after my initial shock, I felt strangely calm and safe.
This week is my one year surfing anniversary! I'm recalling the many special moments I've had…
Another awesome time was the impromptu 15-person swim. It was flat (I learned the perfect day for a paddle). Simon (@chardietsimon) was on the boardwalk. He invited a bunch of us to go along with his group of swimmers. "It's good to have boards for safety," he said. We had so many laughs. We helped swimmers take a little rest on our boards. What fun! My arms and shoulders were crazy sore. Days like that you can't recreate.
I learned people talk about all sorts of things in the water besides surfing. Lots of food talk, ehem.. the new breakfast burrito at Washed Up (@washedup.nyc); lots of boy talk and dating; convos about tie-dye parties and Wild Yak shows; secrets shared; chats about cute spring suits on sale and sunblock debates. I learned it's not rude to stop mid-conversation, turn and catch a wave. Waves come first.
This year I took lessons with @seasons_surf_NYC. Practicing the fundamentals from a pro helped tremendously.
In January, I traveled to Puerto Rico for my first surf trip—a Rockaway Surfer's rite of passage. There I surfed my first reef break and banged up my knee!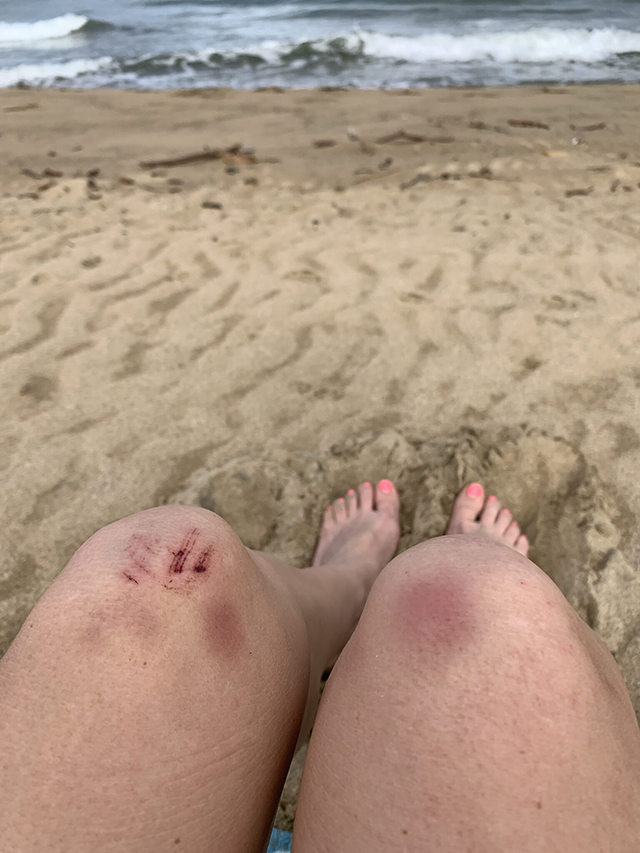 People switch boards in the water for fun and I have Rebecca Parker (rockawayacupucture.com) to thank for letting me try hers. I caught my first hardtop ride on her 9-foot hot pink board and since then, I haven't turned back!
Two weeks ago I dropped in on my friend and got into my first collision, but it's okay! It was a small closeout day. We were far apart so I decided to take the same wave. Magara angled down the line (the only way to catch a closeout, I know that now). I was a deer in headlights! "Cover your head." I remembered. We didn't get hurt! Nigel is fixing my ding and Magara's solid 9-foot-6 Paul Surf is unscathed. Big learning moment though—never let your guard down, especially on those chilly days.
I continue to meet rad people in the water and they're all cheering me on. I've made some special connections with people that are now my dear friends. This is just year one. How will my life as a surfer grow? I'm excited to see where the next wave takes me…