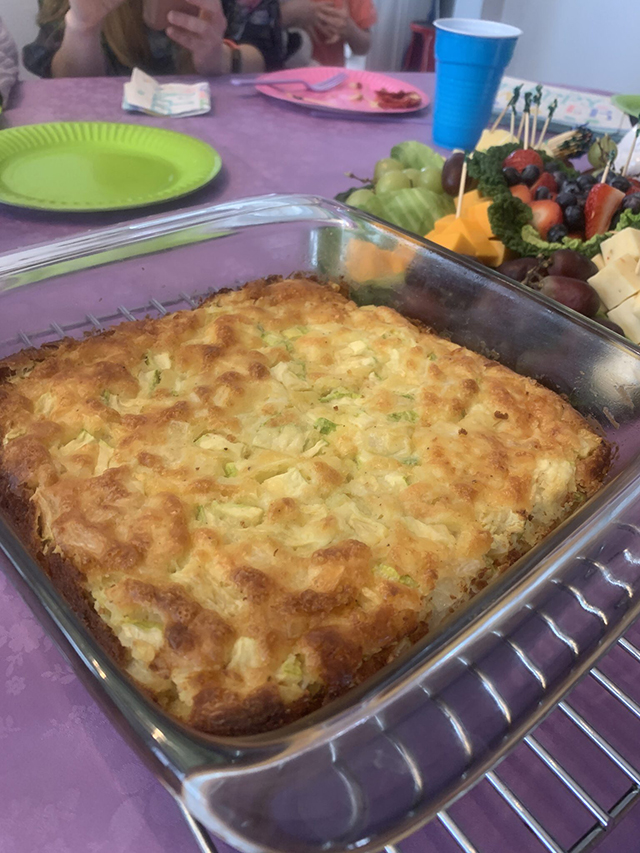 This zucchini bread is a crowd-pleaser. I know because my Aunt Marie brought it to my Easter party last week and it very much pleased us all.
Aunt Marie calls it bread. It contains Bisquick, so that makes sense. I thought it was more like a crustless quiche, but wouldn't that be a frittata? But the recipe does not include milk. What's in a name? Call it what you will, this recipe is bellissimo!
The taste is punchy. The sweet onions and parmesan cheese are rich and dominant. The texture is fluffy with a complementary crispy edge. Aunt Marie says, "Serve it very hot!"
What I like and most often gravitate toward in a recipe is simplicity. This one is that. Let the flavors of the limited ingredients shine. Italian Zucchini Bread is perfect for breakfast, brunch, lunch, or to impress guests at a party.*
Ingredients:
2 cups diced zucchini (peeled or unpeeled)
1 large white onion chopped
1/2 cup extra light Colavita oil (or vegetable oil as a last resort)
1/2 cup parmesan (or more, you know how we Italians do it)
1 cup Bisquick
4 eggs beaten
Salt and pepper to taste
Directions:
Grease a 9 inch pie pan or a 9×9 square pan
Combine all ingredients
Bake at 350 for 35-40 Minutes or until lightly brown
————————————————————————-
Update: My friend Roberta said after reading my column that this recipe was on the back of the Bisquick box back in the day and many homemakers of the time would make this bread!