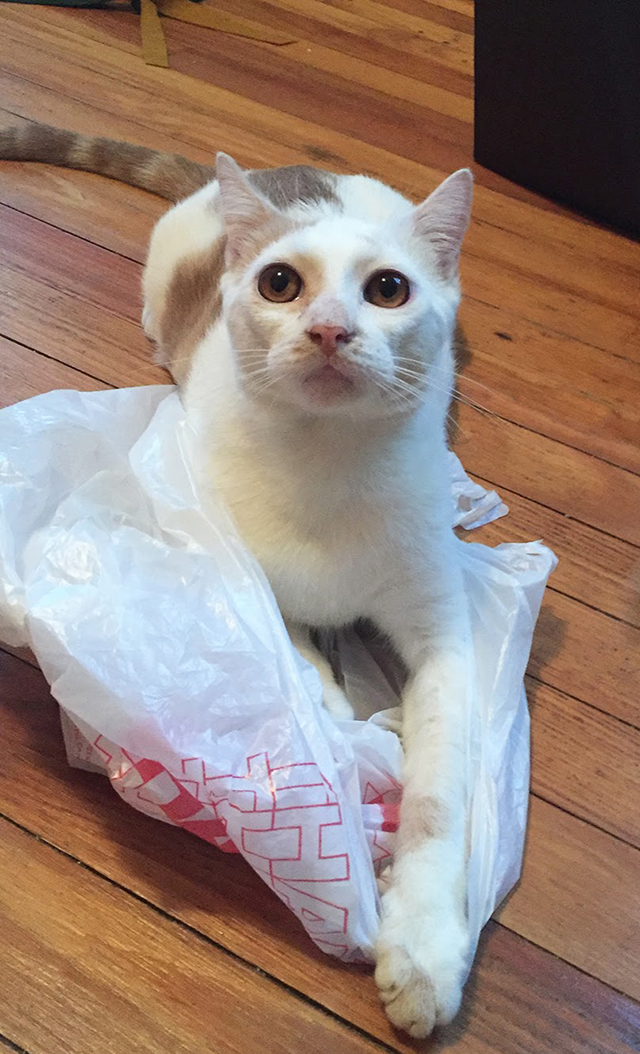 My cat Johny unexpectedly passed away last week. The whole ordeal has been quite traumatic for me.
I heard a scuffle in the middle of the night. He was limp in the legs, yowling and breathing heavily. I knew immediately this was an emergency. I got him in a carrier, found my keys, and headed to VERG Animal Hospital at four something in the morning. I was f*!king frantic. I was exhausted, yet fired with adrenaline. I was driving dangerously through red lights. I pulled up and just left my car outside the building on 4th Avenue, later to find a hefty ticket on my windshield. One of two from that morning. I don't even care.
I was in absolute hysterics. The doors flew open and they took Johny STAT. Someone put me in a little square waiting room. But I didn't have to wait long. Dr. James, the emergency medicine physician on at the time, entered to find me on the floor screaming and crying. I was told about feline cardiomyopathy. The heart condition is most often undetectable, until it's too late. I believe John actually passed away in the car with me on the way to Brooklyn.
Johny's life could have ended 7 years ago. He was on the ACC kill list with 48 hours to go. Through my friend Chris and his team at Bushwick Street Cats, we rescued John. He was emaciated and severely dehydrated. His road to physical and mental recovery was a long one. In time though, Johny settled and I feel, finally found happiness and felt loved.
Johny enjoyed using computers and playing with paper and plastic bags. He always asked to be brushed before his breakfast. He preferred crunchy dry food over wet food. Johny was very smart. I discovered that early on, when he started opening doors in the house! He had a complex, deep personality. John was a people cat. He loved the attention from me and visitors that came to the house. John had beautiful gold eyes. Friends said Johny resembled Steve Buscemi!
While this has been an arduous mourning process, I have also been given a gift – sincere compassion and love from my family, my friends, and two special strangers.
My people have left little presents outside my door – chocolate, a cool jello-like squishy fake tomato, cards, and a slice of pizza. Other friends have texted kind condolences. The morning it all happened, and a dear Brooklyn friend showed up at the animal hospital, unannounced after receiving my text. I am filled with gratitude for this.
The two strangers, not strangers anymore…
Dominique, who works at VERG came around from her desk, embraced me as I cried and said, "I feel your energy." That brief moment of compassion from Dominique I will never forget.
Dr. James could not 100% confirm the diagnosis of heart disease. Therefore, I was contemplating a necropsy. I felt I needed to know. It was all so sudden and unexplained. I felt guilty, maybe I could have prevented it? But if I ok'd the necropsy, Johny wouldn't have a proper cremation and I wouldn't receive a beautiful imprint of his paw. I could not think clearly.
Dr. James was assisting me with this difficult choice, patiently and empathically. Truly more than was required of her. Before I made my decision against the necropsy – on her break – Dr. James went to Target, purchased a clay imprint kit, and made a print of Johny's paw. I am beyond overwhelmed by this gesture of kindness. Dr. James' dedication to her practice, to the animals she cares for and their humans is exceptional. She gives me hope.
There was nothing else I could possibly write about this week. I gather many of you have suffered the loss of a beloved animal family member. I hope some of these words comfort you and I appreciate you taking the time to read this column.