by Paula D.
on
March 10, 2023 12:00 pm
in
Instagram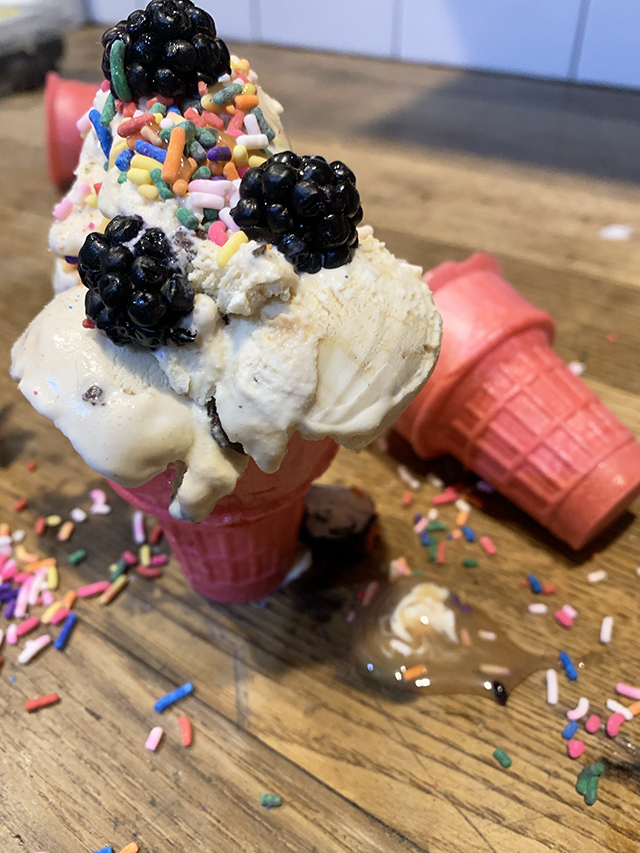 The home stretch of winter seems like a silly time to write about ice cream but here we are. I was never that into ice cream, not even as a kid. But people change. I'm an ice cream person now. I'll save my ice cream story for a future, 5-part column. Better yet, it will be included in my tell-all memoir, of which Katie Honan will edit, but she doesn't know it yet.
Over the summer I'd go to Mara's Ice Cream Parlor a few times a week with my friend Teresa. We'd eat ice cream for dinner and lament about the Cookie Monster flavor shortage. During the holidays I got my fix at all the parties.
A few weeks ago I spotted cute, colorful, instagram-able ice cream cones in Key Food. I was leaning over my cart, debating… then clarity. F it. It's cold out, but that doesn't mean I can't enjoy ice cream. The prospect of making my own ice cream cones with all the toppings, in the comfort of my own kitchen, hit like a warm rush of rainbow sprinkles washing over my serotonin receptors.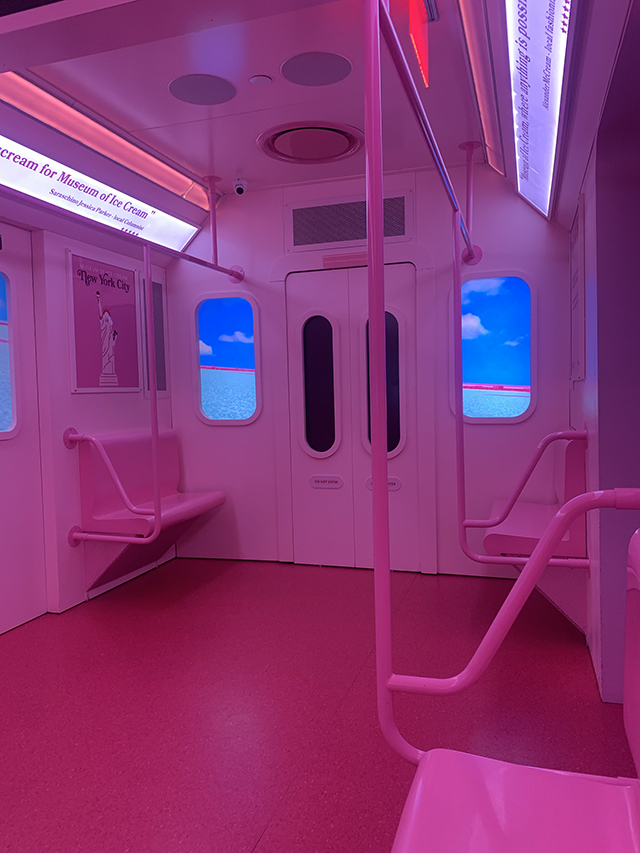 Next stop: The Museum of Ice Cream. Have you heard of it? Things weren't adding up as my journey through 13 different "exhibits" progressed. Finally after the floating banana experience there was some history and artifacts on ice cream. These are fun:
1774 America's first ice cream shop opened, located on Dock St. (now Pearl Street NYC).

1790 – George Washington first consumes ice cream.

1881 – The Sunday was born. Vanilla ice cream drizzled with different syrups, garnishes, and toppings is sold only on Sundays.

1929 – Willam Dreyer develops Rocky Road Ice cream as a metaphor, for the stock market crash.
Googling on the A train home, I learned The Museum of Ice Cream is not a museum. It's a wannabe influencer's instagram dream come true. That's why I loved it so much! And you can eat ice cream throughout the whole experience. So there's that too.
The interactive, multi-sensory "art" exhibit and adult pleasure playground was conceived in 2016 by then 24-year-old co-founder, Maryellis Bunn. Bunn is a California native and Parsons graduate. A quote in NYMag explains… a lot:
 "Bunn found the city's existing institutions disappointing: They hadn't adapted to larger cultural currents, leaving little that would "engage and capture" her demographic."
The Museum of Ice Cream started as a pop-up. It was self-funded by Bunn and co-founder Manish Vora (former CEO of Lightbox,). Thirty thousand tickets at $18 each sold out in under a week. Boom, you're rich.
The selfie museum concept is disturbing and undeniably brilliant. If you like ice cream and the color pink, it's a must on your culture calendar. It's a fun, indoor winter activity for the whole family or the charismatic narcissistic.
Check out my fake influencer account – @theglorifiedtomato.