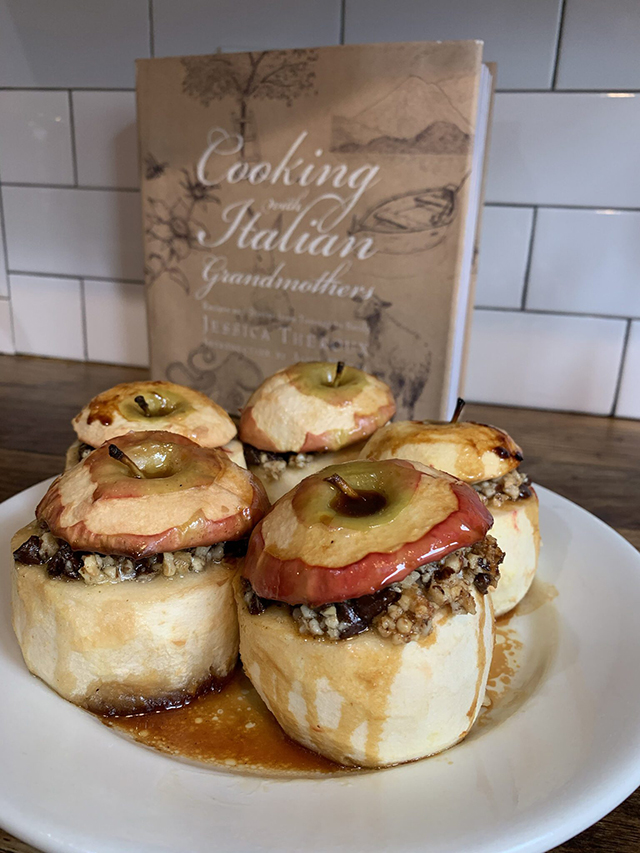 It's feast or famine with freelance work. Right now… famine. For that reason, I've decided to go deep into organizing my home – like every draw, closet, and corner. It feels good to purge. It also feels good to know I have five whisks, three crock pots, four pizza cutters, and six very cute measuring spoon sets, among other multiples, I don't remember buying.
I'm pretty much done with the kitchen. Now I'm tackling the office. I'm going through my books with the intention of donating 20%. Alas, I'm having difficulty letting go but it's time to find new homes for How to Tame a Beast in Seven Days and I Could Pee on This. As I'm going through the "keep or donate" process, I realized I have a multitudinal of cookbooks, 22 actually. I need to be using these beautiful books. I decided to bring some in the kitchen so they're in sight and handy.
I came across one of my old favorites, Cooking With Italian Grandmothers by Jessica Theroux, The book gathers recipes, traditions and the wisdom of female elders from around the world.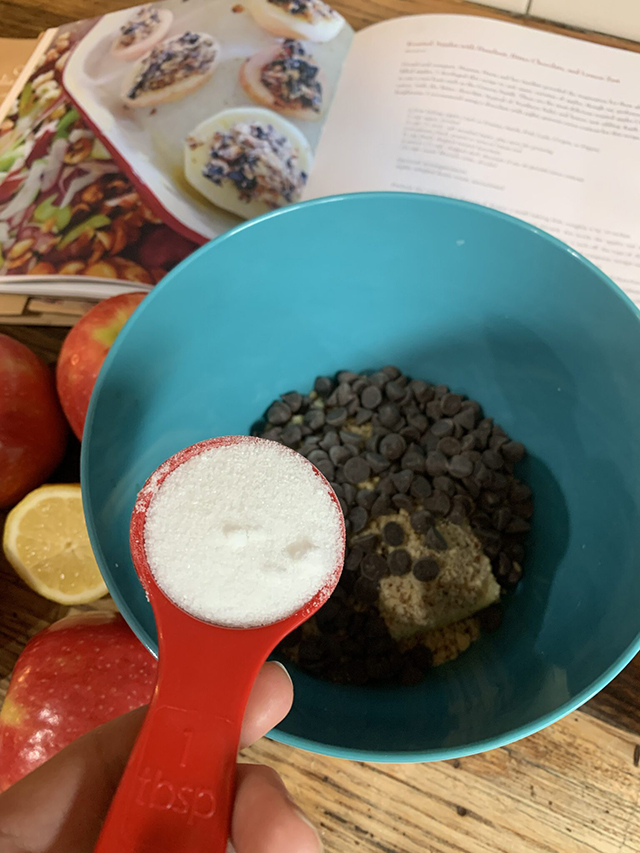 Since the "Halloween chocolate fiasco," I can't stop eating sweets and so, aptly I find myself flipping through the dessert section. I found a delicious sounding – not too unhealthy – treat with apples, nuts, and chocolate. All boxes checked. The Author describes, "These are the most delicious roasted apples I have eaten, with the bitter chocolate (typical of Northern Italy) and lemon zest adding depth and brightness. I highly recommend using a bar of chocolate with 80 percent cocoa content for this recipe, and a tart fruit, such as the Granny Smith."
Roasted Apples With Hazelnut, Bitter Chocolate, And Lemon Zest
By Mamma Maria, Italy
(Serves 6)
Ingredients:
6  firm baking apples (such as Granny Smith, Pink Lady, Crispin, or Pippin)
1/4 cup sugar (divided)
1/4 cup soft unsalted butter (1/2 stick)
2 tsp lemon zest ( minced)
2/3 cup hazelnuts (finely chopped and toasted)
1/3 ounces chopped dark chocolate (80 percent cocoa)
1 cup Marsala wine (divided)
Instructions:
Preheat the oven to 375 degrees F. Butter a small baking dish, roughly 8 by 10 inches.
Slice a thin layer off the bottom of the apples and discard; this levels the apples so  they have a stable base during roasting. Slice 1/2 inch off the tops of the apples, and set the tops to one side. Peel the apple bases. Using a small teaspoon, scrape out an inch-diameter core from each of the apples, making sure not to cut through the bottom of the apples.
Mix together the butter, 3 tablespoons of the sugar, lemon zest, hazelnuts, and chocolate. Spoon this filling into the center of the apples, mounding any extra on top. Drizzle the exposed apples with the ¾ cup of the Marsala and cover  with their tops. Pour the rest of the Marsala over the apples and sprinkle them with the remaining 1 tablespoon of sugar.
Bake for 45-60 minutes, basting the apples with the hot Marsala a few times during their roasting. The apples are done when a toothpick can be inserted into them easily. Serve warm, with Marsala spooned over the apples and whipped cream on the side.
This quote from Mamma Maria resonates with me as it describes how I learned to cook, beside my Mother in the kitchen, "You just watch and spend time. You lend a hand. Maybe the first time you make a mistake, then the second time you do it right. It's not that you are "taught."